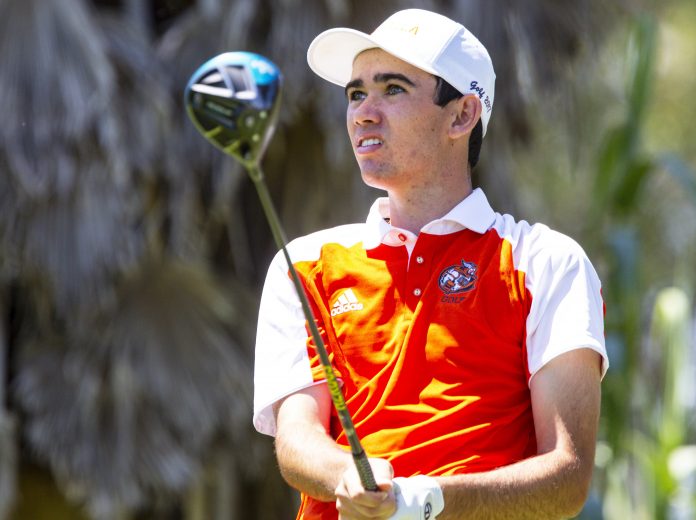 From staff reports
The San Diego County Junior Golf Association announced the winners from the 18 GREENS Junior Championship Aug. 23 at Woods Valley Golf Course.
Fourteen-year old Anna Davis from Spring Valley, who attends Steele Canyon High School, won the girls championship division.
She captured her first SDJGA title with a 9-under-par total, including an 8-under-par score of 64 in the final round for a three-shot win. Her final round included eight birdies and 10 pars.
In four events in the 2020 SDJGA season she has one win and three second-place finishes.
Recently she captured the Washington state junior championship in the 14-15 age group.
Davis ranks ninth on the girls season leaderboard with 1,110 points. Carlsbad's Karen Tsuru tops the division standings with 2,130 points, followed by Escondido's Libby Fleming with 2,094 points. La Mesa's Annika Yturralde ranks sixth overall with 1,288 points.
Carlsbad's Dylan Oyama posted a 5-under-par score of 135 to win the boys championship division. He posted scores of 69-66 over the 36-hole tournament.
Oyama was tied with Rancho Santa Fe's Jaden Hunter following today's round. Utilizing the USGA tie-breaking format, Oyama's 66 was one shot better than the 67 by Hunter for his second win of the year and his fifth top 5 finish.
In addition, Oyama is the 2020 San Diego County Junior Golf Association season points leader with one event remaining as he tries to defend his title and earn player of the year honors in back-to-back years.
Oyama, who plays out of Pacific Ridge High School, had rounds that featured an eagle on the par 4, 12th hole on the final day and an eagle on the 17th hole during the first round of play.
Oyama leads the season standings with 1,880.99 points, followed by Hunter with 1,598.50 points and Chula Vista's Jacob Paule with 1,574 points.
Jamul's Shea Lague ranks ninth overall with 666 points.
Visit the website at www.sdjga.org for all results and point standings.