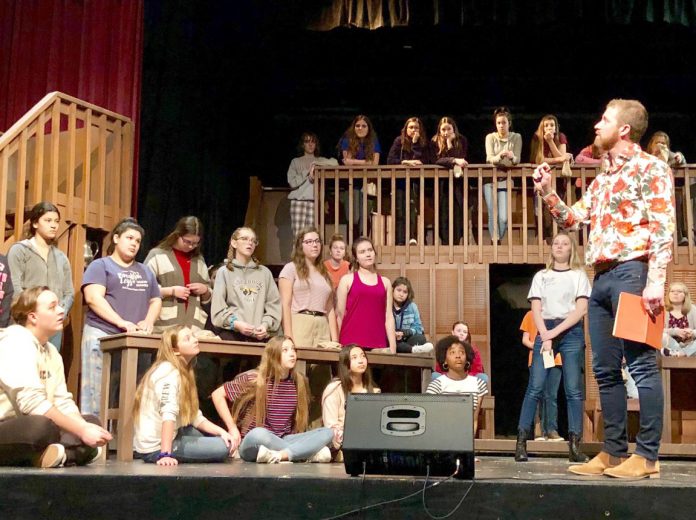 SPRING VALLEY, CA – London stage actor Dean Chisnall visited Steele Canyon Charter High School March 7 – March 9 to help prepare the school's theatre and music departments for their own production of the award-winning hit, Les Misérables, premiering March 20.
Over two and a half days, Chisnall worked closely with SCHS Theatre Director Nicole LaBella and Music Director Heather Luck to coach the cast, crew and orchestra.
The musical stage actor and students quickly bonded during a "Meet & Greet" where they asked him questions, introduced themselves, practiced his warm up exercises and learned of his techniques he has used to find success.
This was followed by "An Evening with Dean Chisnall," a benefit night for the theater students, where the audience enjoyed a humorous and informative Q&A conducted by Luck and LaBella as well as a selection of songs performed by Chisnall including "Bring Him Home" that ended the evening with a spontaneous standing ovation.
During two days of six-hour SCHS Les Misérables rehearsals, Chisnall enjoyed several ensemble performances and offered specific pointers to enhance the scenes and character development. He personally consulted with the ten lead actors to perfect their parts and enrich their understanding of each scene.
Brice Cloke, who plays Marius Pontmercy in the play, stated, "I feel so blessed to have gotten the opportunity to work with him. He truly inspired me."
He wasn't the only one.
"He helped me find my inner Cosette and showed me all the character development within the story," said drama student Morgan Ingraham (Cosette). "He showed us there is so much more to Les Mis and every scene and character is so crucial. He brought so much light to our show. He's so passionate about the story and helping Les Mis come to life!"
The feelings were mutual.
"The students of Steele Canyon High have had a lasting impression on my life and I feel so incredibly fortunate to have visited," said Chisnall. "The work that Heather Luck and Nicole LaBella do is nothing short of phenomenal and I thank all involved for giving me the greatest gift and allowing me to share some time with so many inspirational people who are the future of the industry that I very fortunately find myself in."
Luck, who befriended Chisnall while on a trip to London last December, invited him to come to America to meet the students so that he might offer them advice and tutelage as they ready for their upcoming production of Les Misérables.
Not only did Chisnall come, while here, he created a bond with the students and staff that will endure well-beyond his stay.
"It really feels like a dream at this point," Luck said. "When I saw the looks on the student's faces when he worked with them I was so moved and thought it was worth every bit of work going into getting him here. It's all about the kids and I am so grateful to him that he shares in that passion!"
LaBella, said of the experience, "It was such an honor to have Mr. Chisnall share his incredible talent and expertise with us. What an awesome role model to have working with our students: humble, dedicated, passionate about his work, and so very kind. Our amazing students deserve the best, and that is what they got with him! We are so grateful!"
Dean Chisnall is originally from Lancashire, England, and a 2005 graduate from The Arts Educational School of Musical Theatre in London.  In addition to his current lead role as Jean Valjean in the London cast of Les Misérables, Chisnall's West End and international theater credits include Shrek, The Woman In White, Never Forget, Blood Brothers, Mama Mia!, Evita, and La Cage aux Folles.
Steele Canyon High School's presentation of the world's longest running musical, Les Misérables, takes place March 20, 21, 22 and 23 at 7 p.m. and March 24 at 2 p.m.. All performances are in the Steele Canyon High School Theatre, 12440 Campo Road, Spring Valley. Tickets can be reserved and purchased online www.schscougars.org for $10 each, or at the box office on the day of performance for $15. Students with I.D., $10 at the door.
About the Steele Canyon High School theater program
Under Theatre Director, Nicole LaBella and Musical Director, Heather Luck, students in the Steele Canyon High School drama and music departments produce an annual Fall Semester play and an annual Spring Semester Musical. The Spring Production of The Sound of Music was named the Best High School Musical at the 2018 Broadway San Diego Awards after the first year of entering the competition that celebrates excellence in high school musical theatre.
Steele Canyon Charter High School is a California charter high school located near the eastern San Diego County communities of Jamul, Rancho San Diego, and Spring Valley.  Opened in 2000, the school serves students in grades 9 through 12. Steele Canyon has operated as a charter school since July 1, 2007.