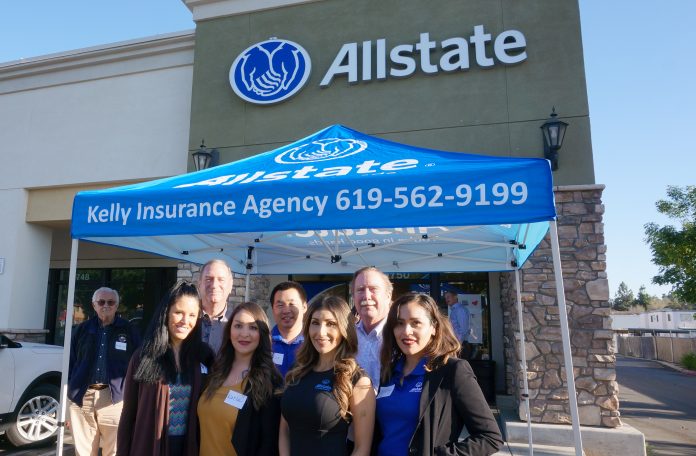 A new Allstate office has opened up for Lakeside, replacing the older one that closed in 2018 after the retirement of longtime local agent Danny Hertz.
Jim Kelly is now the Lakeside representative, anchoring the new site at 9750 Winter Gardens Boulevard. A 30-year veteran owner/agent, Kelly has owned and operated six other Allstate offices in his career. He runs a similar office in Santee.
Kelly hails from the Bay Area and has been a San Diego resident since his days attending San Diego State University. He currently serves on the Governing Board of the Grossmont Union High School District and has done so for the past 27 years. His wife has been teaching in the district for 30 years herself.
Kelly inherited about 1400 families in the Lakeside area. A self-described people person, Kelly has enjoyed getting to know his new clientele in the community as he has reached out to introduce himself. Many of his new customers are longtime Allstate insurance holders and prefer the more personal touch rather than a cold telephone call or a letter in the mail. "Now I have people coming in every week just to say hi," he said with a smile. Helping people is something Kelly clearly enjoys and he is happy to be part of Lakeside.
The new office actually opened in July 2018, but a Grand Opening ceremony was delayed until Wednesday, March 27, 2019. The office is open Monday through Friday, 9:00 a.m. to 6:00 p.m., and Saturdays from 9:00 a.m. to 1:00 p.m. The main number is (619)390-9077. The office has been busy, so Kelly suggests you call to make an appointment. But if you just want to drop by to say hello, Kelly promises "no sales on the first visit."