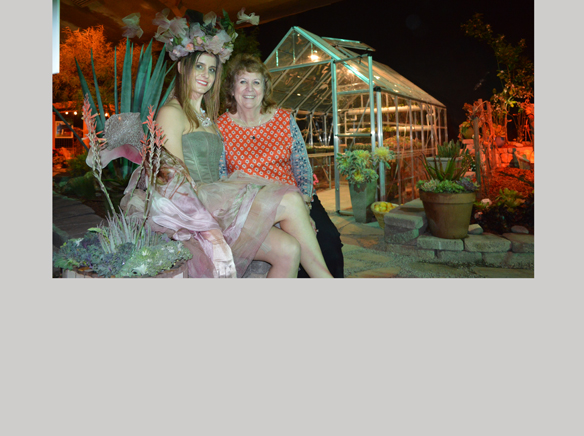 Where there is life, there is hope—including hope for growth and betterment. This is true in gardens and true for persons with developmental disability challenges.
Where there is life, there is hope—including hope for growth and betterment. This is true in gardens and true for persons with developmental disability challenges.
These two came together at the Del Mar Fairgrounds Bing Crosby Hall on the evening of March 3, at a private reception previewing the 31st Spring/Home Garden Master's Exposition. This event was a donor appreciation party for supporters of St. Madeleine Sophie's Center's programs for developmentally disabled adults. The festive gathering showcased both the center's ongoing 50th anniversary celebration activities and the center's competition exhibit entry, Sophie's Garden, a small-scale replica of the garden maintained daily by around 60 students at Sophie's Center in El Cajon.
Sophie's Garden earned two show awards, the Judges Choice Award and Best Specialty Garden. Mark Fisher oversaw a staff teamwork installation of the garden show exhibit, just as he leads horticulture job skills training for the Sophie's Center students who work in the on-campus garden.
Those at the center refer to the campus two-acre site as the "Garden of Opportunities," where students learn planting techniques, propagation methods and crop picking. The garden contains two 1,500 sq. ft. shade houses, a 1,000 sq. ft. greenhouse, a citrus orchard and a nursery for ornamental trees, shrubs and herbs. Special features include a vineyard, an aquaponics system, a kiosk, and contemplative resting spaces adorned with student artwork.
Debra Emerson, CEO of St. Madeleine Sophie's Center, delivered welcoming remarks to event-goers, encouraging them to enjoy the musical entertainment and catered food stations scattered amidst the garden show exhibits.
"Thanks for coming," Emerson said. "And please visit our award-winning garden entry, which is a true replica of our center garden."
She spoke highly of Fisher's dedication. "Mark Fisher did an awesome, fabulous job putting this together for us."
Emerson briefly outlined the history of the center since 1966, concluding, "We want to improve our facilities to maintain us for the next 50 years."
Kinnie Dye performed positive-themed songs on stage for the crowd throughout the three-hour gathering. The magical garden atmosphere of the evening was enhanced by a wandering troupe of "garden faeries," young women garbed in winged, gauzy costumes designed and created by artist Debbie Solan, co-owner of Fusionglass Co. in La Mesa, and who teaches fused glass classes for clients at Sophie's Art Gallery in El Cajon.
Emerson said the event's surroundings were perfect for the donor's appreciation event and has plans for more anniversary year celebrations.
"This is our first event like this," Emerson said. "We are really excited about it. Especially that the whole vignette of our award-winning exhibit here is like the garden at Sophie's Center."
Emerson invited anyone interested to tour the center and its garden installation. The garden and greenhouse are open to the public on weekdays during daytime hours.
"We are part of the community, and it is important for us to support the community even as we ask for support from the community. We think we are the best-kept secret in East County," she said.
Emerson described the organization's ongoing anniversary capital campaign, slated to raise $3.5 million. She noted that the population of adults who are developmentally disabled is growing, and moreover that 10 original students, now in their senior years, are still with the program. A senior center on campus for these aging adults is one of three major projects to be built with grant money and fundraising dollars. A solar panel installation project is being paid for with a $100,000 matching grant, which had collected over $250,000 to date.
The last of the trio of construction projects is a new Aquatics Complex, set to replace the existing swimming pool facilities, which are in poor condition. Local philanthropist Angel Kraemer Kleinbub was invited to be the Honorary Chairman for the St. Madeleine Sophie's Center's 50th Anniversary Celebration. She accepted the honor, and she and her husband, Fred Kleinbub, made a lead gift donation of $1 million in honor of the Kraemer-Kleinbub Family. The money will go toward the replacement Aquatics Complex. She has been involved with SMSC since its origins, first teaching classes to disabled adults and later working with the organization's auxiliary for support and fundraising.
Sophie's Center offers adaptive swim lessons in small groups or privately for adults and children with special needs. These programs are open to the general public in addition to the center's students. Emerson noted that theirs is East County's only swim facility with a wheelchair ramp in the pool.
Developmental disabilities are cognitive disorders such as autism, Down syndrome, epilepsy, and cerebral palsy. Although these conditions cannot be cured, St. Madeleine Sophie's Center provides developmentally disabled individuals education, including work skills training and behavioral modification programs, social enrichment and related services, to assist campus students in reaching each one's full potential for life and integration into the community. The center is located at 2119 E. Madison Avenue, and can be phoned at (619) 442-5129. More information about the center and upcoming anniversary year events can also be found online at www.stmsc.org.