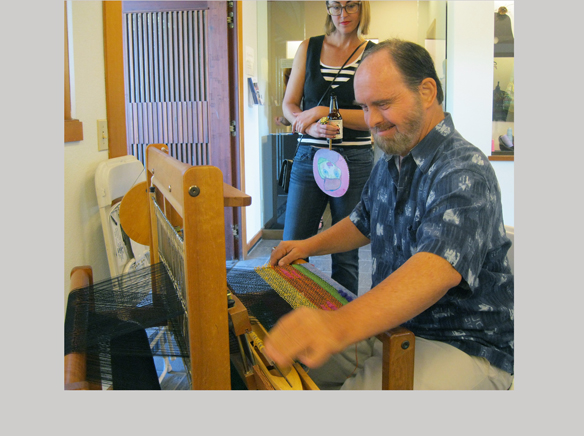 A weaver from St. Madeleine Sophie's Center came into the Japanese Friendship Garden with his eyes locked on the Japanese loom. He walked over, sat down and started weaving independently, singing as he worked.
A weaver from St. Madeleine Sophie's Center came into the Japanese Friendship Garden with his eyes locked on the Japanese loom. He walked over, sat down and started weaving independently, singing as he worked.
He is from the behavior modification program at St. Madeleine's, a local nonprofit for adults with developmental disabilities in El Cajon. The center opened its show "Constructs: The Art of Saori Weaving" with Balboa Park's Japanese Friendship Garden Society of San Diego August 13. The exhibit will continue through Oct. 27 under the society's usual operating hours, which can be found at www.niwa.org.
This "unexpected treasure," as Sophie's Gallery administrator calls it, gives the center a chance to promote their program and services, but more importantly, to showcase the abilities and talents of people who have developmental disabilities and change society's mindset about them.
"What I want them [the artists] to take away from it is that they're professionals," said Wendy Morris, administrator at Sophie's Gallery. "They're making a beautiful, unique product and here it is in this beautiful setting in these cases, and so it just elevates the art. It elevates it to an art form and I know that they'll be very proud of what they've done, proud to see it in such a beautiful location and just excited for their families to see it and feel like they accomplished something, to have a sense of accomplishment."
Reg Oberg, another individual who wove during the exhibit's public reception Aug. 25, is developmentally disabled, but you would never know from his success as a professional artist or from the confidence he exudes at the loom.
"I like to express myself, to bring pictures back to life. Japanese ancestors taught their people how to loom and now it gives me a great opportunity to teach others how to do it," said Oberg who contributed paintings to the exhibit.
Oberg has attended the center since 2006 and learned to weave in 2011. He said everyone at the reception received him with "open arms."
The reception brought 80 to 100 people, former and present staff members and students as well as the general public.
This exhibit features shawls, tunics, vests, scarfs, belts, headbands, wall hangings, banners and two dresses. The fabrics are all organic at the gallery and include wool, silk, cotton and linen. There are also other items – mosaics, fused glass and jewelry – for sale.
After weeks of weaving in 15-minute shifts, the developmentally disabled – ranging in age from 21 to 80 plus – who created these works have something that they can share with others.
"With weaving, it's something that they did together as a group, so there's a cohesion and a camaraderie," Morris said. "They're weavers; they're not just an artist who's expressing themselves as an individual. They're a group that's working together to make something beautiful and its really wonderful to see because they're learning patience, they're learning group activity, they're sharing a common experience, they help each other, they're proud of each other and they're proud of the finished products that they make."
Since the Saori weaving program kicked off in 2010, Morris has helped 325 students of the 400-plus students at the center learn to weave in a style that embraces a different kind of perfectionism.
"It's a philosophy of weaving that they believe everything is perfect, like you don't go back and fix a mistake, you just keep moving forward, and you make the mistake part of the piece," Morris said.
The wooden loom, used by the fourth generation of weavers in Japan, is adaptable for people with physical challenges.
Morris found Saori weaving at an international conference in Washington D.C. where she attended a workshop. She reached out to the workshop leader later, at the suggestion of Executive Director Debra Emerson, to purchase a loom.
St. Madeleine Sophie's Center created Sophie's Gallery 15 years ago. Morris started the art program on the main campus in 1994.
The center offers a senior program, an adult development program, a behavioral modification program and a supported education program, all of which are funded through the state through the San Diego Regional Center, fundraising events and activities, donations and an endowment.
Some of these programs include aquatics, organic gardening and landscaping, hydroponics, linguistics, computer lab training, culinary arts training, classroom instruction on topics of interest and employment services.
The center hosts about 40 shows a year, three of which are themed and recurring: a Valentine's show, a show focused on self-advocacy as part of National Disability Employment Awareness month in October, and a December holiday show.