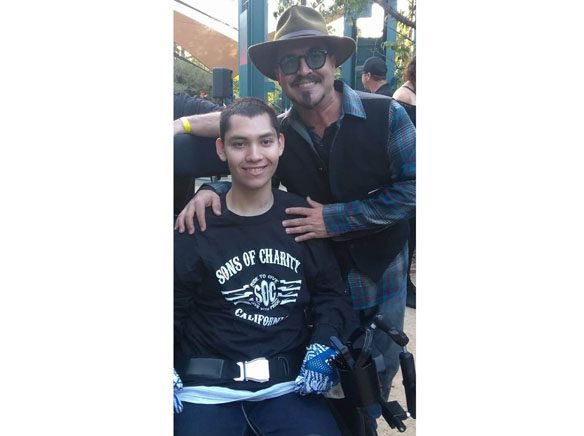 What started as a dream to help families with children suffering from cancer in San Diego County may be at risk with a status on Facebook announcing the sudden resignation of the entire board of Sons of Charity (SOC) along with several volunteers. The threads, which began Nov. 1, were similar in nature from board members and volunteers that they "will no longer have any affiliation with SOC or Sam Diego (Mejia)," founder and CEO.

What started as a dream to help families with children suffering from cancer in San Diego County may be at risk with a status on Facebook announcing the sudden resignation of the entire board of Sons of Charity (SOC) along with several volunteers. The threads, which began Nov. 1, were similar in nature from board members and volunteers that they "will no longer have any affiliation with SOC or Sam Diego (Mejia)," founder and CEO. This came as a shock to many in the community as questions poured in for the people who suddenly resigned, Pierre Charmasson, treasurer, Pamela Reiter, director of special events, Betty Lee Benkner, director of volunteer services and James Mosier, volunteer. Shortly following, Michelle Pius, director of development, and Bobbi Walker, former accountant also resigned. This public announcement came exactly one month after an official letter of resignation signed by Charmasson, Vice President Drummond Macomber and Head Road Capt. Patrick PJ Byrne.
In the letter of resignation, dated Oct. 1, from Charmasson, Macomber and Byrne, it states that after a review of the California Bank & Trust Account and a formal discussion, they made the decision to resign their positions on the Board of Sons of Charity and any further association with the charity, effective immediately. The joint decision was based "on a number of factors but mainly your (Mejia) apparent misuse of the Sons of Charity funds for personal use. Each of us has sought the advice of our attorneys and we have documented our concerns. We also feel this is the best course of action to minimize legal damage to our reputations and hopefully save ourselves from potential future legal action against the charity."
Mejia uses several public personas in support of the charity and to entertain children and donors including Sam Diego, Captain Diego, Sam Sparrow or Captain Sparrow due to his pirate impersonations and uncanny resemblance of the actor Johnny Depp as Jack Sparrow, as part of his grassroots San Diego non-profit organization.
What caused the mass resignation of board members who decided to announce publicly against was after Mejia took the SOC website and Facebook page down, only to reinstate them soon after, which prompted the former members to go public. All board members rerouted questions to ad hoc spoke person, former treasurer Charmasson, who said he was prompted to investigate SOC's current status by a series of questions that arose during interviews from The East County Californian during the Tribuu Music Festival, the last fundraising event held by SOC in September.
"It's very ironic, but it all started with your article. You asked me how much money goes directly to the charity and how many families did we help so far, among other things. Your questions that night raised the hair on the back of my head. I was embarrassed, because I didn't have the answer," said Charmasson.
When asked about the number of families helped through the challenge, Mejia said the response was nearly 20 families. Mejia founded SOC to help families with children suffering from cancer, a popular initiative Pius calls "a very successful model for non-profits."
"I asked myself, why don't I have access to this kind of information, I am the treasurer," said Charmasson. "I asked Sam many times about our financial status and he brushed it off. He kept all the statements at his house; he kept everything so close to his heart and kept putting things off. So, I went directly to the bank the next day to find out for myself and what I discovered—was heartbreaking. Our account was in the negative, no money left. Zero. We should have thousands of dollars, so imagine how I felt. I researched nine months prior and discovered questionable expenses in Sam's name that made me wonder if this was going on for the whole four years."
After these findings, Charmasson asked for an emergency board meeting, showed them the documents and they all decided to resign, advised by attorneys consulted on the matter.
Charmasson said that the organization's bylaws state, "That 100 percent of our proceeds go to families with children suffering from cancer." When asked by Charmasson to confirm this info, he said Mejia denied, saying, "Where, where is it saying that? It's not listed anywhere that way. Where are the operation costs supposed to come from?"
During the Tribuu fundraiser, Mejia, Reiter and Mosier said, "This is 100 percent non-profit, which means 100 percent of the donations go directly to the families and everybody in our organization is a volunteer, nobody gets paid."
After the resignations, Mosier said, "All of us volunteers believed that because it's what Sam told everyone. We were proud of that. We quit when we realized he was lying and personally using and abusing SOC funds for himself. Sam is also on the record on TV…saying 100 percent went to the families. It's a big lie. Why else would the entire organization quit?"
Pius said the entire organization knew there were minimal overhead costs and operational expenses were in general covered by the sponsors, but 100 percent of the money was supposed to go directly to the families. Pius shared a standard "thank you" letter sent to a donor who contributed $10,000 to the cause. She said that she had a difficult time getting information out of Mejia as to who the contributors were and how much they donated so she could send out these thank you notes to all donors.
Beneficiaries of the charity are having a difficult time dealing with the allegations, as Mejia was there for them and their children in a time of need.
Kris Carmichael, the mother of Cael who is battling cancer responded: "At this time, I would rather not talk to anyone regarding the situation we just barely found out about…SOC did help our family when we were in need," she said, whose son was a SOC recipient.
During an interview with Mejia to clarify these allegations he brought along Ann Christensen, the mother of Sophia who is currently battling leukemia. It was difficult to press Mejia with facts, documents and hard questions in front of a recipient that has such admiration for Mejia. Sophia Christensen is a spokesperson and motivational speaker, wanting to open her own charity to help kids in need, since her family received help from SOC. Ann Christensen said she was deeply affected by the thought that Mejia, this soulful person coming across as very helpful and caring, already part of her family, could do anything wrong. After all, her own daughter, Sophia, picked him over her to be in the surgery room. Ann Christensen has numerous stories about Mejia and two other volunteers, Chris W. and Clint A., as the only ones who personally interacted with her family. She refused to talk to the members who resigned and reached out to her.
"I decided when I am this upset about it, I am going to sit and wait," she said. "These people don't realize there is not much help for us here in East County. When Sam promised two months worth of mortgage payments to us, he kept his promise…None of these other people called us every two weeks to check on my daughter, to tell her how beautiful she is every time they met or cut in line at Costco to pay for our groceries. There is nothing that anybody can say to make me think anything other than if there's any problem with record keeping, it happens."
Mosier explained the reluctance of the families to believe that Mejia did anything wrong.
"They only know what he told them," he said. "We, not him, helped them. But we now know we could have helped them so much more and helped many more families, had he not abused the funds. That, they did not know. He controlled all communications with the families. He wanted them to think it was about him. Typical narcissist."
Ann Christensen said that people need non-profits that can be relied on with help with so many fraudulent incidents with crowdfunding when friends raise funds for families hit by tragedies, only to steal the money afterwards. Saddened by the recent development with SOC, she said, "Imagine this happening two months ago when our family was waiting to hear if we get help or not? Can you imagine the stress on top of everything else?"
That was the same exact question posed by the former treasurer Charmasson when asked about the reasons of his resignation, going public and not trying to solve this matter privately.
"Can you imagine this happening right now, when there is no money in the account, with families counting on our promised help? How do you pay, with what money? How do you explain that? I could not live with that," he said. "Of course the families are going to rally around Sam and that's good, we helped them, they are close friends. But at the end of the day, numbers don't lie."
Mejia spoke two hours talking about the unchallengeable and admirable good things he has done for these families, avoiding any clear answer to repeated inquiries and the announcement, never disclosing the real reason of discord with SOC's former board, already knowing the allegations, the law and seeing some of the documents. He did say that the raw paperwork needed reconciling by a CPA.
"Everything that was an operational expense or a living expense or a personal expense was always offset by invoices and things that needed to be reconciled to have that raw paperwork floating around out there that people shouldn't have that hasn't been processed by a CPA," said Mejia. "You still need me to sit down with a CPA and say, that was this, that was that, you know. And everything gets separated and gets submitted to the IRS and the CPA will say, well, that's a business expenses, you have to write this off as income because the charity can't pay for gas, ok, fine, then you take responsibility for that and pay taxes on it. Small businesses and small non-profits always have these growing pains. A loosely ran or poor bookkeeping does not equal a bad person."
His statement started with a convoluted and evasive hint that somebody, "you," later identified effusively as himself, Mejia, did indeed use the charity funds for living and personal expenses, for gas, and said that there are invoices for it. Mejia was not able to answer if these expenses had board approval or if they were in line with the charity's bylaws.
SOC's Articles of Incorporation filed with the IRS on Feb. 6, 2014 and obtainable on the IRS site using the corporation EIN states, "No part of the net income or assets of this corporation shall ever inure to the benefit of any director, officer or member thereof or to the benefit of any private person." The document is signed by Samuel Mejia, Incorporator, unable to back up his explanation that he made honest mistakes because of lack of knowledge as the CEO of this charity.
The Guide for Charity signed by Edmund G. Brown Jr., the Attorney General for the State of California states that the reason for assigning different people to different tasks is to prevent fraud. "It's very important to separate the function of recording cash receipts from responsibility for access and control over the receipts…At the disbursement level, it is important to require two signatures on all checks drawn on the charity's account."
Mejia admits using the account for gas, living and personal expenses without using disbursement checks with two signatures and also being the person who recorded the cash and had access to the account.
Ann Christensen said Mejia used a card several times to pay for the family's groceries or other expenses. Mejia admits he used the SOC bank card to Uber around, since he wore out one personal Jeep and one motorcycle while working full time for the charity, with no pay.
According to several board members and volunteers for SOC, cash and checks received from donors were always passed along to Mejia who was the only one collecting and distributing funds, knowing how much money was raised and spent, how many families were helped and in what ways, without passing these decisions through the proper vetting with the board. Mejia said that it is his assumption that it would only take a CPA "to put everything in order."
"The IRS will tell you basically, you cannot write this off, that's now income, you are responsible for that, now you pay the taxes on it, and that's it," he said. "Not the charity. Whoever is the guy, me, you know…I am in charge of the daily operations and if I have to get from here to there and I have to take the Uber and I have to pay for gas, you know?"
Mejia said he mentioned to the board that he needs transportation, but "people offered to lend him a car." Charmasson, on the other hand, said that everyone knew Mejia is working hard for SOC and that he should have come to the board and request a salary and expenses, request a vote on it and do it right.
"But he never did. Our bylaws and Article of Incorporations are very clear that we are 100 percent volunteers and nobody gets paid or reimbursed," he said.
According to the California law, any person can request access to all and every document belonging to a non-profit, being those financial statements or other documents. Therefore, no law is broken if any of the SOC's financial statement "is floating around," as Mejia said.
SOC's financials and other documents have been requested from Mejia, Walker, Charmasson, Pius, and several volunteers with directorial functions within the organization. However, all of the board members and volunteers interviewed admitted seeing the bank statements with their own eyes, that this is not a "he said, they said" situation and that there were "daily personal expenses, such as restaurants and bar bills, out of town traveling, gas, Uber and much more," which allegedly were not discussed, nor approved by the board.
"This is going to get ugly," said Charmasson. "No matter how long it's going to take."
When asked if SOC should still be operational during an internal audit and allegations against him of questionable activities on the account, expenses, unauthorized charges and personal charges that need to be accounted for, which could bring charges of fraud, embezzlement and tax evasion if proven true, Mejia said, "No one suspended us."
"This is all social media rumor," he said, visibly emotional, declaring he is not quitting while reminiscing when the mother of a deceased child "warrior" took his hand at the girl's grave and said, "Sam, she loved you."
Similarly charged with emotion, Charmasson said, "I only cried twice in my life. Once when I got married and when I saw the bank statements. Sam is one of my best friends and I had to go to the DA office, to the FBI. Here I am, trying to track down all his expenses, talking to families, trying to clear his name, but depending on the findings, also to prosecute him…can you imagine sending your best friend to jail if you have to? We are all reputable people with families and careers that are now jeopardized because we associated with him and asked people to donate thousands of dollars to SOC. It's sickening. The worst part is that he's still out there perpetuating the lie and asking people to donate." (At the time of publishing this investigation, SOC website and Facebook page are still active.)
Charmasson had a three hour meeting at the San Diego District Attorney's office and with the Economic Crimes Division on Nov. 2. He has to hire a specialist to conduct a forensic audit on the account, separate from Mejia's CPA. According to San Diego County District Attorney's Office's Public Affairs Officer Tanya Sierra, the police department should be the first investigation agency for a crime.
"If there is a crime, they will refer the case to us for review and we cannot confirm if either we are investigating or not. Once we file charges, we will let you know," she said. "However, anybody can fill out a complaint form on the Attorney General's website to prompt the attorneys and auditors of the Charitable Trusts Section investigate and bring legal actions against charities and fundraising professionals that misuse charitable assets or engage in fraudulent fundraising practices."
SOC's taxes are in question also. At this time there are no records of 2016 tax filings available. Mejia did not give a straight answer when asked if he filed the taxes every year since creating SOC.
Also, as a non-profit, now with no board directors, the continuance of asking for donations through the SOC website can come into question. Under the express rules of the Californian Nonprofit Public Benefit Corporation Law, there must be at least two officers because of the restriction that the president or board chair cannot also serve as the secretary, treasurer or chief financial officer. SOC no longer meets these requirements with the resignation of the entire board.
Mejia blames his former board for abandoning him without trying to fix the problems and not being helpful during the past four years when he did everything by himself. He intends to rebuild the board with "professionals and business minded people" as oppose to "with friends."
Most of the former board members and volunteers are experienced professionals, many working as executives, with extensive experience in the charity field as presidents, board members or volunteers for other charity organizations.
Mejia admits to "making mistakes and running the organization loose," more like "a family business" and implies this is normal. In the same breath, he said he will hire Ann Christensen, as the new SOC secretary. Asked about his resolution not to hire "friends" anymore and what about the possible conflict of interest, Mejia brushed the question off, praising her professional background.
Asked if anything could have been discussed and worked out with Mejia, Charmasson said that although in hindsight they could have fired Mejia and reorganize the charity, but there were two reasons why it didn't happen. For one, each former board member's attorney advised them to dissociate themselves from SOC and Diego immediately and second, "Sam is the face of Sons of Charity, there is no way we could change that," he said.
Mejia admits, "The buck stops with me. I went back to school at the National University to study philanthropy… so I can learn how to do this." Pius confirmed that she joined him at his graduation in the spring of this year and that he took a course in ethics as well.
Mejia said he wants nothing more than to have all of this fixed by his new CPA, people to forgive his "mistakes" as being of a novice with good intentions who never received any help and hire a new board who "would do everything, so I can just be the face of SOC."
At the Tribuu fundraising event, there were numerous volunteers working hard to ensure the success of the event and it was confirmed that SOC has 20 very active volunteers and 75 on call. Mejia said he has hopes everything could go back the way it was before the board resignation, because families fight and make up and mistakes are fixed and people move on and possibly work together again in the future.
Mosier said in talking with former board and volunteers that there is no way back and many claim "their brother, the man they considered family" broke their heart.
"The lies, the betrayals, using families in need for personal gain, that's something I could never forgive or forget. This is irreversible," said Charmasson.
Mejia asked for a follow up interview to show documents, but at the time of print, has stopped responding to the repeated inquiries to follow through.