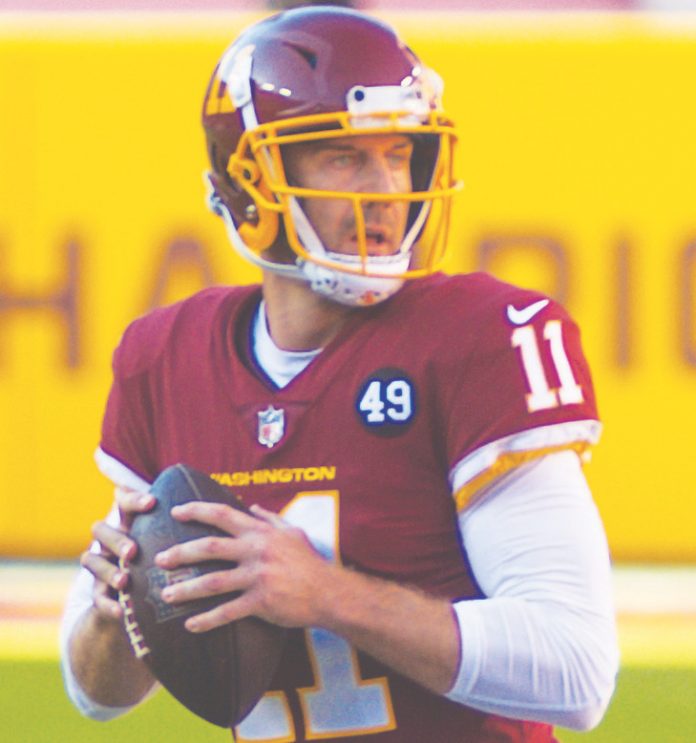 While Sunday's 31-9 Super Bowl victory by the Tampa Bay Buccaneers over the defending NFL champion Kansas City Chiefs was an exercise in shock and awe, the NFL's annual awards ceremony conducted the evening before America's big game equally provided its share of unforgettable memories.
Green Bay Packers quarterback Aaron Rodgers, as expected, received the league's most valuable player award while Tennessee Titans running back Derrick Henry was named the league's offensive player of the year. Los Angeles Rams defensive tackle Aaron Donald earned recognition as the league's defensive player of the year while Los Angeles Chargers quarterback Justin Herbert was recognized as the league's offensive rookie of the year.
Other major award winners included defensive end Chase Young of the Washington Football Team as the league's defensive rookie of the year, Cleveland Browns head coach Kevin Stefanski as the league's coach of the year and Seattle Seahawks quarterback Russell Wilson as the league's coveted Walter Payton Man of the Year award-winner.
Perhaps the most deserving of the awards presented was to Washington Football Team quarterback Alex Smith, an alumnus of Bonita Vista Middle School and Helix High School, as the league's comeback player of the year.
At 36, Smith is the oldest player to win the NFL Comeback Player of the Year Award since Peyton Manning did so in 2012.
Smith also named the league's comeback player of the year by The Sporting News and Pro Football Writers of America.
Smith was honored by The Sporting News on Jan. 21 in a poll of the league's players. The publication noted that more than 90 percent of the players polled voted for Smith, who returned to lead the Washington Football Team to an unlikely playoff berth after missing nearly two years on the field due to a catastrophic leg injury — and a brush with death.
Smith suffered a spiral and compound fracture to his tibia and fibula in his right leg while being sacked in a game on Nov. 18, 2018, against the Houston Texans. He subsequently underwent 17 surgeries as a result of life-threatening sepsis over a period of nine months.
Though heavily sedated at the time, Smith he said he remembered making the decision to save the leg and not undergo amputation.
As part of his recovery, he wore an external fixation device for nearly a year. He was placed on the team's physically unable to perform reserve list in 2019 and missed the entire season. It wasn't the first time that Smith had been sidelined by an injury. He missed the 2008 season because of a shoulder injury while with the San Francisco 49ers.
Smith declared his intent to return to football and, following a successful recovery, was cleared by doctors to resume football activities in July 2020. Washington activated him on the roster on Aug. 16.
His first game appearance during the 2020 season did not occur until Week 5 when he relieved starter Kyle Allen in a game against the Rams. It was a brutal return: Smith completed nine passes for 37 yards and was sacked six times in a 30-10 loss.
It proved to be a stepping stone to larger life experiences.
Showcased on national television in Week 12, Smith showcased his determination in a 41-16 victory against the host Dallas Cowboys on Thanksgiving Day. He passed for 149 yards with one touchdown and one interception.
Smith attracted major media interest when he engineered a stunning 23-17 upset win over the previously undefeated Pittsburgh Steelers (11-0) in a Week 13 matchup in which he passed for 296 yards and one touchdown.
He started the next game against the 49ers, his former team, but left the game at halftime due to a calf strain in his right leg. He missed the next two games but returned for the team's final regular season game against the host Philadelphia Eagles on Jan. 3. Smith, despite having limited mobility, completed two touchdown passes in a clutch 20-14 win as Washington clinched the NFC East title and the NFL's final playoff berth.
Smith's season ended there as he was unable, due to lingering soreness in his calf, to participate in Washington's Super Wild Card Weekend game against Tampa Bay, a 31-23 loss behind stater Taylor Heineke.
Smith appeared in eight games total this past season. He completed 66.7 percent of his passes for 1,582 yards, six touchdowns and eight interceptions. However, he proved his worth to the team with a 5-1 record as the team's starting signal-caller.
Washington finished regular season play 7-9 — 2-8 without Smith as the starter behind center.
Former Washington Redskins quarterback Joe Theisman, whose career ended in 1985 at age 36 because of a similar injury, called Smith's return to the playing field "one of the greatest comebacks in sports history."
Theisman called Smith's odyssey "the living, breathing embodiment of resilience and courage."
Smith called the injury and its aftermath a "life-altering experience."
"Two years ago, I was sitting in a wheelchair wondering, 'Had the life I had known changed forever?' Anger. Pity. Self-doubt. Why me?" Smith said as he began his recorded acceptance speech. "These were feelings I'd had at certain points throughout my career, but this time it wasn't about football. It was bigger. It was about me being a father and playing with my children, a husband to go on walks with my wife, and despite my new limitations, me getting my life back."
His acceptance speech touched on many emotions.
"My goal was football, not because I actually thought it was a reality, but because I knew my life would be better because of it," he continued. "Fighting the fear surrounding my new leg with the pursuit of something bigger and a life lived without regret. It took 728 days:728 days of small victories and major setbacks, of countless hours of physical therapy and just as many sleepless nights."
Smith acknowledged he did not complete this comeback alone, crediting his team of doctors, nurses and staff at Inova Fairfax Medical Campus. In that same thought, he thanked all the front-line workers across the country who have sacrificed so much this past year.
Smith spent time at the Center for the Intrepid in San Antonio, Texas, a rehabilitation facility to treat amputees and burn victims, where he underwent rehabilitation alongside many of this country's wounded warriors. He said his time spent there proved to be a major turning point in his recovery.
"It wasn't until my time at the CFI, a military rehabilitation center, where I truly realized how fortunate I was," Smith said. "It was an honor of a lifetime to rehab alongside some of our country's bravest, who sacrifice life and limb for us to play a game we all love. It was also there where they first put the football back in my hand … thank you for challenging me and allowing me to dream big again.
"This has been a road to recovery that I didn't walk alone. I share this award with every single person who has helped me along the way, but none more so than my wife, Elizabeth, and our three kids. I love you more than you could ever know. You have given me motivation, strength and support that I couldn't get anywhere else. I hope that I have made you at least half as proud as you have made me every day.
"To my teammates in the locker room, this past season is something I will cherish forever. Thank you for your encouragement and believing in this old man once again.
"To anyone out there going through hard times, know better days lie ahead. Embrace all that life has to offer. There are no ups without the downs. Honor every single day and remember, just live."
Words of wisdom spoken by a true warrior.