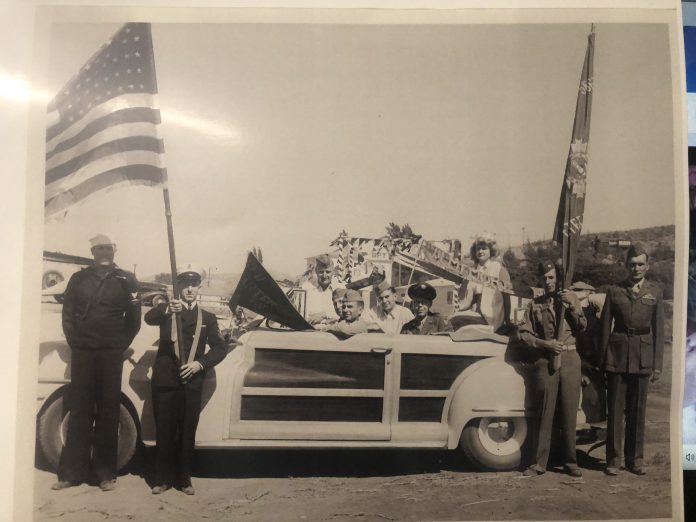 How to celebrate your 75th anniversary during a pandemic. That's just what the Lakeside Carter-Smith VFW Post 5867 is pondering now a days. The VFW celebrates its diamond jubilee on Feb. 6. Of course, a big celebration with lots of friends attending would be its first choice but the governor's Stay at Home orders party goers will have to wait until things get healthier around these parts.
It was the Women's Club of Lakeside that funded construction, and from 1946 to 1948 and it was the able hands and strong backs of community of volunteers that put in the hard labor to place every brick and hammer every nail. Originally the Lakeside Community Center, Women's Club of Lakeside donated the building to the Post in 1956. The Ladies Auxiliary was founded in 1947. Over the years many friends and families have come from far and wide to celebrate their events in original building located next to Lindo Lake Park.
Many of the stories of the history of this Post are people still with it today. The Post was named after Howard Carter, both sailors from Lakeside who gave their lives during the attack on Pearl Harbor. Smith served aboard the USS Oklahoma and Carter served aboard the USS Dobbin.
The Post has a history of its relationship with the Viejas Banc of the Kumeyaay Nation. Native Americans have the highest percentage of service per capita than any other ethnicity, serving every war since the American Revolutionary War. Lifetime member Tribal Councilman Adrian Brown, Army M1A1 Tank Driver and a lifetime member of the Post began his journey with the Post as a child. His grandfather, a World War II Army veteran would drop him off, sending him on VFW Post trips around the county. When his grandfather volunteered in World War II, it was the first time that native Americans served in uniforms as citizens of the United States. He earned two Purple Hearts and two Bronze Stars.
When the Post chartered there were only 60 members, a far cry from the members volunteering to run the place now. The Post charters Boy Scout Troop 346 and Cub Scout packs 342 and 346, and Venture Crew 11833. It has grown expediential over the past decade with a 92% rate with its 565 members. Navy veteran Paula Jansen became the first Post commander in 2017 and is also currently the first woman District commander and the State Community Chairman.
Jansen said the growth rate is consistent, but in her efforts to use technology more, she scrubbed the current member list when she took command, removing deceased members from its list and member renewal dues are coming again soon. Jansen runs a tight ship, comes to work early and stays late to "batten down the hatches." Even with the pandemic, the work of the VFW goes on, she said.
"We are still doing meals to go, we are still open for veteran's services, so if someone needs something, we are still available," she said. "Just because our canteen is closed does not mean that the rest of what we do here is closed also. Community service is one of our main focuses."
Jansen said as a woman, some people chose to leave when she took command, transferring to another post, but 99% of them have returned.
"The majority of veterans were Vietnam War and before, and they did not want to change into the future," she said. "We have wifi, the building is whiter and cleaner. The commander before me, started making the Post family friendly and I continue that. If we are not family friendly, we are not going to attract the younger veterans and that is who we need to survive. The VFW as a whole is moving forward, and younger veterans are taking over."
The Post still has one veteran charter member, WWII Navy veteran Roy Cooper.
"His family owned the brickyard where veterans made the bricks for the Post," she said.
Over the years the Post has donated large sums of money to El Capitan High School and other organizations in Lakeside, sponsored youth groups, scholarships, maintained the National Home for Orphans, held private and public events and kept its halls and canteen opened for its members for veterans to socialize, volunteer, teach and bring awareness to veteran issues.
Whether it is Saturday BBQ lunches, or workshops to bring awareness to veteran related mental health help, stay tuned. The Lakeside VFW Post is still in tip top shape and ready to serve its community, said Jansen.
Managing editor Albert Fulcher contributed to this story.