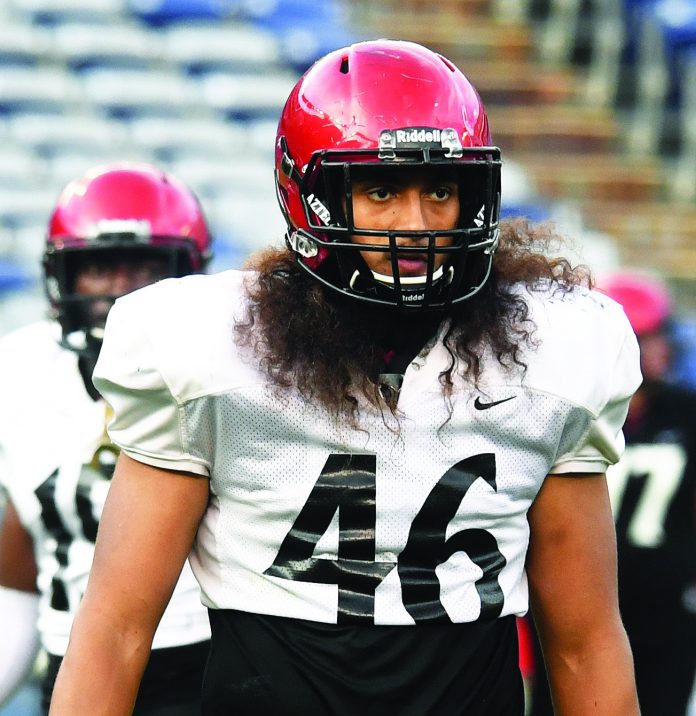 San Diego State University's football team is coming off a 10-3 2019 season in which it defeated Central Michigan, 48-11, in the New Mexico Bowl.
The Aztecs are back on the field for the 2020 fall semester after initially having their season indefinitely put on hold due to the COVID-19 (coronavirus) pandemic. But they will not have any home cooking to look forward to after all home games were transferred 110 miles north to Dignity Health Sports Park in Carson.
The Aztecs will play a total of eight games in their revamped schedule, including seven conference matchups. But none will be in San Diego County.
SDSU's 2020 fall season kicks off with an Oct. 24 "home" game against the University of Nevada Las Vegas. The Aztecs then hit the road for a Halloween (Oct. 31) contest at Utah State.
Additional home games are against San Jose State (Nov. 6), Hawaii (Nov. 14) and Colorado State (Dec. 5). Road games are also at Nevada (Nov. 21) and Fresno State (Nov. 27).
The Aztecs close their regular season schedule with a Dec. 12 game in Provo, Utah, against Brigham Young University.
SDSU defeated BYU, 13-3, to cap last season's home slate.
That Nov. 30 game turned out to be the Aztecs' final football game at SDCCU Stadium after it was announced the stadium, which opened in 1967, would be deconstructed earlier than expected.
Last year's win over the Cougars ended a six-game losing streak in the series and allowed SDSU to improve to 8-21-1 all-time against Brigham Young.
The Cougars were 7-6 a season ago, including a 38-34 loss to MW championship runner-up Hawaii in the Hawaii Bowl. BYU, which is ranked 14th in the AP Top 25 poll, has already played four games on the season, outscoring its opponents 175-44, in rushing to a 4-0 start.
The Aztecs can look ahead to a familiar foe to start the season.
SDSU has won five of the last six meetings against UNLV after edging the Rebels, 20-17, in Las Vegas last year. The Aztecs lead the all-time series 19-10.
UNLV was 4-8 a year ago, but beat San Jose State, 38-35, and Nevada, 33-30, in its final two games of the season.
SDSU will appear five times on the CBS Sports Network, once on FS1 and once on the ESPN networks (ABC, ESPN, ESPN2, ESPNU or ESPN3).
It looks like teams will need to enter the season in midseason form if they are to compete for this year's conference championship.
It was announced that all 12 Mountain West teams will compete in one division this season, with the two teams with the highest winning percentage among conference games to play in the MW title game on Dec. 19.
The team with the highest winning percentage will host the championship game.
It looks to be a mad dash from the start.
College notepad
SDSU's contingent of four East County alumni this season includes quarterback Carson Baker (a sophomore from Helix Charter), safety Rashad Scott (a junior from Helix Charter), linebacker Michael Shawcroft (a sophomore from Helix Charter) and wideout Jesse Matthews (a sophomore from Christian).
SDSU, its MW rivals, as well as Pac-12 teams, will have catching up to do as some college teams have already played four games.
Clemson (4-0) tops the Week 7 national rankings, followed by No. 1 Alabama (3-0), No. 3 Georgia (3-0), No. 4 Notre Dame (3-0),  No. 5 North Carolina (3-0), No. 6 Ohio State (0-0), No. 7 Oklahoma State (3-0), No. 8 Cincinnati (3-0), No. 9 Penn State (0-0) and No. 10 Florida (2-1).