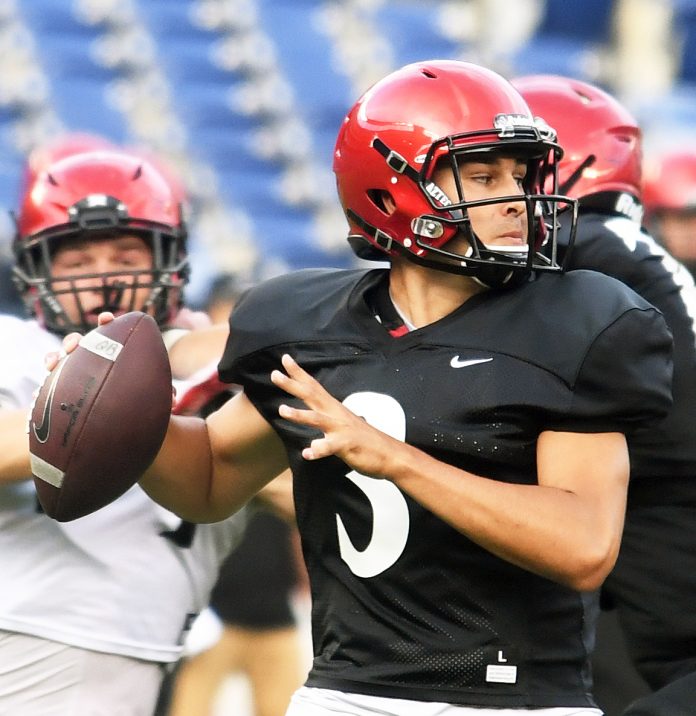 Former Helix High School quarterback Carson Baker had been biding his time the past two seasons as a member of the San Diego State University football team. The redshirt freshman finally got the call in last Saturday's non-conference game against visiting Brigham Young University.
Baker definitely made the most of the opportunity to start his first official college football game by leading the Aztecs to a 13-3 victory in front of 28,180 fans on Senior Night at SDCCU Stadium.
"It felt good," Baker said after the win, which pushed SDSU's record to 9-3 on the season. "I think the coaches did a really good job of keeping my nerves down, keeping me in the game and focused and it felt good to play football again. It was really fun."
Baker, who passed for 5,544 yards and 62 touchdowns while winning two San Diego Section Open Division championships with the Highlanders, completed 19 of 24 passing attempts against BYU for 172 yards with one touchdown.
He rushed eight times for seven net yards and was sacked twice.
Baker became just the second quarterback in SDSU's Division I history (since 1969) to win in his starting debut and the first quarterback to start in a game having never previously thrown a pass in a game.
Baker got the start after first string signal-caller Ryan Agnew aggravated a left calf injury following the team's 14-11 loss at Hawaii on Nov. 23. 
SDSU head coach Rocky Long admitted he didn't know what to expect from Baker, who had never played in a collegiate game before.
"I thought he handled himself confidently," Long assessed of the former Helix standout. "He didn't look like he got frustrated. He didn't look like he got off-kilter. He stayed in the game. He did what he could. He made a couple of really good throws.
"He made a good throw before halftime and then a nice throw down the sidelines where the receiver went up and caught the ball. He put it up where they could catch it and the defensive back couldn't make a play."
The Aztecs are bowl eligible and await an opponent to be announced for postseason play.
Baker, who last saw live action in a state finals appearance for Helix in 2017, said it was important for him to see on-field action in the likelihood he is pressed into duty in the team's upcoming bowl game.
"It was good for me to get my first snaps," Baker said. "It was good for me to get some experience leading into the bowl game. Now we have some time to practice, prepare — but I think this (experience) is definitely going to help.
"All of the receivers made amazing plays for me. I cannot be thankful enough for them."
Christian High alumnus Jesse Matthews was Baker's top target with four catches for 78 yards, including one catch that measured 33 yards.
BYU scored first in the game on a 24-yard field goal by Skyler Southam to take a 3-0 lead in the first quarter. Baker's 25-yard touchdown pass to sophomore tight end Daniel Bellinger made the score 7-3 in favor of the hosts in the second quarter.
Matt Araiza tacked on field goals of 44 and 27 yards to account for all the scoring in the second half.
Baker said the team worked extra hard to reward its seniors on Senior Night.
"For guys like this who put everything into this program, done everything for this team, we did it for them," Baker said. "The defense played terrific. The seniors on the defense played really well, and our ultimate goal was to get a win for them, so it felt really good."
Former Helix standout Rashad Scott also saw game action, though he did not start.
"It's great to win," Long said after the game. "It's great to have nine wins on your record and we're looking forward to the bowl game. BYU is a very good football team and they are a class act. So any chance you have to play them, you know you're going to get their best and we gave our best."
The win snapped a six-game losing streak to BYU since October 2005. The Aztecs also snapped the Cougars' five-game winning streak.
SDSU has won 27 of its last 39 games.