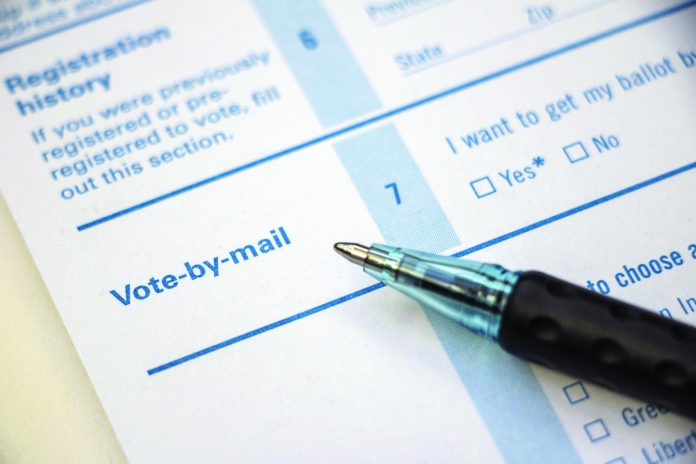 Due to the COVID-19 pandemic, the San Diego Registrar of Voters placed measures to ensure visitors going to the Registrar's Office and local polling places receive the highest level of customer service while reducing the risks of spreading the virus. Early voting began Oct. 5 and voters are reminded to bring face masks and maintain social distancing, adhering to the county's public health orders.
San Diego Registrar of Voters Assistant Registrar Cynthia Paes said they are mailing out more than 1.8 million ballots and expect more people registering in the coming days. She said to put that in perspective, in March the ROV mailed out 1.2 million. Paes said early voting is important for this election because so many people will be voting by mail.
The Registrar's Office will be open during normal business hours for people to vote early. This is not new, and it is not related to the pandemic, said Paes.
"Don't wait until election day," she said. "Getting people away from this thinking that you wait until election day to act, those days are over. You have 30 days that you can act. We are really encouraging people to act on their mail ballot, only go to your assigned polling place if you truly need to. We really want to limit the numbers going to the polls."
Paes said for some people, voting in person at their neighborhood polling places in person is fine if that is something that they need to do, but suggested that it can be done early as neighborhood polls are open for four days from Oct. 31 through election day.
Due to the pandemic, voting this year is more about having a large, large facility, said Paes. In March, and past elections, the county had 1,500 to 1,600 polling locations.
"Those could be somebody's garage," said Paes. "That is just not feasible with social distancing. So we did highly consolidate down to 235 large facilities. These are going to be gymnasiums, large conference center type facilities. That was more of the issue having that certainty with first off it being a public facility for the most part so we can have the assurance that they are not going to pull out at the last minute. And for us not to have a facility that would be a concern if we if we used predominately private facilities. So we are using a lot of public schools because we needed that excess of 2,000 square feet so we account for social distancing. All those facilities are secured and can be found on our website."
Paes said that they wish more people will take advantage of earlier voting this year. She said it is safer as there are less crowds and from an administrative view, if it receives a steady return of ballots then they are processed every day for a month before election, instead of an onslaught on election day that get processes during the following weeks after election day. Paes said ROV is expecting this year to be consistent with past presidential elections and could probably hit an 80% voter turnout.
Election Day is Tuesday, Nov. 3.
The deadline to register online to vote is Monday, Oct. 19.
The deadline for registering by mail to vote is (postmarked by) Monday, Oct. 19.
The deadline to register in person to vote is Tuesday, Nov. 3.
All registered voters will automatically be mailed a vote-by-mail ballot for the Nov. 3 general election.
The early voting period runs from Oct. 5 to Nov. 2.
People can also register and vote on election day.
First-time voter? Register to vote in less than two minutes. Registration forms are also available. Call (858) 565-5800 or email rovmail@sdcounty.ca.gov.
Sign up to track your mail ballot every step of the way. Find out when the registrar mails your ballot, when it arrives back at the Registrar's Office and when it is counted. Visit www.sdvote.com/content/rov/en/
elections/wheres-my-ballot.html
Ballots will begin going out to registered voters the week of Oct. 5.
The Registrar's Office encourages people to take advantage of early voting:
8 a.m. to 5 p.m. Monday through Friday starting Oct. 5 at the Registrar's Office, 5600 Overland Ave., San Diego
8 a.m. to 5 p.m. Oct. 31 through Nov. 2 at your assigned polling place or the Registrar's Office.
The Registrar's Office and polling places will be open from 7 a.m. to 8 p.m. on election day, Nov. 3.
Visit www.sdvote.com for updates and local polling places.