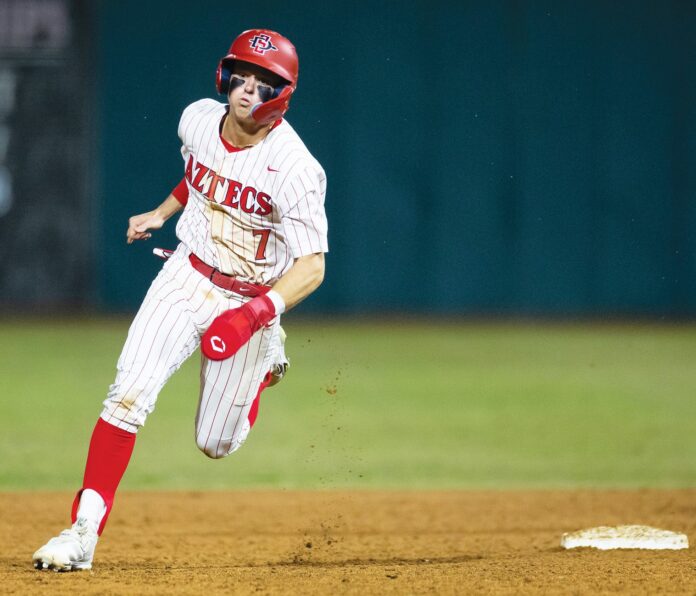 The San Diego Padres, picked to win this year's World Series championship in some circles, are off to an 8-8 start. Of course, there's a lot of baseball to be played, so any early supposition on the Friars' fortunes are grossly premature.
The San Diego State University baseball team suffered through a grossly disappointing 2022 season with a final 18-38 record, including 10-20 in Mountain West Conference play.
The Aztecs are off to a much better start this spring (8-5 in conference, 13-19 overall), and there's hope for an upswing as the season gains momentum.
"We're coming off a very bad year last year," SDSU head coach Mark Martinez said in advance of this season. "We haven't experienced too many of those since I've been here. But the one thing I can tell you is, we were probably one of the youngest programs in the country last year. And if failure breeds success, then I'm hoping we should be pretty good. We experienced a lot of failure last year, but at back end of our season, we started to grow up a little bit. We played better baseball; we won some series, swept a series on the road at New Mexico.
"Our pitching staff performed exceptionally well all year long. We led the conference in just about every category, so that was great. We return the bulk of our pitching staff, so we're excited about this year. We have some really good returners."
The 2023 Aztecs include 12 players who hail from San Diego County, including three from East County, four from South County and three from St. Augustine High School.
Freshman infielder Cade Martinez hails from El Cajon by way of St. Augustine. He's appeared in 29 games thus far this season with 20 starts, 10 runs scored, three doubles, four RBI to go with a 0.191 hitting a average.
Freshman infielder Maddox Haley hails from La Mesa by way of Madison High School. He's appeared in 17 games with nine starts, four runs scored, one home run and five RBI to go with a 0.237 hitting average.
Santana High alum Tyler Glowacki, a sophomore outfielder, is hitting 0.200 with seven starts in 20 games to go with two runs scored, two doubles and three RBI.
South County recruits include four-year letter-winning Brian Leonhardt, a senior first-baseman/ left-handed pitcher from
Eastlake (0.214, 4.66 ERA), junior catcher Poncho Ruiz from Mater Dei Catholic (0.304, five doubles, five home runs, 31 RBI), junior infielder Xavier Gonzalez from Hilltop by way of Southwestern College (0.252, four doubles, one home run, 14 RBI) and junior right-handed pitcher Ricky Tibbett from Eastlake (1-0, 5.76 ERA, 19 strikeouts in 25 innings).
Also from St. Augustine are junior outfielder Charlie Rhee (0.375) and freshman first baseman/ left-handed pitcher Trevor Fox (3.00 ERA).
Top performers this spring include redshirt outfielder Shaun Montoya (0.324, 27 runs, 10 doubles, two triples, two home runs, 11 RBI), junior infielder Caden Miller (0.317, seven doubles, one triple, two home runs and 11 RBI) and junior left-handed pitcher T.J. Foundtain (3-2, 3.42 ERA, 46 strikeouts in 41.2 innings).