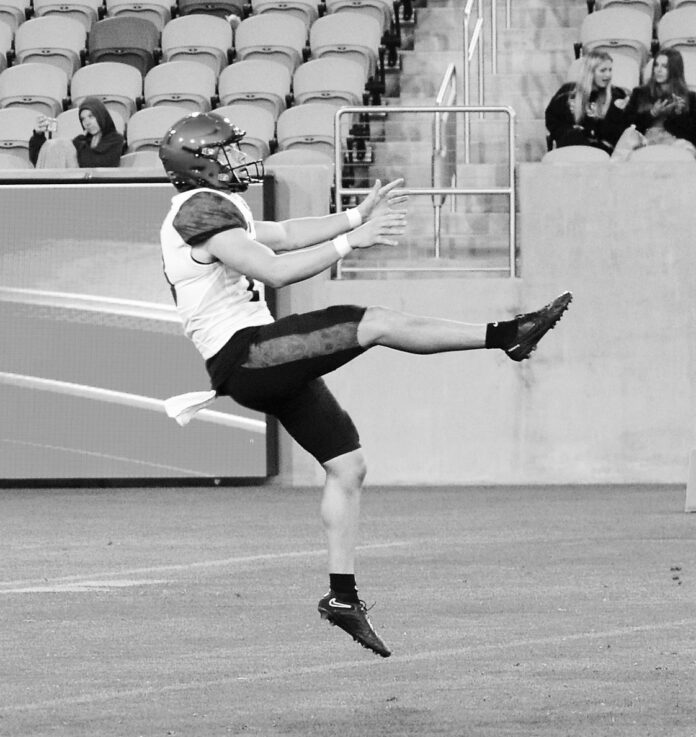 The San Diego State University men's basketball team reached its nirvana with an appearance in this year's NCAA Division I championship game against the University of Connecticut.
The Aztecs finished runner-up by a score of 76-59 to the Huskies in the April 3 national final, but the statement – and unparalleled exhilaration – both had been achieved.
The SDSU football team hopes to follow that example during the upcoming 2023 fall season.
The Aztecs got a bead on what's ahead when they held their annual spring scrimmage March 23 at Snapdragon Stadium.
"We had a good spring in a lot of ways," SDSU head coach Brady Hoke said. "We have to clean some things up. We'll evaluate as coaches. We'll grade the film and then start spring break. When the guys get back, we'll have some great evaluations, great conversations. There will be some guys who may be disappointed in where they're at but that's just part of it. I really thought we had a good spring. I think the intensity that we played with was pretty good."
Team Aztec posted a 19-0 victory over Team Warrior in a spirited contest that featured five interceptions, including a pair by junior cornerback Noah Tumblin (Mira Mesa), one on an electrifying 42-yard return, six sacks, 13 tackles for a loss, 12 pass breakups and one fumble recovery.
"I think that's probably one of our strengths as a football team," Hoke said. "As a defensive coach, you like that, but as a head coach you would like it to be five interceptions and five touchdowns."
Junior Gabriel Plascencia (Bishop O'Dowd) kicked field goals of 55 and 42 yards for the game's opening six points before senior tight end Mark Redman (Corona del Mar) caught a sixyard scoring pass from redshirt freshman quarterback Kyle Crum (Norco) for a 13-0 halftime lead.
Sophomore Martin Blake (Canyon Springs Las Vegas) rounded out the scoring on a two-yard rushing touchdown in the fourth quarter, though the PAT was blocked. Blake rushed 15 times for 68 yards with one touchdown for Team Aztec while senior running back Kenan Crishton (Madison) followed on the scoresheet with five carries for 15 yards. Crum rushed four times for 12 yards while sophomore Cam Davis (South Oak Cliff Dallas) rushed four times for eight yards.
Team Aztec put up 103 rushing yards on 28 carries with one touchdown while Team Warrior rushed for 36 yards on 21 attempts.
Redshirt freshman Lucky Sutton (Cathedral Catholic) led Team Warrior with 25 yards on five carries while junior Jaylen Armstead (Serra Los Angeles) squeaked out seven yards on six carries. Redshirt freshman quarterback Tobin O'Dell (Bishop Amat) rushed twice for seven yards while senior Jalen Mayden (Sachse Garland, Tex.) rushed once for four yards.
Junior Lucky Avinger (La Habra) had three carries for negative-one yard while sophomore D.J. Ralph (Cathedral Catholic) rushed three times for negative-six yards. Sophomore Phillippe Wesley II (St. Bernard) had one carry for zero yards.
Six quarterbacks participated in the spring scrimmage — three on each team.
Redshirt freshman Liu Aumavae (Limpview, Utah) completed eight-of-15 attempts for 102 yards with one interception. Crum (8-of-18, 73 yards, one touchdown) and Blake (1-of-1, 11 yards) combined for 186 passing yards (17-of-34) with one touchdown and one interception.
Mayden (12-of-22, 219 yards, three interceptions), Ralph (0-for-1, one interception) and O'Dell (0-of-3) combined for 219 yards (12-of-26) with four interceptions.
Wesley keyed Team Warrior with two catches for 89 yards while senior Brionne Penny (Narbonne) had three catches for 68 yards. Redshirt freshman Mikey Welsh (Servite) had three catches for 30 yards while junior transfer Nino Remigio (Saddleback College) caught one pass for 17 yards.
Sophomore tight end Cameron Harpole (Prosper Texas) had two catches for 11 yards while Sutton had one catch for four yards.
Team Aztec's receiving leaders included senior Darius Hyde from Modesto College (four catches, 61 yards), junior Raphael Williams Jr. from Ft. Lauderdale (three catches, 50 yards), junior RW Jelani Whitmore from Rialto (one catch, 25 yards), redshirt freshman Jacoby Kelly from Compton (one catch, 14 yards), sophomore tight end Gus McGee from Christopher Columbus, Fla. (two catches, 11 yards), Crum (one catch, 11 yards), Redman (two catches, five yards, one touchdown), Davis (one catch, five yards), Blake (one catch, nine yards) and Christon (one catch, three yards).
The defensive statistics are what pop out the most.
Tackles leaders included sophomore safety Eric Butler (Centennial Corona) with 10 (four solo, six assists), redshirt linebacker Trey White (Eastlake) with six (one solo, five assists), redshirt freshman safety Josh Hunter (Temecula) with six (three solo, three assists) and sophomore linebacker New Zealand Williams (St. Bernard Carson) with six (all assists).
Other tackles leaders included senior linebacker Vai Kaho (Bishop Manogue Reno) with five (three solo, two assists), junior cornerback Noah Avinger (Servite) with five (three solo, two assists), junior transfer safety J.D. Coffey III (Kennendale Texas) with five (three solo, two assists), sophomore safety D.J. Bryant (Oakland) with five (three solo, two assists), sophomore linebacker Brady Anderson (Bakersfield) with five (three solo, two assists) and junior transfer linebacker Cody Moon (Albuquerque) with four (all assists).
Players with three tackles included junior cornerback Dez Malone from Fresno (two solo, one assist), sophomore safety Max Garrison from Pasadena (all solo stops), senior defensive lineman Dylan Taylor from Las Angeles Cathedral (one solo, two assists), sophomore defensive lineman Dominic Oliver from San Jose (one solo, two assists,), sophomore cornerback Chris Johnson from Eastvale (all assists), freshman safety Marcus Ratcliffe from Cathedral Catholic (one solo, two assists), sophomore linebacker Zyrus Fiseau from Liberty Las Vegas (one solo, two assists) and senior transfer defensive lineman Samuela Tuihalamoka from Oklahoma State (one solo, two assists).
Players with two tackles each included senior linebacker Cooper McDonald from Haslet, Tex. (one solo, one assist), sophomore defensive lineman Keion Mitchell from Framingham, Mass.) (one solo, one assist), senior defensive lineman Wyatt Draeger from Reno (one solo, one assist), sophomore linebacker D.J. Herman from Bishop Gorman (both solo), junior transfer defensive lineman Talib Salahuddin Riverside City College (both assists), sophomore defensive lineman Darrion Dalton from Saguaro Ariz. (both solo) and sophomore quarterback Joshua Gaynes Faith Lutheran Las Vegas (both solo).
Senior defensive back Patrick McMorris (Santa Ana) and Tumblin each recorded one solo stop while senior defensive lineman Garret Fountain (Turlock), junior linebacker Darrell Masaniai (Honolulu), sophomore safety Jatavious Magee (Federal Way Wash.), junior transfer defensive lineman Joseph Hall (Saddleback College), redshirt freshman linebacker Jayden Kendricks (Eastlake), senior safety Cedarious Barfield (El Paso) and sophomore defensive lineman Ryan Henderson (Las Vegas) all recorded one assist.
Kaho and Oliver both had 1.5 tackles for a loss while Avinger had two pass breakups.
Tumblin had two interceptions for 42 return yards while Butler returned one pick for 21 yards. J.D. Coffey III (four yards) and Avinger (no yards) both had one interception. Anderson logged one forced fumble and one fumble recovery.
Six players recorded one sack: Fiaseu (13 yards), Kaho (eight yards), Draeger (eight yards), Dalton (six yards), Anderson (six yards) and Herman (one yard).
Butler may have had the biggest defensive game with 10 tackles, one pass breakup and an interception return West Hills and Grossmont College alum Jack Browning handled punting and place-kicking holding duties throughout the evening. Browning led the Aztecs in scoring with 90 points on 20 field goals and 30 PAT during the fall season.
Hoke singled out several players for their standout performances.
"J.D. Coffey — he made some plays, he showed up," the SDSU head coach said. "Our linebacker crew overall is a good crew. Cody Moon's gonna give us some significant snaps next year. Trey White is really playing well. Coop (Cooper McDonald) is playing better than he did. Brady Anderson's a good football player, so I like that group as much as anybody."
Last year's SDSU squad was mired in a quarterback controversy before Mayden emerged as a winner. He led the six signal callers in passing yards in this year's spring game, though he threw three picks.
All passers remain under the watchful eye of Alpine native and El Capitan alumnus Ryan Lindley, who returns to Montezuma Mesa as the team's quarterbacks coach and offensive coordinator.
The Aztecs continue to have a local flavor as Chula Vista contributed four players to this year's spring game: White, Kendricks, sophomore cornerback Escano and Ratcliffe while junior receiver Darius De Los Reyes previous played at Eastlake before transferring to Lincoln.
SDSU kicks off its 2023 season with an Aug. 26 home game against Ohio at Snapdragon Stadium.
In fact, the Aztecs' opening three games of the upcoming season will be at Snapdragon Stadium, including non-league games against Idaho State on Sept. 2 and UCLA on Sept. 9. SDSU plays at Oregon State on Sept. 16 before returning to Snapdragon Stadium to host Boise State in its Mountain West opener on Sept. 22.
The Aztecs return to the road for a pair of MW games at Air Force Academy on Sept. 30 and Hawaii on Oct. 14.
SDSU returns to Snapdragon Stadium for two more conference matchups: Oct. 21 against Nevada and Nov. 4 against Utah State. The regular season ends with two road games – Nov. 11 at Colorado State, Nov. 18 at San Jose State – and a final home game: Nov. 25 against defending MW champion Fresno State in the renewal of the teams' annual Oil Cal rivalry series.
The MW championship game is scheduled Dec. 2.
SDSU SPRING FOOTBALL ROSTER
SAN DIEGO COUNTY LOCALS
RB: Lucky Sutton (Cathedral Catholic), redshirt freshman
CB: Noah Tumblin (Mira Mesa), senior
K/P: Jack Browning (West Hills/Grossmont College), senior
QB: D.J. Ralph (Cathedral Catholic), sophomore
RB: Kenan Christon (Madison), senior
RB: Nick Gardinera (Scripps Ranch), redshirt freshman
CB: Arnold Escano (Olympian), sophomore
S: Marcus Ratcliffe (Cathedral Catholic), freshman
LB: Trey White (Eastlake), redshirt freshman
LB: Jayden Kendricks (Eastlake), redshirt freshman
LS: Tyson Chavez (Mission Hills), redshirt freshman
DL: Mohamed Mohamed (Crawford), redshirt freshman
OL: Rambo Mageo (Cathedral Catholic), redshirt freshman
WR: Mekhi Shaw (Scripps Ranch), junior
WR: Darius De Los Reyes (Eastlake/Lincoln