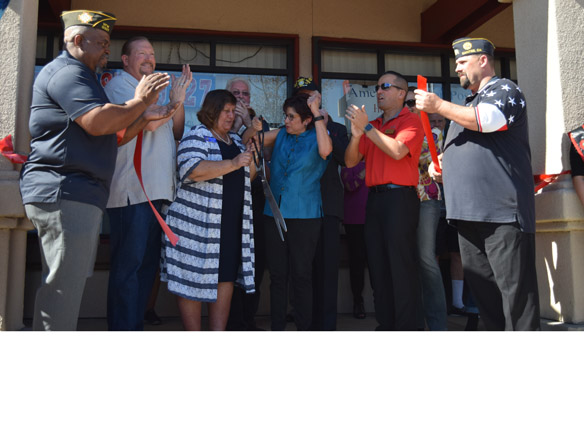 Homecomings can be sweet, sweeter for the time away. But sweetest of all may be moving into a new home after a long time without one.
Homecomings can be sweet, sweeter for the time away. But sweetest of all may be moving into a new home after a long time without one.
On Feb. 3, Santee's veterans service organizations hosted grand opening festivities celebrating their new home, located at 8516 N. Magnolia Avenue, Suite 203. The party for Veterans of Foreign Wars Post 9327, the associated VFW Auxiliary, and American Legion Post 364 was very sweet, because these groups were homeless for quite awhile. Speakers at the Ribbon-Cutting Ceremony mentioned the "long road" traveled to arrive there.
VFW Commander Charles "C.J." Walker opened the brief formal events, welcoming the packed house of attendees, who gathered outside the new Post's doors. "I want to thank everybody for being here," Walker said. "We have come a long way, and we have a lot of people to thank for helping us get here." Walker singled out the Santee Eagles, former Santee Mayor Randy Voepel, others at Santee City Hall who assisted with building permits, and the volunteers who donated time, skills and effort to the project.
Walker addressed the active-duty military personnel and veterans specifically, but included members of the Santee community as well, saying, "This is your house, your home. And remember to thank a veteran."
Santee VFW Auxiliary President Karen Watts Walker followed her husband, C.J., in speaking. She also thanked guests for attending, and acknowledged her Auxiliary, "We couldn't have done it without you."
Next up to greet audience members was American Legion Post 364 Commander Gene Michonski, who thanked American Legion Riders motorcyclists who had shown up in honor of the Post opening. "This Post feels like home," Michonski continued. "We've worked hard to get here. And we're ready to do more. If you're ready to work, I'm ready to work with you."
Leading city official at the ceremony was Santee Mayor John Minto, who said, "We thank veterans for their service. We're here because of you." Minto remarked on the concentration of active-duty service members and veterans living in Santee, and he delivered a Certificate of Recognition to the Post principals.
Members of Santee's Chamber of Commerce presented awards to both Post commanders as "a great addition to our community." The ribbon-cutting ceremony concluded with the raising of the American flag by Santee Navy Recruiters.
The organizations had kept up attenuated services and operations during their "homelessness" interim, despite being without a permanent Post. Having a real home will allow these veterans service members to do more.
During an interview as the party continued in full swing inside the Post, Michonski elaborated, "This has been a long, hard road. I really want to thank the VFW for letting us operate our Legion Post in its house. We survived, we maintained without a place. And this has been a joint effort, with lots of late nights. Now veterans in East County have a place to go." Michonski paused, and then went on, "We want everyone to feel like family here — neighbors, friends, veterans. Whatever the community needs, we're ready for good work. We'll help the homeless, the hungry, children, whatever the community around here needs."
The journey began in mid-summer 2015, when the service groups received notice to vacate their former Post facility in a strip mall on Cuyamaca Street. With a deadline to move out by Sept. 10, the Santee veteran organizations transferred their furnishings and set up operations during early September two years ago, as the Santee Eagles Club offered the groups temporary hosting at the Eagles club house. The local Eagles amended club bylaws to permit members in good standing of the three Santee veterans groups an implicit automatic sign-in authorization for the club. The Eagles further assisted the veterans groups with continuing their Friday night dinners, Sunday breakfasts and football game viewing events to raise money.
And by the summer of 2017, these veteran comrades found the Magnolia site for a new permanent Post home of their own. The VFW acquired the property and commenced remodeling the two-suite complex. Saturday's events concluded that "long, hard road" to a new home for East County veterans.
Post officers said that monetary donations and community support would be welcomed and greatly appreciated. Information about the Santee Post can be found by phoning (619) 562-4022 or by emailing either vfw9327@gmail.com or santeealpost364@gmail.com.