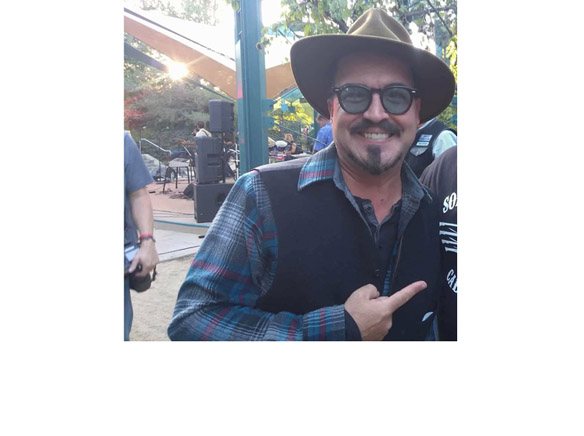 Correction: Previously, it was written that Bobbi Walker hung up the phone and "refused to disclose any more information." Walker has provided information to proper authorities, including financial reports.
Correction: Previously, it was written that Bobbi Walker hung up the phone and "refused to disclose any more information." Walker has provided information to proper authorities, including financial reports.
In November 2017, the The East County Californian's reported of the disintegration of a beloved and respected charity, Sons of Charity (SOC), after the entire board resigned. ("Sons of Charity under scrutiny after entire board resigns alleging misuse of funds" Nov. 6, 2017) Upon resignation, board members alleged that SOC CEO Sam "Diego" Mejia misused charity funds for personal expenses and emptied the charity's bank accounts. After a series of "he says, they said," we now have a portion of SOC's bank account statements for 2017 with California Bank Trust and are able to verify some of the facts.
Back in November, during an exclusive interview for the ECC, Mejia admitted of using the charity's money for personal bills, such as "gas and Uber around," stating he volunteered full time for this charity and had expenses to cover. The board, represented at that time by treasurer Pierre Charmasson, stated that SOC was created with the sole purpose to give 100 percent of donations to family with kids suffering from cancer and that the charity was an all-volunteer organization, backed up by SOC's Articles of Incorporation filed with the IRS on Feb. 6, 2014: "No part of the net income or assets of this corporation shall ever inure to the benefit of any director, officer or member thereof or to the benefit of any private person," as stated in Article 5c and signed by Mejia.
A quick break down by the type of expenses acquired during the months of January-September 2017 there are several questionable bills that Mejia has declined to answer for.
Food and Bars, totaling $6,434. What is notable about this type of expenses is that there are multiple bills from the same day at many of the bars and restaurants listed on SOC's bank accounts. Charmasson and other witnesses claim that when the group gathered after charity events, Mejia paid other people's bills, then went back to the bar after his guests left and kept consuming on his own.
Many of these charges are made at pubs, bars, breweries and restaurants, with few favorites. Hooley is listed with 27 bills totaling $1,561.45, followed by monies spent at Junction Bar ($291.15), Downtown Café ($436.00) and El Cajon Bistro ($180.75) among others. We talked with Hooley's manager and will include that information in a follow up of this investigation.
Travel expenses charged in Tennessee for the month of July, including airfare, hotels and restaurant, movie tickets, plus additional expenses with Amtrak in February and Frontier Air in May totaling $2,141.
Based on a live video posted by Mejia on his Facebook page in July of last year, he admits of traveling for personal purposes to rest and "recharge" after working hard for the charity. There is no mention of his vacation in Tennessee to be in any way related to SOC, contradicting the corporation's By-Laws indicating that 100 percent of the donations go directly to the families with children the charity serves.
Uber, used from Jan. 3 until Sept. 29, for a total of $2,205.62
"Juice +" is a charge listed under "personal improvement expenses" during Jan. 3 – Aug. 30, totaling $920.75
Google Music paid for with SOC's bank account in the amount of $160.13
Foreign transaction fees for May, July and August totaling $9.27. None of the board members were able to explain this expense.
All of this adds up to $11,870.77 that no board member is able to clarify if any of it is related to the families that were supposed to receive the donations. Based on SOC's treasurer testimony, there are no documents to account for any of these expenses. Charmasson claims Mejia was the one who kept all the paperwork and he handled all the funds, refusing any board members' request for transparency.
With $11,870.77 spent in a portion of 2017 is more than the single largest donation ever made to SOC that came from Kathryn Willdigg who donated $10,000 to honor her recently deceased mother. In a "thank you" letter dated on May 31, 2017, Mejia mentioned how this generous donation would "provide comfort and emergency financial assistance to families with children expecting a medical crisis." However, after The East County Californian broke the story about SOC in November, Mejia contacted Willdigg trying to obtain a "backdated letter of appropriation to state how the funds ($10,000) could have been used," as mentioned by Willdigg during a phone interview. Willdigg never fulfilled Mejia's requests and stated, "We donated specifically for the families. My husband and I had a very, very in depth conversation with Sam about how adamant my mother was about children's charities and we were not donating to Rady's because of the overhead and we wanted all the money to go strictly to families."
Visibly upset, Willdigg said she would contact the state district attorney first and a lawyer in order to decide the next step because "if Sam is that fraudulent and used that money, I will seek restitution for that $10,000." Willdigg said she believes that "Sam should own up to this, start providing more answers to the families, children and donators. " The $10,000 donation was completed in May during Treasure Chest fundraising event, when an angel award was named after Willdig's mother, Cherryl Kunzmann.
Mejia claimed the whole situation is caused by honest mistakes and misunderstandings, blaming it all on his lack of experience and knowledge and announcing that he's building a new board with "professionals and business minded people" as opposed to "with friends." However, while on the stage during Tribuu, a fundraising event organized in September, Mejia said he " picked experienced, brilliant, passionate people, because a great pirate captain needs a great pirate team." Related to his alleged lack of experience, a declaration made by Mejia himself contradicts that. He revealed that he went to the Police Academy and worked with the FBI, the law enforcement and a "risk management and loss prevention company investigating employers and consumers with nefarious intentions (…) to put the organizer of a major credit card crime ring behind bars," as he stated to East County Magazine in 2009. Also, based on his own admission backed by Michelle Pius, former SOC director of development, who went to his graduation, Mejia studied philanthropy at the National University "so I can learn how to do this."
Currently, the SOC website page is still listing Mejia as the only board member, contrary to the corporation's By-Laws requirement: "The number of Directors comprising the Board of Directors shall be an uneven number of not less than three (3)" (Article 4 of the By-Laws). The federal law requires non-profits to have "a minimum of five members on the board," in order to continue asking and receiving monetary donations online. As of Monday, Feb. 5, SOC website had a functional "Donate" button on its main page.
Under "Our Community Partners," Grossmont Healthcare District (GHD) is listed among few others. GHD awarded a $25,000 grant to SOC for 2015-2016. According to CEO Barry Jantz, GHD, "In early November (2017), I requested SOC provide financial statements or bank documentation for the prior two years. Mr. Mejia said he would provide that information. It has not yet been provided."
However, at the time of the application for the grant, which is prior to 2016 when SOC tax filings are missing, Jantz stated that SOC had all the documents in order, "including financial statements, articles of incorporation, bylaws, an IRS letter…and a board of directors list, " indication that SOC is "a legally-established non-profit." Asked if the request of additional documents is customary for grant applicants, Jantz stated that "it is not customary or usual, but there are times we do so, especially if we are aware of concerns or circumstances where we may want to exercise an higher level of diligence. In this instance, the publicly announced resignation of several SOC board members caused us to inquire further about reviewing the financials." Answering if GHD is going to take further action regarding SOC, Jantz said that "additional options have not been considered at this point – and I don't know that we will take any." Contacted to provide additional documentation to account for the spending of the $25,000 grant awarded by GHD, Bobbi Walker, former SOC accountant, refused to disclose any more information.
After he initially demanded a follow up interview, Mejia refused to answer all the requests to provide documents and to clarify the long list of allegedly personal expenses he charged on SOC's bank account.
Note: With nine months of bank statements and more than 40 hours of interviews, this investigation is ongoing. There are still other charges in the short period of bank statements that are questionable. Mejia has been contacted several times for a follow up interview and requested by The East County Californian to disclose financial records on the spending of Sons of Charity. At this time, he has declined all interviews and provided no further documentation to explain expenses.