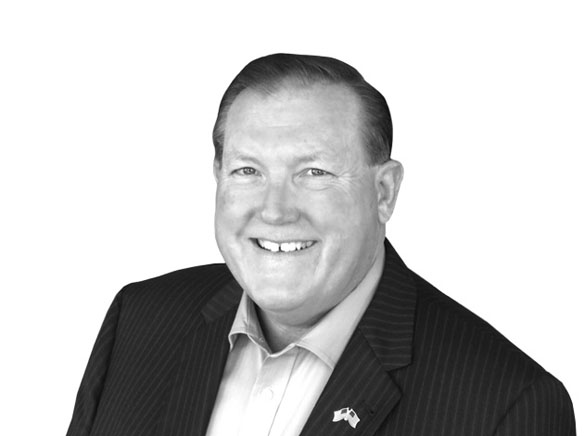 Santee mayor John Minto on Wednesday recommended adding more
representatives to the city's Community Oriented Policing Committee.
The request came during the city council meeting and was a response to recent events in which two men were seen in Santee stores wearing attire considered racist and anti-Semitic.
On May 2 pictures of a man wearing a Ku Klux Klan-style white hood
shopping at a Vons supermarket on Mission Gorge Road were widely shared on social media.
Six days later a shopper at a Food4Less on Cuyamaca Street was
photographed wearing a face covering decorated with a swastika.
Both images garnered national and international attention.
Minto suggested a triage approach is needed to find out where the worst problems are, followed by bringing in voices that can speak to the reality of navigating racism in the community.
"I plan on bringing in an African-American man from southeast San Diego, then I plan on bringing a lady in who works with the ADL
(Anti-Defamation League) and has a background in teaching. Those are the first couple of people I want to bring on," Minto said.
Prior to Minto's recommendation the public and council members offered their own thoughts, with some denouncing the racist acts and questioning the council's slow reaction.
"I firmly believe that to ignore is to condone.  If we don't recognize a problem then we can't take steps to address it. This governmental body is in a unique position to lead on this important dialogue—do not miss this opportunity," said Michelle Perchez.
Another resident said the hood and swastika were more than people
exercising their personal liberties.
"Hate symbols are not just free speech, they are symbols of violence.
They have raised fear in some about coming to shop here," said resident Les Ford.
Lee Harstat wondered what the two incidents meant for the city's image.
"My question is: What is the city or mayor prepared to do to address the issue of racism in Santee? I want to know if the city is willing to back up their words with actions. Do you always want to be known as Klantee?" Harstat said.
Councilman Rob McNelis, however, said he did not think either of the
incidents was motivated by racism or anti-semitism, but instead were
political statements against mandates requiring social distancing and
the use of face coverings as a way of slowing the spread of COVID-19.
"Neither one of those incidents had anything to do with anything racist or anti-semitic. It was meant to be a statement against Governor Newsom," McNelis said. "None of their comments were racist in any way, shape or form, it was just a horrible way to state it."
denounced racist behavior in general,
then said it was important to look at the financial ramifications of
ignoring the situation.
"We cannot just say 'This is not who we are, blah, blah, blah'… Here's why: people are threatening not to shop in our town, which will hurt us financially.  People are threatening not to live here, which will hurt us financially. It is our financial responsibility as well as the moral responsibility for this council to do the right thing and the right thing is to handle this head on, no excuses," Houlahan said.
However, according to the Anti-Defamation League, which tracks and campaigns against anti-semitism and hate crimes, the line between free speech and normalizing hatred is something that must be balanced.
ADL spokesperson Terrie Gillies said the Klan hat could be seen as a symbol of terror and that wearing a swastika is deplorable.
"To use that symbol is deplorable but the most frightening part of this is the normalization of hatred.  Now we see them all over. It used to be shocking in our county and now it's just another part of another rally and we can't allow that to happen. Yes, they have the right to wear it as free speech but we need to ask is it okay to wear that? You can say the same message without using hate paraphernalia," Gillies said.
Mayor Minto said he wanted to talk to committee candidates prior to naming them publicly and clarified that no matter who sits on the committee, the conversation must extend to the Santee Sheriff's department, local schools, everyday citizens, the Institute for Public Strategies, and other local outlets.
"Some people have said we're not taking a hard enough stance and that
just saying the words isn't enough.  They're asking us: what are we
going to do? Well, we can use all kinds of words.  Let's show what we're going to do with our actions," Minto said.
The council voted to add four new members to the oversight committee
that currently has 17 members.
"For the people that wrote in tonight I know there were probably some
comments here you didn't agree with but I hope you can agree that we're going to get something done. One thing is absolutely correct: it does start right here.  It starts with you council members.  If anyone believes you are tolerant of this behavior we've lost. Let's do a better job," Minto said.