Helix Charter High School senior Jordan Thompson has committed to continue his baseball career at Louisiana State University. However, he could find his name called in July's upcoming Major League Baseball amateur draft.
If so, it would be a dream come true for the highly decorated prep all-star.
But Thompson is getting used to having his name called for big events.
Thompson participated in last June's San Diego Section Baseball All-Star Game at Petco Park. He reached base three times via two singles and a walk and scored one run.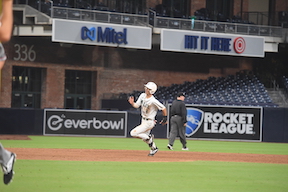 It wasn't the only time he played at Petco Park last summer.
Thompson was among two San Diego County preps who participated in the 17th annual Perfect Game All-American Classic in August.
The game showcased the top 50 incoming seniors who are projected to be potential high draft picks in the annual Major League Baseball amateur draft.
Thompson fit right in with the group.
"Everyone here is obviously here for a reason, so it's just super awesome," he said.
The scouting report on Thompson notes that he "has quick hands and feet and has advanced athletic balance defensively."
The report adds that Thompson has a solid athletic build at six feet, 160 pounds, with a frame that could hold "lots of bulk."
Thompson earned honors as a First Team All-San Diego Section selection after posting a solid junior season when he hit .283 with seven doubles, two triples, five home runs and 16 RBI.
He showed promise as a sophomore by batting .247 with three doubles, one home run, 17 runs scored and nine RBI as the Highlanders finished 21-10.
Thompson has honed his skills at shortstop but can pitch, too.
In 49.2 innings as a junior, he posted a 1.40 earned-run average with 71strikeouts as Helix posted a 20-13 record in advancing to the Open Division semifinals. He was clocked at 93 mph.
He also has a good eye for the ball, striking out 23 times in 122 plate appearances while drawing 15 walks last season.
Add speed (6.7 seconds in the 60 dash) and it's easy to see why Thompson is such a hot commodity.
"Jordan is a great athlete who brings great work ethic and leadership to our program," said Helix head coach Cole Holland, who is in his 19th season coaching the Highlanders. "He is a great kid who has a very high ceiling."
Thompson's potential was apparent from an early age, according to Ward Lannom, who coached Thompson on the 2014 Sweetwater Valley Little League all-star team.
"He always had a ball in his hand as long as I can recall, from the age of 5," Lannom explained. "There was always something special about him. He's a five-tool player — he has speed, he can hit, he can hit with power, throw and field. That's what everyone looks for. He's got all of them.
"He's got a sixth tool — his baseball IQ. You can't teach that.
"I'll enjoy watching him play whether it's in college or if he's drafted."
Thompson, who is the younger brother of former Eastlake player Mason Thompson, did not get a chance to show very much in this year's abbreviated spring season.
But his entire career remains ahead of him, whether it be at the collegiate or professional levels.
Next level
Thompson is one of 12 seniors on this year's Helix squad and among three players to make college commitments, joining Thomas Caneday (University of Nevada-Reno) and Alonzo Richardson (San Diego State University).
Caneday, who was selected to the 2020 California Baseball Coaches Association All-State senior team, had posted a 2-0 record with a 0.78 earned-run average with 15 strikeouts in 18 innings in the Highlanders' abbreviated 4-2 start to the spring season.
Towering on the mound at 6 feet, 3 inches tall and 205 pounds, Caneday lettered in baseball four years at Helix.
He led the Scotties to a Grossmont Hills League championship three consecutive years from 2017-19.
In 2018, he posted a 4-1 record in 15 appearances with a 1.86 ERA. The following year, he boasted a 5-2 record in 17 appearances with 1.75 ERA.
Caneday said his favorite sports moment came in the 2019 San Diego Open Division playoffs when he threw his second-career no-hitter.
"I'm excited to announce that I have committed to the University of Nevada-Reno to play baseball and to pursue my academic interests," Caneday said. "I'm grateful to all of my coaches and teammates, past and present, and to my family for helping me on this journey."
Caneday was among the Wolf Pack's 12-member 2020 recruiting class.
"We are thrilled about the level of talent we are bringing to Nevada with this class," Wolf Pack head coach T.J. Bruce said. "They all bring different skill sets to the table, but most importantly they fit the culture of Nevada baseball."
Richardson, an infielder-pitcher, brings versatility to an Aztec squad already deep in local recruits.
Perfect Game's scouting report calls Richardson (5-11, 160) a "nice young athlete who should continue to improve in all areas."
The scouting report highlights Richardson's slender young build with lots of room to get stronger, blazing speed (6.60 in the 60-yard dash) and his "twitchy athleticism on defense in the middle infield."
His fastball has been consistently clocked between 89-90 mph; his curveball has high spin rates and may be his best pitch.
He's been a sparkplug during his three varsity seasons at Helix, hitting .328 as a sophomore with five home runs and 14 RBI, .429 as a junior and .364 with two home runs and seven RBI in six games to start this season.
His career numbers with the Scotties include a .345 hitting average, .422 on-base percentage, 30 hits, 22 RBI, 23 runs scored and seven home runs.
His pitching statistics aren't too shabby either with a career 2.08 ERA, 4-3 record and 25 strikeouts in 30.1 innings pitched.
He pitched the final inning in last year's San Diego Section All-Star Game at Petco Park, failing to yield a run.
Richardson is joined by fellow SDSU recruits Joseph Ingrassia (Valhalla), Fisher Pyatt (St. Augustine), Charlie Phee (St. Augustine), Ildefonso Ruiz (Mater Dei Catholic), Kai Saterstrom (Eastlake) and Danny Yanez (Grossmont) from this year's signing class.
Santana junior Tyler Glowacki has also committed to SDSU.
They would join former Valhalla standout Casey O'Sullivan on the Aztecs roster. O'Sullivan, a 2017 VHS grad, has recorded a 4-4 record with 69 strikeouts in 60.1 innings pitched in his three seasons thus far at Montezuma Mesa.
He posted a 2.84 ERA with 26 strikeouts in 25.1 innings his freshman season in 2018.
A 2017 California All-Region Second Team selection, O'Sullivan posted a career 1.96 ERA during three varsity seasons with the Norsemen, including a career-best 1.23 ERA in 57 innings as a senior in 2017.
O'Sullivan's older brothers Sean and Ryan have both played at the professional level.
Sean O'Sullivan was selected by the Los Angeles Angels of Anaheim in the third round of the 2005 MLB amateur draft and won his MLB debut on June 16, 2019, at AT&T Park against the San Francisco Giants.
He has also played at the major league level for the Kansas City Royals (2010-11), San Diego Padres (2013), Philadelphia Phillies (2014-15) and Boston Red Sox (2016).
He appeared in seven games for the Padres, with three starts, while compiling a 0-2 record, 3.96 ERA and 12 strikeouts in 25 innings.
Ryan O'Sullivan was selected in the fourth round of the 2011 MLB amateur draft by the Los Angeles Dodgers out of Oklahoma City University and played in the minor leagues from 2011-16 while compiling a 29-32 win-loss record, 3.70 ERA and 299 strikeouts in 487 innings.
A younger brother, Riley O'Sullivan, is playing locally at Southwestern College where he is a freshman.