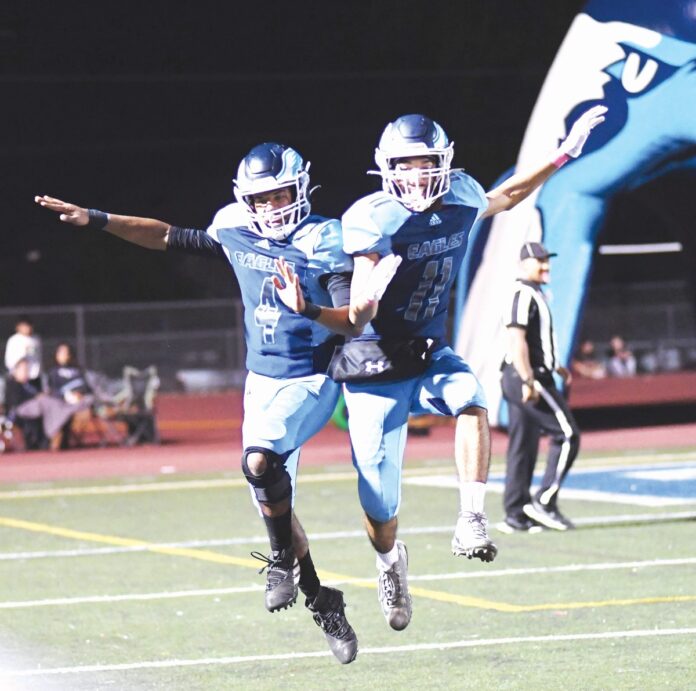 So, it's come down to this:
The Granite Hills Eagles are the last remaining East County team in this year's San Diego Section football playoffs.
They are guaranteed at least one more game. If they win that, they'll play for the Division II championship and possibly beyond in the regional playoffs.
By virtue of their 56-25 victory over the eighth-seeded La Jolla Vikings last Friday, the top-seeded Eagles (9-2) will host the fifth-seeded Mira Mesa Marauders (9-3) in this Friday's semifinals. It's win or go home for both teams and the Marauders are keen for an upset after handing the fourth-seeded Christian Patriots a season-ending 35-33 loss in last Friday's quarterfinals.
A total of 11 East County teams — 10 11-man and one 8-Man — entered this year's multi-divisional playoff field. Three received byes to the quarterfinals while eight teams played an opening elimination game.
Of those eight teams, only two survived to advance to the next round, leaving five East County teams still on contention for a division championship.
The fourth-seeded Helix Highlanders were upset, 19-14, by the fifth-seeded El Camino Wildcats last Friday to end their season 7-4 overall. The Wildcats (9-3) advance to meet top-seeded Mission Hills (8-3) in the Division I semifinals.
The Patriots (6-5) lost a City Eastern League rematch to Mira Mesa after previously defeating the Marauders, 21-20, in a high-profile regular season duel. Christian hung tight in the rematch but it's Mira Mesa that will advance to meet the top-seeded Eagles in the semifinals.
El Cajon Valley and Foothills Christian were the only two East County teams to advance with victories in their playoff openers. But neither team could come up with the right formula to keep advancing.
The seventh-seeded Braves lost, 49-0, at second-seeded Escondido Charter in last Friday's Division V quarterfinals while the sixth-seeded Knights (8-4) ended their season with a 38-22 loss to second-seeded St. Joseph Academy in last Friday's 8-Man semifinals.
St. Joseph Academy (9-1) advances to meet top-seeded Victory Christian Academy (10-0) in this Saturday's 8-Man championship game at Escondido High School.
Like a rock
Granite Hills didn't waste long to make a statement in last Friday's playoff game after taking a 21-6 first quarter lead and expanding it to 35-18 at halftime.
Exciting might be an understatement to describe the game for the hosts.
Senior Zak Darling scored three rushing touchdowns while senior Davion Green had two interceptions in the game, returning one 67 yards for a touchdown, while hauling in a scoring pass from senior Nico Tomasello.
Senior Parlan Sanders threw a pair of touchdown passes to senior Colin Riley measuring 34 and 51 yards.
Sophomore Maxwell Turner rounded out the eight-touchdown parade with a rushing touchdown.
The win was the fifth consecutive for the Eagles.
"The offense played really well against La Jolla," Granite Hills head coach Kellan Cobbs said. "We had a bunch of different guys score and make plays. Both quarterbacks are playing at a high level and that makes it very difficult on defensive coordinators to prepare for us. On defense we scored a touchdown and had seven sacks, so they got after it as well.
"Mira Mesa has some great athletes. The quarterback does a good job of taking what the defense is giving them. If we are going to have success on defense, it will start with bottling up No. 3 (senior running back Makei Thompson). We can't let him get loose. On offense, we need to establish the line of scrimmage early. They do a good job of mixing up on fronts on defense and brining guys from different spots."
Season enders
Helix will not get the opportunity to defend its Division I championship after being ousted by the lower-seeded Wildcats.
The Highlanders led 7-3 at halftime and answered an El Camino touchdown to open the second half (an 82-yard kickoff return by senior Elton Hurd) with junior Jason Sisneros' second rushing touchdown of the game to regain the lead at 14-10.
But the North County visitors did all the scoring in the fourth quarter as Pedro Fuiza kicked his second field goal of the game and Carson Howard scored on a four-yard run with 44.5 seconds to play.
The upset win avenged a semifinal loss to the Scotties last year.
Helix quarterback Ryland Jessee completed nine of 17 passes for 106 yards against the El Camino defense while the Scotties were held to 99 rushing yards.
Sisneros led the hosts with 49 yards on 10 carries while junior Kevin Allen III had 44 yards on 12 carries.
The Wildcats, despite being thrown for losses on five Helix sacks, out-gained the Highlanders 289-205 in total offensive yards.
Howard was 12-of-20 for 168 passing yards in the win while senior Tate Reid had four catches for 104 yards.
The Marauders rushed for 143 yards in last Friday's game at El Cajon Valley High School — Thompson had 131 of those with two touchdowns.
Mira Mesa scored four rushing touchdowns in the game, adding one each by junior quarterback Tyson Line (two carries, five yards) and senior Aiden Watts (one carry, five yards). Line was 10-of-15 for 172 passing yards.
The game was back-and-forth in flow. The Marauders led 7-0 before the teams settled 14-all halftime stalemate. Mira Mesa took a 21-20 lead into the final quarter in which the visitors outscored the hosts 14-13.
Senior Jake Davila ended his Patriots career with 246 passing yards and one touchdown while scoring three rushing touchdowns on his own while rushing 15 times for 78 yards. Davila compiled 324 of Christian's 374 total yards.
Junior Dylan Eads (three catches, 25 yards) had one receiving touchdown while senior Brady Bingham (seven carries, 31 yards) had one rushing touchdown.
Senior Shane Bailey had four catches for 101 yards while senior Brady Dierkop had one sack on defense.
Senior Hunter Provience had three kicking points.