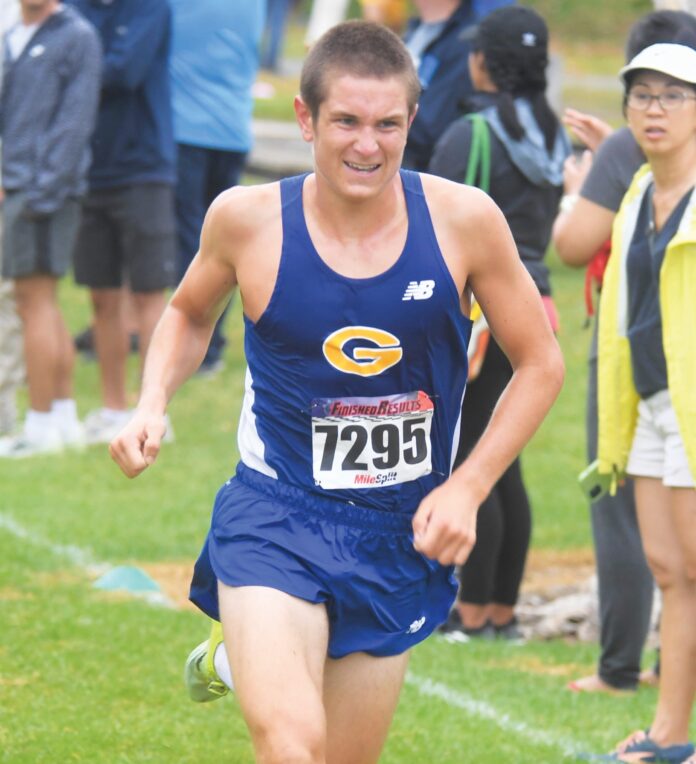 The San Diego Section cross country championship meet serves two functions: firstly, to determine the first and second teams for the all-section team, as well as runners of the years in their respective gender divisions.
The time-honored CIF meet serves secondly as a qualifier for the state championship meet that will take place Nov. 26 in Fresno's Woodward Park.
East County will be exceedingly well represented with four teams and four individual qualifiers.
The top three teams in both the Division II boys and girls fields at the section finals advance to Fresno while the top three teams in the boys Division III, Division IV and Division V fields advance, plus the top four teams in the Division III girls field, the top three teams in the Division IV girls field and top two teams in the Division V girls field, also get the chance to make the trek.
Only the top two teams in both the boys and girls Division I fields qualify for the state meet.
It's definitely an elite group that squeezes through, not to mention the even more stringent rules placed on individual qualifiers.
State of mind
This year's section finals took place last Saturday at Balboa Park's Morley Field across five divisions in two gender fields.
Grossmont (Division II boys champion), Liberty Charter (Division V boys champion), Steele Canyon (Division II boys runner-up) and Santana (Division III boys third place) all will compete in state championship races as team qualifiers.
Liberty Charter, which recently relocated its Lemon Grove campus to Alpine, will be doubly represented not only as a history making team qualifier but will be led on the course by senior Micah Sanchez, this year's Division V section boys individual champion.
Sanchez covered the three-mile course in 15:08.6 to win the division title, placing eight seconds ahead of Francis Parker junior York Bourgeois (15:16.3) and nearly a minute ahead of Calvin Christian junior John Bitner (16:01.7) in third place.
The Lions placed three runners among the top eight finishers in the surprisingly large 147-deep field. Senior Gabriel Gastelum finished sixth in 16:44.4 while junior Samuel Morales was eighth in 16:54.7.
Junior Joel Bray, Liberty's fourth scorer, finished 13th in 17:17.8 while sophomore Aidan Burr, the Lion's final scorer, placed 20th in 17:28.4.
Christian junior Braxton Pingleton finished 24th in 17:33.9.
Only the top 14 runners in the race were eligible to qualify for the state meet as individuals.
As a team, Liberty finished with a low score of 48 points — well ahead of runner-up Francis Parker with 92 points. Calvin Christian, the final team qualifier, also finished with 92 points.
Sanchez entered the 2022 cross country season as a state qualifier in the 1,600-meter distance at last spring's state track meet in Clovis after winning the distance at the section finals with a personal record time of 4:16.80. He enters the state meet highly decorated after winning the 34th annual Coach Downey Cross Country Classic on Sept. 30, the 40th annual Asics Southern California Invitational on Oct. 8 and the Frontier Conference league finals on Nov. 3.
He finished with the top time inclusive of all 615 entrants in the combined boys' divisions at last weekend's CIF finals.
Grossmont edged Steele Canyon by five points to win the Division II boys team title. Senior Russell Blakely finished second among the 129 individuals in the race, trailing race winner Tom Bell, a senior from Mt. Carmel, by seven seconds.
Bell timed 15:16.3; Blakely crossed the finish line in 15:23.1.
The Division II finals resembled more like a dual meet between the Foothillers and the Cougars with seven runners from the two Grossmont Hills League schools placing among the top 10 finishers.
Grossmont senior Ian Rosen finished fourth in 15:45.3 while Steele Canyon seniors Dominic Rizzo (fifth, 15:46.3) and Bradley Bell (sixth, 15:49.2) made it four East County runners among the top six finishers.
The two league rivals weren't finished plugging up the running lanes.
Grossmont seniors Joshua Edwards (15:57.1) and Mason Coyle (16:09.9) were seventh and eighth, respectively, while Steele Canyon sophomore Micah Senn (16:12.1) and Cougar senior Juan Guzman (16:17.6) were 10th and 12th, respectively.
Steele Canyon senior Juan Pablo Arredondo rounded out the Cougars' five scorers in 17th place in 16:36.9.
Grossmont sophomore Loan Reyes rounded out the Foothillers' five scorers in 24th place in 16:57.8.
Granite Hills sophomore Orlando Carrillo placed 17th in 16:38.
However, only the top 14 runners were eligible as individual state qualifiers.
Vista was the final team qualifier in third place with 91 points.
Santana squeaked past La Costa Canyon by three points to secure the final team qualifying berth in the Division III boy's race.
The Sultans finished with 119 points to 122 for the Mavericks.
Sage Creek won the division title with 67 points while University City finished runner-up with 94 points.
Senior Jayson Oliver was Santana's top finisher in eighth place in 16:11.1, followed by senior Connor Cheary in 11th place in 16:22.9, senior Cameron Thomas in 14th place in 16:30.1, junior Vincent La Bruno in 26th place in 16:54.7 and junior Trevor Mc-Donald (60th in 17:54.5).
El Capitan finished fifth in the field with 139 points while Monte Vista was eighth with 186 points. West Hills placed 13th among the 15 scoring teams with 337 points.
Besides Santana as a team qualifier in the Division III boys' race, two Monte Vista runners qualified as individuals: seniors Finn Mc-Clure (fourth, 15:52.9) and Steven Valadez (sixth, 16:04.4).
El Capitan senior Amber Chase (16th, 19:29.5) qualified as an individual in the Division III girls race as did Mt. Miguel junior Garrett Cloyd (11th, 16:29.3) in the Division IV boy's race.
Steele Canyon finished fourth in the Division II girls' race – 17 points behind final state qualifier San Dieguito Academy.
Mt. Miguel finished fourth in the Division IV boys' race – 40 points behind final state qualifier La Jolla.
Liberty Charter placed fifth among the 13 Division V girls scoring teams.