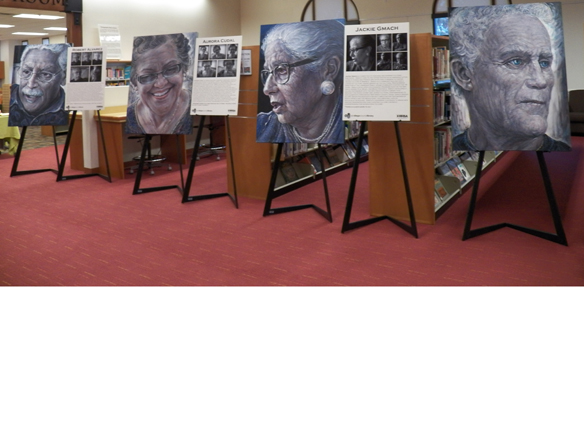 What makes a person legendary? Advisors with the San Diego Legends Project of the San Diego County Library believe "legends" are "elders who lead by example," with achievements that "are a testament to the value of hard work, spiritual integrity and commitment to others."
What makes a person legendary? Advisors with the San Diego Legends Project of the San Diego County Library believe "legends" are "elders who lead by example," with achievements that "are a testament to the value of hard work, spiritual integrity and commitment to others."
For a third year, the project has chosen five local legends to be honored throughout San Diego County libraries, with their portraits and photographs featured to tell the stories of their well-lived long lives. This 2015 quintet of honorees for "San Diego Legends: Living Well" includes Robert Alvarez, Aurora Cudal, Jackie Gmach, John Howard and Cecil Steppe.
Their five portraits were painted by local artist Mona Mills, each in a naturalistic pose chosen from among a series of photographs taken by Jose A. Aponte, director of the San Diego County Libraries. The paintings were unveiled during ceremonies on May 29, at the Lemon Grove Library. In a brief interview before the event, Mills declared herself "thrilled to be a part" of the honors to a sampling of San Diego's legendary elders. She noted that she was able to paint the portraits from natural positions captured in the photographs, which cannot be duplicated because they could not be posed and held for any length of time.
The Legends Project is a joint effort between the county libraries and Aging and Independence Services. Aponte led the meeting, noting that the five seniors selected each year are "living well, making a difference," being "among us quietly changing the world."
Aponte introduced painter Mona Mills as "a true treasure," and she described how she has approached this project differently each year. In its original year, the portraits were painted naturalistically. The second year's paintings were done in a style with harder edged reality. She had thought this year's five portraits would be monochromatic, but as her creative impulse took hold, she moved to a reduced color style of portraiture. "I have been honored to paint you guys," she said to the five chosen. "I'm honored."
Aponte spoke eloquently of his vision for the county libraries in creating a "lively archive" for the citizens of San Diego. He said that society is in love with youth and early accomplishments.
"But what about life?" he asked. "What about the graduates of life?"
He described the 2015 senior honorees as life graduates who are "people with purpose."
The black draping of each portrait was removed and each honoree introduced for remarks in alphabetical order. Robert Alvarez was first. Alvarez is an author and teacher who has worked in applied anthropology, beginning with a study of his family's history. His grandfather was instrumental in pressing for early desegregation in Lemon Grove. Alvarez has since become a mentor to upcoming Latino leaders.
"Remember where you came from, who you are," Alvarez said.
Next up for recognition was Aurora Cudal. She has been active in standing up support services for seniors and Filipino Americans. She currently serves chairing the San Diego Chapter of the National Federation of Filipino American Associations. She discussed her difficulty in landing a job, because she was told repeatedly that she lacked experience. "Experience?" she said she asked herself. "I decided to make my own."
And then Jackie Gmach was invited to the podium beside her portrait.
"You look very serious in the picture," Aponte told her. Gmach was born in Tunisia and identified as learning handicapped. She now collects and archives Holocaust stories, serving as cultural programming director at the Lawrence Family Jewish Community Center, where she has been for 18 years. She is active in speaking out against genocides anywhere.
"We are here to accept each other," she said. "That is not always easy, but you can carry that anywhere. We must allow each other to be ourselves."
As she departed, Aponte said that he had photographed her the day after the Paris shootings in revenge for drawing a cartoon of Muhammad, and Gmach showed "stunning pain" on her face.
Then, John Howard strode forward to address the audience. Howard is a proponent of well being and extreme exercise in pursuit of personal control of health at all ages. Now 67, he considers himself fitter and stronger than he was a quarter century ago. He is a dedicated triathlete who won the third Ironman competition held in San Diego. He earned a land speed record by riding a bicycle at 152 mph. Howard said he felt especially honored to be featured in libraries, describing people without libraries as "heathens" and "hollow."
Last honoree of the evening was Cecil Steppe, longtime chief probation officer and social services director in the county, who has led the board of governors at Gompers Academy, which turned around a low-achievement high school into a national model, with a 100 percent graduation rate over the past three years. Steppe recounted his life story, emphasizing that he was inspired by "legends whose shoulders I stand on," including the strong women who advocated for black teachers and black police officers in San Diego, when there were none. He said people need to have a "mission to achieve."
"I believe that a legend is a beginning, not an end," he said. "At 82, I'm not finished yet. This is a giant honor. I have broad shoulders you can stand on. Know that you have value."
The evening's formal presentation concluded festively, with dancing from members of the County of San Diego's Filipino-American Employees' Association, who had nominated Aurora Cudal for her recognition. Richard Favale provided background music as the honorees mingled with audience members after the ceremony for refreshments and conversation.
The Legends exhibit will remain at the Lemon Grove Library for six weeks, and then rotate to the El Cajon Library. Eventually, the display will appear in all 33-branch libraries in San Diego County. More information on the project can be found online at www.sdcl.org/legends.