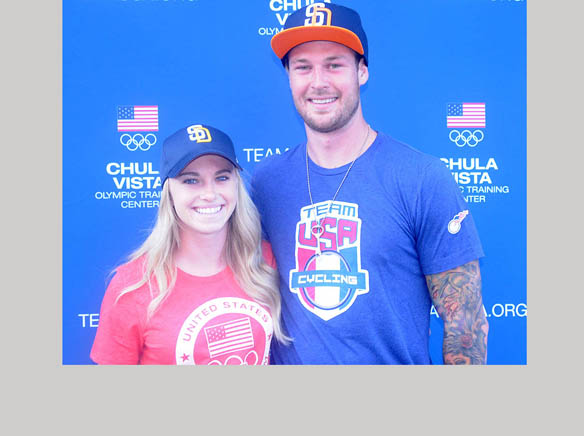 Even if all the infrastructure and glitter isn't quite in place, the Games of the XXXI Olympiad have started off on a decidedly festive note in Rio de Janeiro. Opening ceremonies took place last Friday, with unretired swimmer Michael Phelps leading the massive American contingent in the parade of nations as its flag bearer.
Even if all the infrastructure and glitter isn't quite in place, the Games of the XXXI Olympiad have started off on a decidedly festive note in Rio de Janeiro. Opening ceremonies took place last Friday, with unretired swimmer Michael Phelps leading the massive American contingent in the parade of nations as its flag bearer.
Phelps is appearing in his fifth Summer Olympic Games. He is the most decorated Olympian of all time with 23 Olympic medals, including 19 gold medals. He made the U.S. Olympic team at the age of 15 in 2000 — the youngest American male to do so in 68 years.
Phelps, who gained celebrity status by winning eight gold medals at the 2008 Beijing Summer Games, initially retired following the 2012 London Games. However, he unretired in 2014 and won three events at the 2016 U.S Olympic Trials.
He is the only American male swimmer to qualify for five Olympics.
He opened the 2016 Rio de Janeiro Summer Games by wining a gold medal in the 4×100-meter freestyle relay.
While Phelps' persona dominates swimming, sports of interest closer to home include BMX cycling, archery, rugby sevens and track and field – sports fielded at the Chula Vista Olympic Training Center.
The CV-OTC has qualified 48 long-term resident athletes for the Rio Summer Games; more than 200 U.S. Olympic athletes have also utilized the sprawling facility overlooking the Lower Otay Reservoir for short-term training and camps.
The 2016 U.S. Olympic team is large with 554 total athletes, including 363 first-time Olympians.
Women's field hockey and soccer are among the sports that have utilized the CV-OTC facility on a short-term basis in qualifying for Rio 2016.
Both teams opened preliminary group play with 2-0 records in Brazil. The U.S. women's field hockey team pulled upset wins over both Argentina (1-0) and Australia (2-1) to open the Olympic finals tournament.
Twelve nations are competing in the women's soccer tournament that will conclude with the medal games on Aug. 20.
Soccer, archery, swimming, and diving, basketball, beach volleyball, boxing, canoe slalom, equestrian, fencing, field hockey, gymnastics, handball, judo, rowing, rugby sevens, sailing, shooting, table tennis, volleyball, water polo and weightlifting are the first sports to command the stage in, aside from the FIFA World Cup, what is likely the most universally watched sporting event.
A record number of countries will participate in a record number of sports during the 2016 Games, which will close Aug. 21. More than 11,000 athletes are participating in the history-making first Olympiad in South America.
Archers from the CV-OTC were the first to be spotlighted, with the U.S. men's team of Brady Ellison, Zach Garrett and Jake Kaminski capturing the silver medal behind gold-medalist South Korea.
Ellison and Garrett are long-term resident athlete qualifiers on the U.S. team along with short-term athlete Kaminski. Mackenzie Brown, another long-term resident athlete, is the lone U.S. female qualifier.
Individual competition concludes on Friday, Aug. 12.
Ellison and Kaminski were members of the silver medalist U.S. men's team at the 2012 London Summer Games. Ellison is a three-time Pan American Games gold medalist and four-time World Cup champion.
Kaminski is a Pan American Games and world championships gold medalist.
Brown, who is making her Olympic debut, is a two-time Pan American Games medalist. Garrett, another first-time Olympic archer, won a silver medal at the 2015 Worth Archery Youth Championships.
BMX cycling will take place Aug. 17-19. The American team includes five qualifiers, including long-term OTC resident athletes Nic Long and Alise Post along with short-term athletes Corben Sharrah, Connor Fields and Brooke Crain.
Long, Fields, Crain and Post all competed at the 2012 London Olympics. However, none came home with a medal.
"It's an awesome feeling being one of five in our sport to get to represent the United States and do it on a large platform," explained Long, a Lakeside resident, who is competing in his second consecutive Olympic Games. "Everyone in the world tunes into it. It's a huge deal."
"I'm super excited to represent my country again — 'excited' is the only word I can come up with," added Crain, a fellow two-time BMX Olympian.
Long and Crain agreed that while the first time around was fun and exciting; now it's time to get serious.
Crain finished eighth in the women's competition while Post was 12th; Fields placed seventh in the men's competition while Long placed 17th.
During the sport's debut at the 2008 Beijing Games, Team USA riders brought three Olympic medals home.
"All five of us crashed; it just wasn't our day," Long lamented about the team's showing at the London Games.
A lot has changed in four years.
Long, 26, and Post, 25, both earned automatic berths on the U.S. Olympic team after capturing bronze medals in May's UCI BMX World Championships in Colombia. It was the highest place-finish for Long in world championship competition after previously not finishing higher than fifth.
Post, meanwhile, is the up-and-coming star of women's racing with three world championship medals since 2010 and four national championships from 2011-14.
"I feel a little more focused, more so than during my first time in the Olympics," explained Long, a Lakeside resident. "It's crazy going your first time."
"I'm more confident in my racing. I've been checking all the boxes and pretty much feel I'm ready."
Still, he admitted BMX finishes are hard to predict.
"It's an awesome sport with plenty of crashes," he said. "It's exciting … It's a sport where a lot of things need to happen in order for you to have a good outcome. There are a lot of factors involved."
Crain is looking forward to the Rio Games as a reward after breaking her leg in May. "I missed out on the world championships but luckily it was only a fracture and took about five weeks to heal – it was the best-case scenario," she noted.
Her goal, like the others on the team, is to bring home a medal.
"I want to take it all in and be able to look back on the experience rather than put too much energy into the experience. The Olympics are crazy. You have to look at it that you have one job to do there."
Long, Post and Fields were among U.S. Olympic team members who were still involved in late training during last Friday's Opening Ceremony. Instead of marching in the parade of nations in Rio de Janeiro, they helped headline last Friday's gala viewing party on the deck of the USS Midway Museum.
In fact, all three took turns carrying a symbolic torch when taking the stage while Paralympic athlete Lex Gillette sand the national anthem.
"The Chula Vista Olympic Training Center has proven an asset not only to American athletes but to athletes from other countries who have also trained there," San Diego County Board of Supervisors member Greg Cox noted in an opening speech. "It's a great community resource."
Brave new world
Rugby sevens is making its Olympic debut and members of both the men's and women's U.S. national teams are excited at the prospect of becoming a part of history.
"We're in it for gold," Team USA men's team captain Madison Hughes explained. "We are ranked sixth in the world right now, but we have beaten every team at least once. So we know we can win it. It's now a matter of doing it (at the Olympic Games)."
The Team USA men and women are both ranked sixth in the world heading to Brazil but have defeated teams ranked ahead of them. That makes the upcoming Olympic tournament particularly for all the competing teams (12 in both the men's and women's divisions).
Rugby was last featured at the 1924 Olympics, though in the traditional 15-a-side format.
Hughes has served as captain of the U.S. national rugby sevens teams since 2014. Born in London, Hughes rose to prominence while attending Dartmouth. He has been a member of the U.S. national rugby sevens teams since 2013-14. He finished 2015 as the team's second-leading scorer.
The United States is the lone qualifier from the North American/Caribbean zone.
Fiji sits at the top of the men's team world rankings, followed by South Africa, New Zealand, Australia and Argentina. Team USA is ranked ahead of Kenya, England, Samoa, Scotland, France, Wales, Canada, Russia and Japan.
The reduction of rosters to seven players on the pitch creates for a faster game, according to Hughes, who plays at the scrumhalf position.
"There's a lot more space; the game is a lot more open, free-flowing and visually exciting," he explained.
Meya Bizer, who was part of the U.S. women's national team player pool, feels playing seven aside is more demanding that the traditional format of 15 players per side.
"All the technical skills – passing, catching, running, speed – are so much more exposed in sevens," said Bizer, a native of The Woodlands, Texas, who has been playing rugby six years.
Bizer, a four-year national team member, represented Team USA at the 2014 world championships in rugby-15s and has been a resident athlete at the CV-OTC for the past year.
"We've gone through a lot in the last year and knowing we did it together would be the best thing we would be taking into the Olympic tournament," she said.
The U.S. women had defeated top-ranked Australia and second-ranked New Zealand in competitions leading up to the Summer Games. Canada, England and France all sat ahead of the U.S. women in the world rankings.
"It's really anyone's game," Bizer said. "Since this is the first year for sevens in the Olympics, there's bound to be some drama, some big upset."
There was when the U.S. women's team tied Australia in preliminary play — or, rather, when Australia tied Team USA.
The U.S. women's team defeated Colombia (48-0) and tied Australia (12-12) but lost to Fiji (12-7) in a trio of Group A match-ups.
Team USA lost, 5-0, to New Zealand in the quarterfinals but defeated Fiji, 12-7, in the semifinals for teams placing fifth through eighth. The U.S. women improved on their world ranking by defeating France, 19-5, in the fifth-place game.
Australia topped New Zealand, 24-17, in the gold medal game while Canada defeated Great Britain by a score of 33-10 in the bronze medal game.
The rugby sevens men's tournament faced off Tuesday, with Team USA meeting Argentina and Brazil on the pitch, followed by a match-up against Fiji on Wednesday.
The top eight teams advance to the quarterfinals while teams seeded 9th through 12th advance to consolation semifinals. Playoff games are scheduled Aug. 10-11 for the men.
The track and field competition, with 47 events, will close out the Rio Games Aug, 12-21.
Long-term CV-OTC resident athletes competing on the U.S. track and field team include Andrew Evans (discus throw), Brittney Reese (long jump), Chris Bernard (triple jump), Cyrus Hostetler (javelin), Darrell Hill (shot put), Heather Miller-Koch (heptathlon), Jeff Henderson (long jump), Joe Kovacs (shot put), Ricky Robertson (high jump), Sam Crouser (javelin), Sean Furey (javelin), Whitney Ashley (discus throw) and Will Claye (triple jump).
A two-time Olympian, Reese won the gold medal in the women's long jump at the 2012 London Games after placing fifth in the event at the 2008 Beijing Games.
Claye captured the silver medal in the men's triple jump and the bronze medal in the long jump at the 2012 London Games.
Kovacs is coming off a gold medal showing at the 2015 world championships in Beijing; Henderson won the men's long jump competition at the 2016 U.S. Olympic Trials.
Robertson will make his Olympic debut after clearing the Olympic standard of 7 feet, 6 inches at the CV-OTC in June.
Ashley became the first athlete at San Diego State University to win a NCAA title since 1985 when she won the women's discus throw in 2012.
This is the second Summer Games for Furey, who has been training at the CV-OTC since 2008. After placing 37th in the javelin throw at the 2012 London Games. He's determined to upgrade his final standing at the 2016 Rio Games.
"Now the focus is going there and doing better," he explained. "The thrill of making the Olympics isn't as great (as the first time). I just want to go there and do my best by the end of the day."
Furey and Hostetler qualified as one of three Americans to post the Olympic A-qualifying standard in the event. Furey captured the gold medal at the 2010 USA national championships while Hostetler took first place in July's U.S. Olympic Trials with a throw of 273 feet, 1 inch.
Furey's lifetime best in the javelin is 83.08 meters (272 feet, 6 inches).
Hostetler also competed at the 2012 London Games, placing 32nd. Furey said the pair is looking for renewed experiences in Brazil.
"We were both at the Olympics in 2012 as teammates," Furey said. "It's exciting."
The Paralympic Games follow the Rio Games at many of the same venues Sept. 7-18.
Olympic notepad
Baseball and softball will be making a return to the Olympic schedule after both sports were reinstated by the IOC in time for the 2020 Tokyo Olympics. Four new sports were also added: skateboarding, surfing, karate and sport climbing. The mix of traditional and youth-oriented sports is expected to attract younger fans on a global level.
Baseball and softball are already popular sports in Japan.
The addition of the new sports will bring the number of sports offered at the 2020 Summer Games to 33, with about 11,000 athletes participating in those sports.
The men's Olympic soccer final is also on Aug. 20. The United States did not qualify. Mexico is the defending champion.