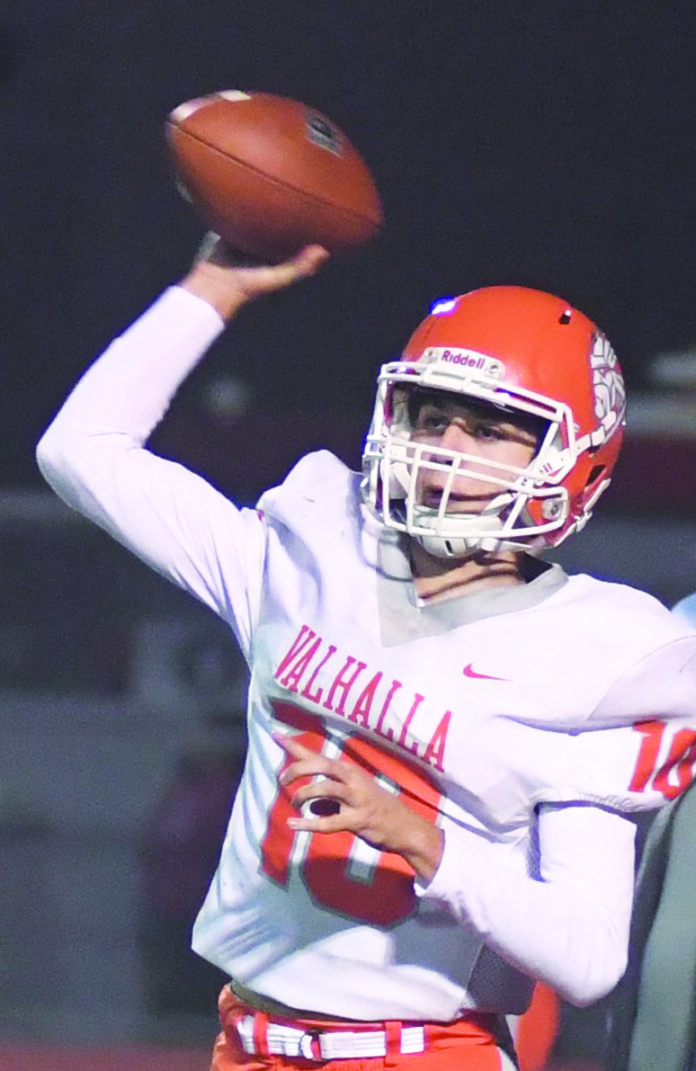 Charles Bussey entered his second stint as head football coach at Valhalla High School with a goal of pointing the Norsemen program in a positive direction. Mission accomplished after Valhalla received the No. 11 seed in this year's San Diego Section Division IV playoffs.
"It's been interesting for me after three years as an assistant coach at La Jolla High School, winning a CIF title (Division III in 2019) and playing in a state bowl championship game (Division 4-A, runner-up to Escalon), but it's been fun," Bussey said.
"When I was here before, we were playing in Division I and Division II football. With us being in Division IV this year, I didn't know whether we had the makings of a team. But I can see the makings of a team now. It's been a different set-up from the first time I was here. It's been amazing how far the kids have come."
The Norsemen set themselves up for the playoffs with Grossmont Valley League wins over El Cajon Valley (41-25) and Monte Vista (35-21). The Orange Nation got off to an optimistic start with a 15-8 non-league win over visiting Hilltop to kick off the season.
Bussey said top performers this season included senior quarterback Tommy Logan, junior receiver A.J. Cornthwaite, senior middle linebacker Harman Shamo, senior strong safety Giovanni Alejo and senior free safety Isaiah Barno.
Valhalla's first-round playoff assignment took the team to No. 6 Sweetwater, champions of the Metro-South Bay League. The host Red Devils (6-3) won, 73-6, to eliminate the East County visitors but Bussey has next year to work with.
Twelve seniors graduate but Bussey hopes the playoff experience will help aid in the team's growth, especially confidence-wise.
The game's highlight for the Norsemen was junior Tony Famoyin's 75-yard kickoff return with 4:32 remaining in the fourth quarter to spoil Sweetwater's shutout bid.
The Red Devils, in notching their sixth consecutive win, led 40-0 at halftime and 60-0 through three quarters.
LJCD 26, Mount Miguel 20
Mount Miguel (4-5) closed its season with a 26-20 loss at eighth-seeded La Jolla Country Day (7-4). Trailing 20-7, the visiting Matadors tied the game, 20-20, on a 12-yard run by senior Ruben Hernandez in the third quarter but the host Torreys countered with a 16-yard game-winning touchdown run by junior quarterback Bito Bass-Sulpizio (329 passing yards, 51 rushing yards).
Sophomore Davian McGowan scored Mount Miguel's first touchdown on a short run in the second quarter.