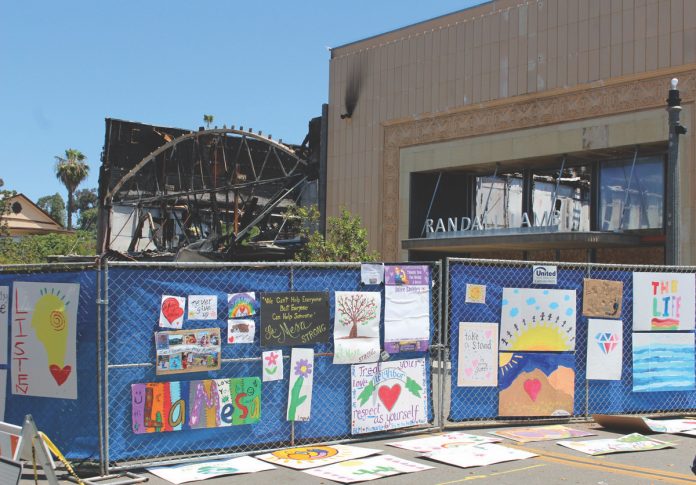 East County Chamber of Commerce Rick Wilson said recently donations to the La Mesa Disaster Recovery Fund have reached almost $250,000.
The fund was established primarily by Wilson and El Cajon city council member Phil Ortiz the week after a May 30 peaceful Black Lives Matter protest developed into a riot during which multiple storefronts in La Mesa village were destroyed and looted, with some buildings burnt entirely to the ground.
According to Wilson, the East County Economic Development Council will be administering the funds.
The application for funding can be found on the economic development council's website at: eastcountyedc.org
In a Monday email, La Mesa City Manager Greg Humora said information on the application process and timeline for distribution is also available on the city of La Mesa's website at: www.cityoflamesa.us where potential applicants can find a link to the application and donors can contribute to the fund.
Board Chairman Patrick Howard says the board is working to get funding out into the community as quickly as possible.
"We want to deploy the money just as quickly as donations arrived from generous people supporting their La Mesa neighbors," said Howard. "We want to be fast, fair, and equitable," Howard said.
"Working with the board at East County Chamber of Commerce as well as the chamber itself, then listening to the business community and working with La Mesa— working with ECEDC, they understand funding coming in, money coming out, it took that week to figure out what's the most fair, equitable way to distribute this. It has nothing to do with the Chamber or getting knee deep in the weeds to get people the money they need,"Wilson said.
Wilson described a two-part distribution process with about 75% of available funds provided as a flat stipend to verified businesses in June.
"We have about 25% of the funds set aside for latecomers.  If we get through July and we've helped everyone and have funds left over, we can distribute funds to more businesses as they need it," Wilson said.
La mesa Chamber of Commerce President and CEO Mary England said she has also met with people wanting to give an anonymous donation to particular businesses.
"It's extremely emotional because I get to walk in a business with a cashier's check in an envelope for thousands of dollars from an anonymous donor. I watch them open the envelope and we all cry. I feel like Santa Clause. I'm not soliciting donations, only helping coordinate if people call me," England said.
The La Mesa leader said some small businesses have not yet reopened after the May 30 riot, a double blow for those business owners who closed their doors for over two months to support social distancing under the COVID-19 pandemic.
"Knowing we can give funds to some of those businesses because the community came together and donated money to support the business community, it's just humbling," England said.
She describes the situation as a labor of love.