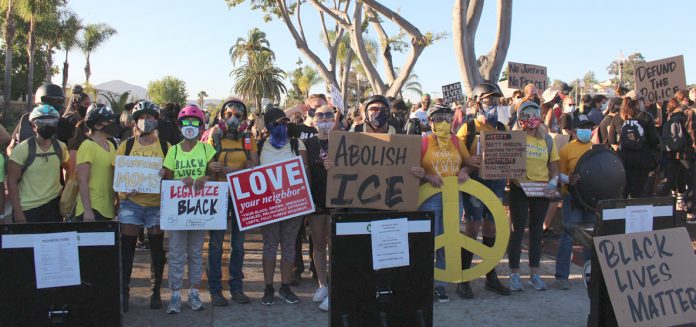 The Justice for Womxn of Color protest advertised "planned civil disobedience" on a flyer distributed in advance of an Aug. 1 gathering in La Mesa.
The event was primarily organized by Army veteran KC Short with We Stand United San Diego, a group that claims on social media it exists" to demonstrate the power of unity and community through powerful, eye-opening demonstrations".
"The point of the protest was to communicate that we're serious about our demands without creating damage to anything," Short said.
Flyers featured images of Breonna Taylor, a Black woman who was fatally shot by Louisville Metro police on March 13 and Vanessa Guillen, a Hispanic American soldier who went missing from her post at Fort Hood army base on April 22 and was later confirmed dead when her remains were found on July 5.
Erik Hegstrom, 19, is a white political science student at Mesa College who said the governmental issues facing young Americans span every race.
"I'm here because I'm fed up with the way our country is looking and as a young person, I know we're the ones who are going to have to change things for the future. We have to decide what the future of our nation will look like, Hegstrom said.
While protesters gathered across from the La Mesa library on Allison Avenue, self-appointed defense groups from La Mesa and Santee utilized a nearby Vons parking lot as a makeshift rally point.
That particular Vons was at the epicenter of property destruction that took place on May 30 when downtown La Mesa was overtaken by looters and rioters following a protest planned by Black Lives Matters sympathizers.
Two months later, La Mesa still shows signs of shattered storefronts and bears the remains of several buildings burned to the ground that night.
In an apparent effort to prevent Saturday's planned protest from devolving into a similar situation, La Mesa police issued a statement July 31 warning against violence and other crimes.
"It is our goal that tomorrow's event is a safe exercise of the right to peaceably assemble. We have teamed with our mutual aid partners across the county to ensure we have ample resources on hand to handle violent civil unrest should the need arise. Should those attending resort to committing acts of violence or other crimes, they will be subject to arrest and the event will be legally declared an unlawful assembly," read the statement.
While the protesters geared up for their march through the suburban community, La Mesa police officers strategically planted themselves throughout the area along with officers from National City, El Cajon, San Diego State University, San Diego Sheriff, and other agencies from as far as Winterhaven, Arizona.
According to an Aug. 1 release from the La Mesa Police Department, the group had grown to about 300 strong as they reached the end of their march.
"Several physical and verbal altercations broke out with a second large group that was gathered in the parking lot of the VFW at 8118 University Avenue. Many members of this second group identified as being part of the "Defend East County" group," police stated.
Ryan McAdams, 35, of Jamul was arrested on charges of battery, possession of pepper spray and a probation violation.
Once they arrived back at the starting point of the event, protesters encountered a line of law enforcement officers standing on the yellow line of the paved street. They kept distance between the large group and handfuls of individuals while both sides threw insults across the human line of demarcation.
Short later said he was surprised that police treated the group of supporters he was with as the sole threat.
"More than anything else we were surprised. Being in the military, I can understand La Mesa having extra police presence but what I did think was unfair was how we were targeted. There were Neo-Nazis and aggressors on the other side of the street," Short said.
La Mesa Councilman Bill Baber was passing through the area and said he hoped the extra police presence would help maintain calm.
"The problem last time was not the peaceful protesters, it was, what, troublemakers? Professional criminals? Peaceful protesters don't commit arson. The other difference is that we had no counter protesters that time and we really don't need an extra fight tonight.
In a Monday phone call, La Mesa Police Department Services Lieutenant and public information officer Greg Runge said the event wasn't problem free but for the most part it was peaceful.
"It's always our goal to have zero issues but in the grand scheme of things this was a successful event," Runge said.
The day after the protest, Short said he considered the event a success and that the group is planning more protests in different San Diego neighborhoods.
"We're going to be doing more protests, more outreach, recruitment of people who want to get involved, maybe down in Chula Vista. Just like one of the speakers said, this is all about networking with people who share similar ideas."