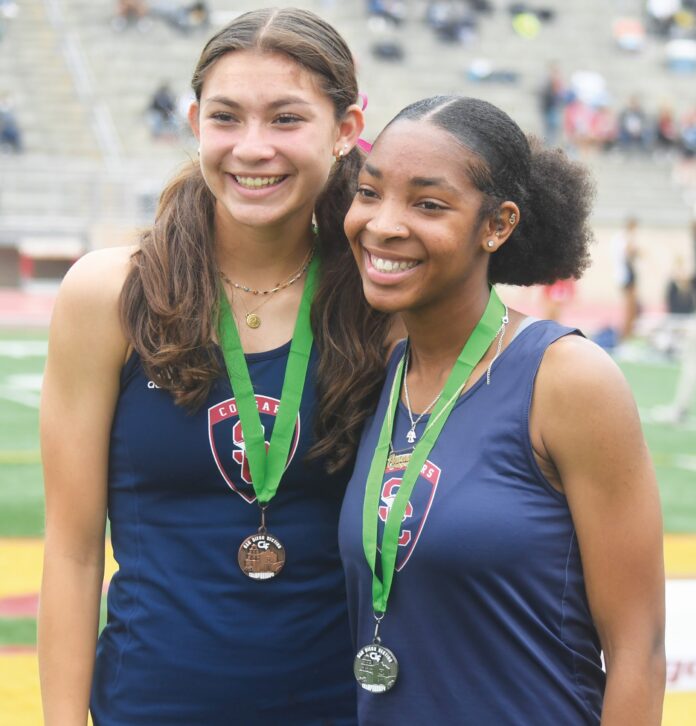 The California Interscholastic Federation state track and field meet is back after going dark for the past two seasons because of the COVID-19 pandemic. East County athletes responded in a big way and will be well represented at this weekend's event at Buchanan High School in Clovis.
East County athletes have qualified to compete in nine events in the two-day meet. Preliminary qualifying is Friday, followed by finals on Saturday. Helix Charter, Steele Canyon, Santana and Liberty Charter high schools each are sending athletes to suburban Fresno.
Helix will have representation in the boys 4×100-meter relay (freshman Laurence Burston, junior Adren Parker and seniors Xavier Van and Jared Jones), boys 400-meter dash (Parker), boys long jump (senior Tibyassa Matovu) and boys 4×400-meter relay (Parker, Van, Matovu and senior Ethan Denison).
Steele Canyon's qualifiers are inbthe girls 400 dash (senior ArionnbLivingston), boys high jump (senior Leon Gillis) and boys 4x400brelay (seniors Nathaniel Gillis andbSamuel Cook, junior Benito Villaband sophomore Michael Dodds).
Santana will be represented in the girls long jump and triple jump by junior Jenna Fields.
Liberty Charter's breakthrough to the state meet comes in the 1600 run via junior Micah Sanchez.
Heavy metal
The top three place-finishers in-beach event out of all divisions a last Saturday's San Diego Section championship meet at Mt. Carmel High School, plus those individuals who met pre-determined qualifying marks, qualified to compete at Friday's state prelims.
Events were run in multiple heats with athletes sorted by division for medals. Regardless of their place-finishes, athletes scored points for their respective teams.
Awards were presented by gender (male and female) and division (Division I, Division II and Division III). The top six placefinishers in each division in each event received medals.
Mission Hills High School won the Division I boys team title with Eastlake High School placing second. Poway won the Division I girls team title while Del Norte finished runner-up. Mt. Carmel won the Division II boys title while Ramona finished runner-up. Cathedral Catholic won the Division II girls team title while Mt. Carmel finished runner-up.
La Jolla captured the Division III girls team championship while
La Jolla Country Day was second. Mission Bay High School won the Division III boys team title while Francis Parker was second.
Among East County teams, Helix Charter placed fourth among Division I boys teams while El Capitan placed fifth among Division II boys teams.
Of note, Steele Canyon finished sixth in the 29-deep Division I girls field and seventh in the boys field. West Hills, Santana, El Capitan and Monte Vista finished eighth, ninth, 10th and 11th, respectively, in the Division II girls team standings.
On an individual basis, East County athletes racked up seven divisional gold medals, nine silver medals and 15 bronze medals.
Individual division gold medalists included Helix's Parker (Division I boys 400 dash, 47.31) and Matovu (boys long jump, 22-8.75), El Capitan senior Xavier Peace (Division II boys 400 dash, 49.87) and Liberty Charter's Sanchez (Division III boys 1600, 4:16.80).
All but Peace qualified for the state meet.
CIF division champion relay teams included Helix's 4×400 boys unit in Division I (3:19.19), El Capitan's boys 4×400 quartet in Division II (3:24.48) and West Hills' girls 4×400 squad in Division II (4:02.22).
Steele Canyon's Livingston (second in Division II, 56.70) and Leon Gillis (second in Division I, 6-6) both advanced to the state meet among the top three qualifiers in their respective events as did Santana's Fields in the long jump (second in Division II, 18- 1.5) and triple jump (second in Division II, 37-8).
Helix's boys 4×100 relay team (second in Division I, 42.03) and Steele Canyon's boys 4×400 relay team (third in Division I, 3:22.20) also placed high enough to qualify for the state meet.
El Capitan's boys 4×400 relay team included Aundrey Calvert, Peace, Austin Calvert and Ryan Quamina while West Hills' winning 4×400 foursome included Savanna Gillespie, Taylor Koshiol, Bella Crescitelli and Alexis Leath.
Steele Canyon finished as this year's Grossmont Hills League dual meet champions in both gender fields as well as champions in both gender fields at the ensuing conference championship meet.
Full-blown qualifying for the state meet marks a return to normalcy for the sport, according to Steele Canyon coach Charles Tyler.
"We had a full season and we had a lot of invitationals," Tyler said. "Those Saturday meets were generally more competitive than the Thursday dual meets. We had an awesome chance to compete at a high level to help prepare us for CIF."
State of mind
Livingston won four conference championship titles prior to the start of CIF qualifying by snaring titles in the 200 and 400 dashes and both the 4×100 and 4×400 relays. The Lady Cougars placed third in the 4×100 relay (49.16) and sixth in the 4×400 relay (4:01.42) at last Saturday's Division I finals.
"I'm a little nervous," Livingston admitted. "It's my first time at state and coming in as a senior is a little overwhelming. But I'm ready to compete."
Fields, who attended Cathedral Catholic High School before returning home to Santee to attend Santana this year, also competed in the 100 dash at last Saturday's section finals, placing eighth in 12.76 among Division II sprinters. She has the somewhat rare opportunity to compete at the state meet, to get all the jitters out, prior to her senior year.
"I'm so excited to go to state to see who I'm up against," she said. "I'm even more excited to see my improvement for next year."
Leon Gillis led the state with a mark of 6-9 earlier in the season.
"It was a good experience (qualifying for state) but the job is not finished," he said. "I want to bounce back from this."
Parker qualified to compete in three events at this weekend's state meet: 4×100 relay, 400 dash and 4×400 relay. He won four events at the preceding conference finals: 200 and 400 dashes and both relay events.
"It feels good," said Parker, who competes in football and track. "It's what we worked for. We expected to go through. It feels like the hard work paid off. In the 400, I really stick to my race strategy and not get ahead of myself."
Matovu nearly matched Parker's three event state qualifying bonanza after placing third in the Division I boys triple jump (44-5.25), fourth-best in state qualifying.
"It's all about focus," Matovu said. "I came out with the mindset that I was going to win (the long jump) and I did it," he said. "Putting in the work results in performance."
Steele Canyon finished arrears of Helix in both the boys 4×100 and 4×400 relays at the conference finals.
"We still have work to do," Villa said. "We're coming for that No. 1 spot."
So are a lot of other teams.
Hear them roar
Division III provided a suitable spotlight for some of the section's smaller programs at last Saturday's section championship meet.
Mountain Empire senior Lukas Spenser finished second among boys triple jumpers (42-5.25) while freshman Shayden Kaiser placed fourth in the girls 300-meter low hurdles (50.29) and seventh in the girls long jump (15-3.5).
The Liberty Charter Lions netted eight top-eight place-finishers.
East County State Qualifiers
BOYS
4×100 relay: Helix Charter (Laurence Burston, Adren Parker, Xavier Van, Jared Jones)
1600 run: Micah Sanchez (Liberty Charter) 400 dash: Adren Parker (Helix Charter)
4×400 relay: Helix Charter (Xavier Van, Ethan Denison, Tibyasa Matovu, Adren Parker); Steele Canyon (Samuel Cook, Benito Villa, Nathan Gillis, Michael Dodds)
High jump: Leon Gillis (Steele Canyon)
Long jump: Tibyasa Matovu (Helix Charter)
GIRLS
400 dash: Arionn Livingston (Steele Canyon)
Long jump: Jenna Fields (Santana)
Triple jump: Jenna Fields (Santana)