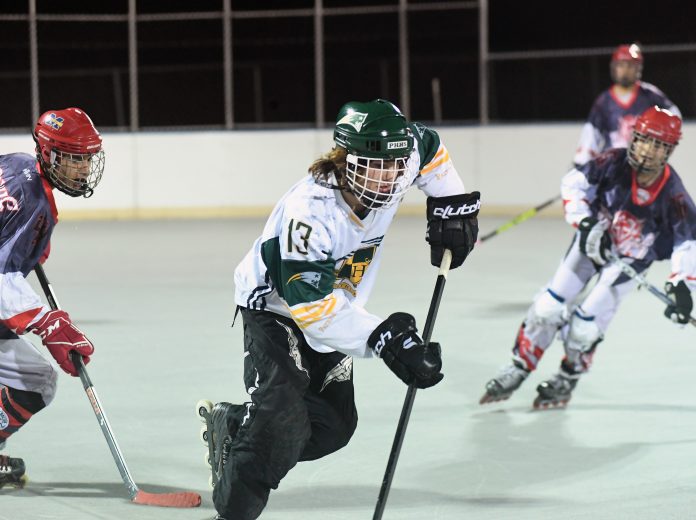 The 2019 Kiwanis/Don Cerone Memorial Cup championship roller hockey playoffs wrapped up Monday night at the Escondido Sports Center with the top-seeded Scripps Ranch Falcons defeating the second-seeded Rancho Bernardo Broncos, 9-6, to wrap up a perfect 18-0 season.
The Patrick Henry Patriots, who earned the No. 5 seed in this year's 12-team playoff field, finished 1-1 in playoff competition. The Patriots ended their season on Feb. 25 with an 8-7 quarterfinal-round loss to the fourth-seeded Eastlake Titans.
Patrick Henry topped the 12th-seeded Sweetwater Red Devils, 6-2, to face off the opening round of the playoffs on Feb. 19 at Castle Park High School.
The Patriots finished the 2018-19 season with a final 10-9 record following an 8-8 finish in the North County League standings.
"We joined the CIF varsity roller hockey league in 2016 and it has been such a great experience to see the program grow in those three years," commented head coach Chuck Russell, who has coached the team since its inception. "We finished our first season with a record of 1-18. This year, we finished with a winning record and the fifth seed in the playoffs.
"The 17 team league provides a great opportunity for local players to compete at the highest level. There is so much potential for other high schools to add a varsity program like Patrick Henry has."
Sam Moorehead was credited with a hat trick in Patrick Henry's playoff win over South Bay League champion Sweetwater.
Ruben Allen contributed a goal and assist while Zach Thurman and Jackson Rayner each scored single goals. Brett Miller was credited with two assists while regular season scoring leaders Matthew Voegel and Matt Russell were each credited with assists.
Sweetwater's Ceasar Salazar opened scoring in the game before the Patriots reeled off four consecutive goals to take a 4-1 lead with four minutes remaining in the second period.
The game allowed many of the Patriots' younger players to see playing time.
"We had three lines and I rolled them throughout the game," the elder Russell said.
The Patriots' next playoff game was much more challenging as they faced Mesa League co-champion Eastlake with explosive junior scoring sensation Braden Mayer on the Titans' roster.
Patrick Henry took a 1-0 lead on a wrap-around goal scored by Voegel with 1:20 elapsed in the contest. However, the Titans responded just 22 seconds later on an unassisted goal by Mayer to quickly tie the score.
Despite falling behind 4-1 early in the second period, Patrick Henry rallied with three unanswered goals to tie the game by the end of the period. The Patriots continued to rally, eventually taking a 6-5 lead on a goal by Miller with 12:57 remaining in the third period.
But Eastlake reeled off three unanswered goals to zip in front 8-6.
Patrick Henry scored a power play goal with 43 seconds left in regulation time to trim the Titan lead to 8-7. The Patriots played until the end, forcing Eastlake goaltender Rob Hendrickson to make a deflection save at the buzzer to prevent the game from extending into overtime.
Voegel showed why he was one of the conference's premier players this season by tallying four goals in the quarterfinal loss, including one shorthanded goal, while Dylan Montes and Matt Russell each scored single goals. Allen and Tyler Daniel were each credited with two assists.
Voegel led Patrick Henry in regular season scoring with 37 goals and 14 assists, followed by Matt Russell with 24 goals and 11 assists and Allen with 15 goals and eight assists.
Daniel collected seven goals and 12 assists during the regular reason while Aiden Elswick had two goals and two assists and Miller had two goals and one assist. Other players with goals included Thurman, Moorehead and Rayner.
The Patriots used three goaltenders during the season: Aidan Rion, Josh Mitchell and Tommy Alduenda.
Mayer led Eastlake with four goals and three assists in the quarterfinal victory while teammate Luke Killeen scored four goals to end Patrick Henry's season.
The elder Russell would like to play a part in helping grow the game of high school hockey in East County by running a summer roller hockey league out of Skate San Diego in El Cajon.
The league is scheduled to run Wednesdays June 12 through Aug. 14.  League fees are $99 and include eight games, open skating sessions and two rounds of playoffs.
Individuals or teams are welcome to compete, including incoming freshmen and this year's seniors.
Skate San Diego is located at 165 Denny Way, El Cajon. For more information, contact Chuck Russell at (858) 829-8056.