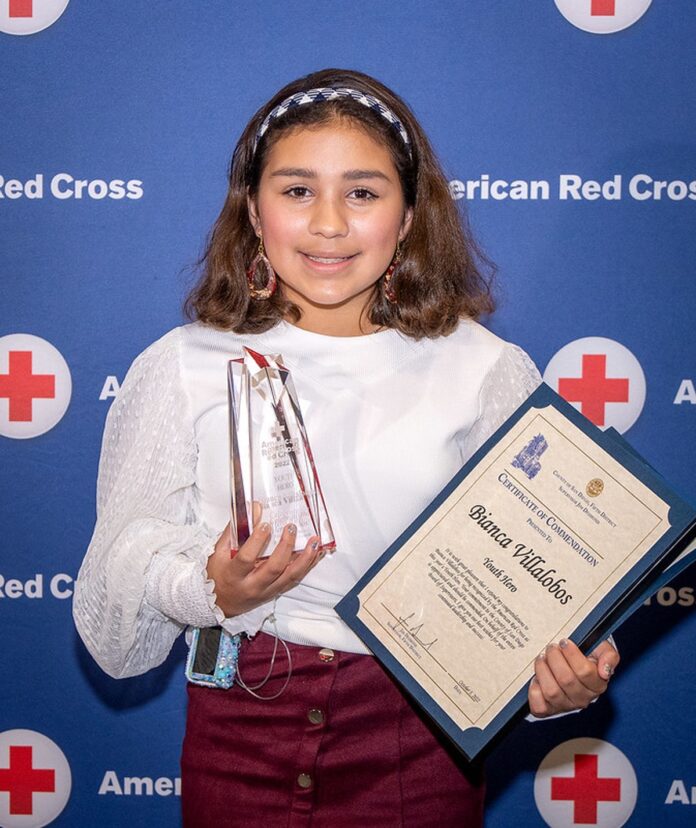 The city of La Mesa in February voted 3-2 to uphold an October 2021 appeal against a proposed marijuana dispensary filed by Communities Against Substance Abuse Executive Director Dana Stevens.
An overview map provided showed the storefront's proposed entrance would sit 1,950 feet away from Christ Lutheran church and school and 1,191 feet from St. Martin of Tours church and school.
However, Stevens said the layout of the proposed Urbn Leaf facility would allow for access from multiple doors. The El Cajon Boulevard entrance, used for planning purposes, is within legal limits yet the more accessible entry point is on residential Hillside Drive.
While the new Urbn Leaf store would be fewer than 1,000 feet away from the neighboring Cookies cannabis store if accessed through the shortest path possible, a pathway that forces shoppers to circle around the building for entry puts the shop more than 1,000 feet away from the preexisting store, Urbn Leaf consultant Phil Rath said.
"I don't think we're following the spirit of the law and this site is too close to another site," Councilman Jack Shu said.
City Council member Colin Parent probed possible outcomes of voting for or against the appeal. City Attorney Glenn Sabine said the city has "very little discretion to deny the project" under Measure U and doing so could potentially lead to a lawsuit.
Urbn Leaf's spokesperson Kelly Blake later said the company was "extremely disappointed by the council's decision" and are currently considering all their options."
•••
The Valle De Oro Community Planning Group unanimously voted to adopt a letter to the County Board of Supervisors opposing the proposed Cottonwood Sand Mining Project in its neighborhood at its Feb. 1 meeting, with the emphasis that it is incompatible with its community plan. More than 150 participants attended the virtual meeting.
"The VDO CPG opposes development that is incompatible with our community plan, established land uses, and existing quality of life. We oppose projects that carry high potential to reduce quality of life, increase health risks, and reduce economic stability of our properties. We maintain that the community can only thrive if development and land uses within the Planning Area are compatible with surrounding land uses and consistent with the Community Plan. The Project contravenes the Community Plan. Accordingly, the VDO Community Plan should be adequately and appropriately considered in the environmental review process for all proposed new development that will impact the community, such as the Project," the letter stated.
•••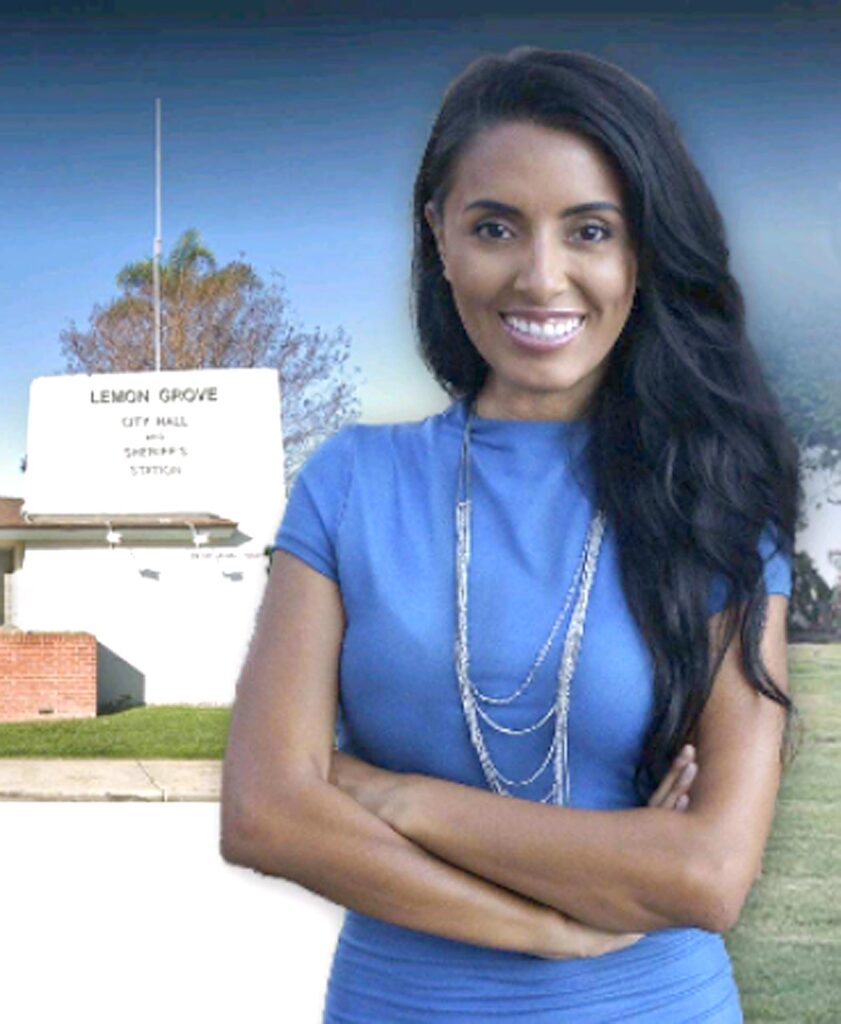 March saw a Lemon Grove council member avoid repercussions for what her council colleagues deemed disruptive behavior.
At a special city council meeting the body discussed a resolution condemning Council member Liana LeBaron of certain misconduct in meetings and outside of meetings.
The resolution stated over the past several months that LeBaron has continuously engaged in "disruptive, obstructive, and inappropriate behavior at City Council Meetings, including shouting over her colleagues when not recognized by the mayor, interrupting the mayor and her fellow council members without being recognized, shouting about non-agendized matters during City Council Meetings and during meeting recesses, and failing to heed the direction of the mayor in her attempts to control the order of the meeting causing undue delay and unnecessary distraction from City business, and making baseless accusations of fraud, embezzlement, and abuse aimed at her colleagues and city staff."
A motion to table the resolution and find another solution was passed with Mayor Raquel Vasquez and Mayor Pro Tem Jerry Jones voting no.
More than 25 speakers spoke, most in support of LeBaron, with some others saying that the council member needed to be censured.
Vasquez said at the previous closed session meeting that LeBaron cursed out Mendoza, and then at everyone in the room.
"Then she pointed at me, and she called me a baboon," she said. "That is a racist comment, and it will not be tolerated in the city of Lemon Grove."
LeBaron said that the accusations that she does not follow proper procedures during council meetings are baseless, and that she is following the Municipal Code in her right to "dissent from or protest against any action of the city council entered into the record and the minutes."
•••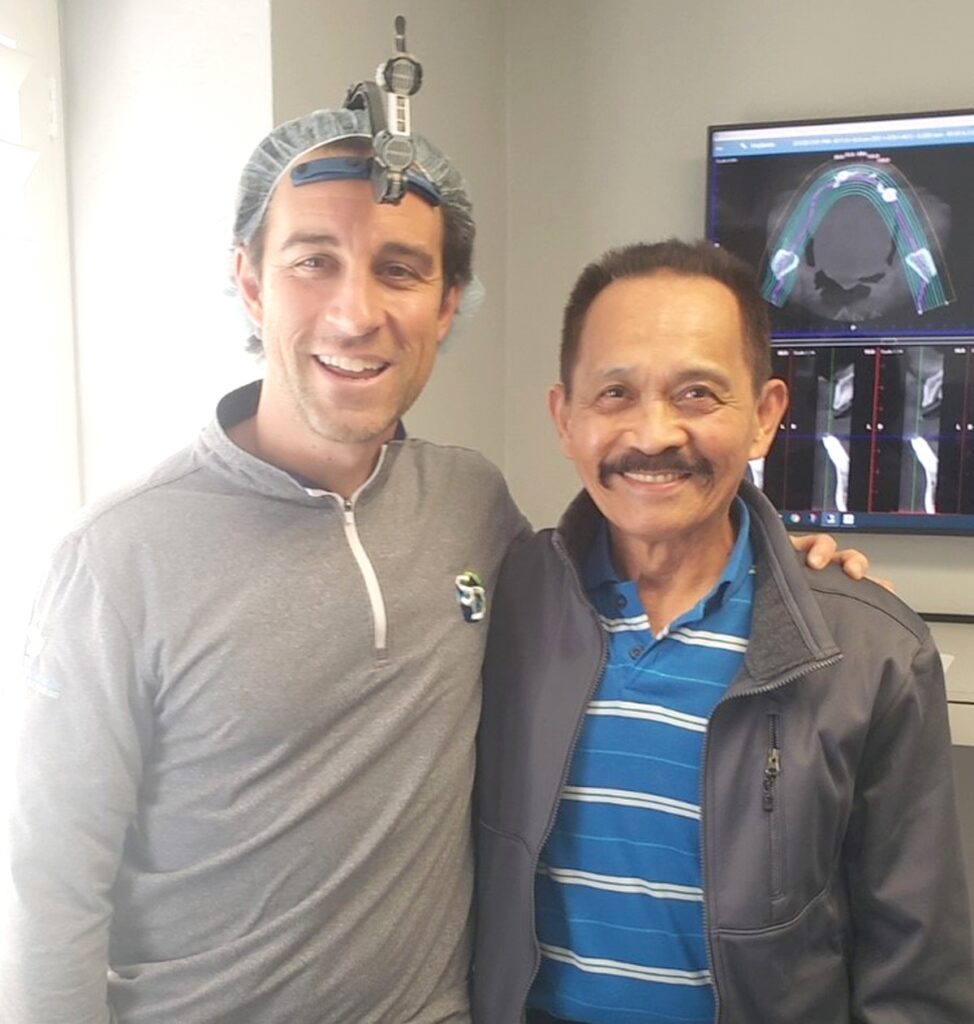 Also in March U.S. Army veteran Leonard Laquindanum received a new $50,000 smile makeover through the annual Smiles for Veterans program that honors local veterans from the region.
Laquindanum suffered most of his life from missing teeth. A few specialized dentists in the region helped him gain his smile back. Laquindanum served as a mechanic technician assigned to the 82nd Airborne Division.
•••
Former La Mesa police officer Matthew Dages, who received national attention for his rough arrest of 24-year old Amaurie Johnson near the Grossmont trolley station in 2020, lost his civil court case against the city of La Mesa personnel appeals board on April 13.
•••
Elsewhere, Lemon Grove City Councilwoman Liana LeBaron was arrested in April and charged with a misdemeanor domestic violence. On April 18, she was served with an emergency protection order.
The complaint came from her husband Timothy C. Howell, an El Cajon police officer. On April 19, LeBaron received a restraining order according to the Superior Court of California, The charges were later dropped.
•••
In May Santee City Council approved a Memorandum of Understanding intended to support homeless solutions in East county.
Assistant to the City Manager Kathy Valverde said the city has been meeting with surrounding cities and the county for the past several months to draft the MOU.
The MOU does not require city funding and its sole outcome would be to determine suitable locations for homeless facilities proportional to the number of unsheltered individuals in Santee. It does not require the city to act on any project and all projects would come back to city council for final approval before being acted upon.
"The focus is to come up with a shared network of housing solutions in our area that could assist in this effort," said City Manager Kathy Valverde.
•••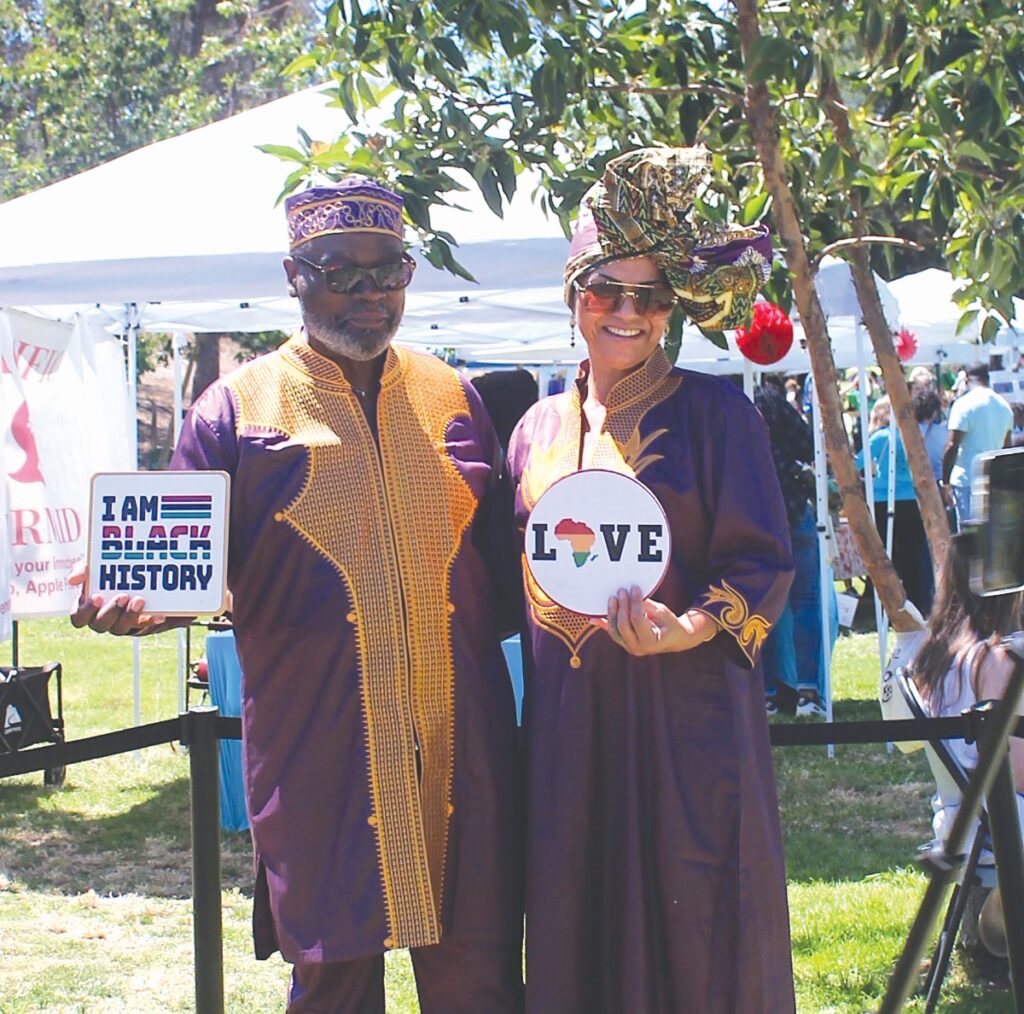 Nearly 1,000 people attended La Mesa's inaugural Juneteenth celebration at MacArthur Park in June. The event's goal is to bring the community together, raise awareness and share the historical significance of the holiday. For this first year, organizers anticipated a small gathering of about 250 people.
However, event coordinator Kim Vinyard said she estimated about 750 people had already passed through the park before the event was even halfway over.
•••
Data released from the county of San Diego in July indicated there was a significant increase in COVID cases reported after a period in which the number of cases had been declining.
With an average of 1,200 cases per day as of June 26, Omicron-like variants took the lead in infections, with newer variants BA.2.12.1, BA 2.12, and BA.2.18 showing the highest growth rates.
Scripps Health reported as of June 27, it has 83 hospitalized COVID patients, the highest daily number since early March, and over the past seven days is averaging 15 new COVID hospitalizations per day. In late May, that number was in single digits.
"To put this all into perspective, last year in 2021, on June 13, we only had 13 patients in the hospitals with COVID," said Scripps Health Chief Medical Officer of Acute Care Dr. Ghazala Sharieff. "Numbers are definitely higher than they were last year."
•••
Also in July California State Assembly Member Akilah Weber announced $500,000 in grant funding was secured from the 2022 state budget to increase mobility access around schools and parks in La Mesa.
Assistant La Mesa City Manager Carlo Tomaino said the city is preparing a Sidewalk Master Plan to enhance pedestrian connections throughout La Mesa.
The plan emphasizes connectivity and includes both a sidewalk map of areas that might better serve the community if connected as well as a no-sidewalk list which preserves rural sections of La Mesa and circumvents overly hilly areas where sidewalks might not be utilized or welcome.
Specifically, the $500,000 grant funding will allow the City to prepare master plans for Tower Street and Hoffman Avenue which identify infrastructure deficiencies and incorporate sidewalk and active transportation features such as bike lanes.
•••
In August La Mesa City Council members were forced to revisit a Feb. 8 vote in which they rejected a new Urbn Leaf marijuana dispensary from opening in a residential neighborhood at 7901 Hillside Drive.
Community Action Service Advocacy Executive Director Dana Stevens filed an appeal against the dispensary in October 2021, claiming it would violate the purpose of City Code Chapter 24.23 to limit impacts on neighborhoods.
City council ultimately voted unanimously to permit the store, ostensibly to prevent the city from being sued.
•••
The governor of California, Gavin Newsom, declared a State of Emergency concerning the outbreak of monkeypox that emerged in California and elsewhere.
California, Illinois and New York reported a combined 47% of the overall cases nationwide. Dr. Miguel Goicoechea, Scripps Health infectious disease specialist said monkeypox is in the same family as smallpox which was eradicated in 1980.
"But because of its potential to be used as a bioterrorism weapon the U.S. government has stockpiled both medication treatment as well as vaccines for smallpox," he said. "Some laboratories and military personnel get routine smallpox vaccinations. What they are doing now since we are having this outbreak with monkeypox is making through emergency compassionate use availability is both the treatment and the vaccine which are not in very high supply right now."
•••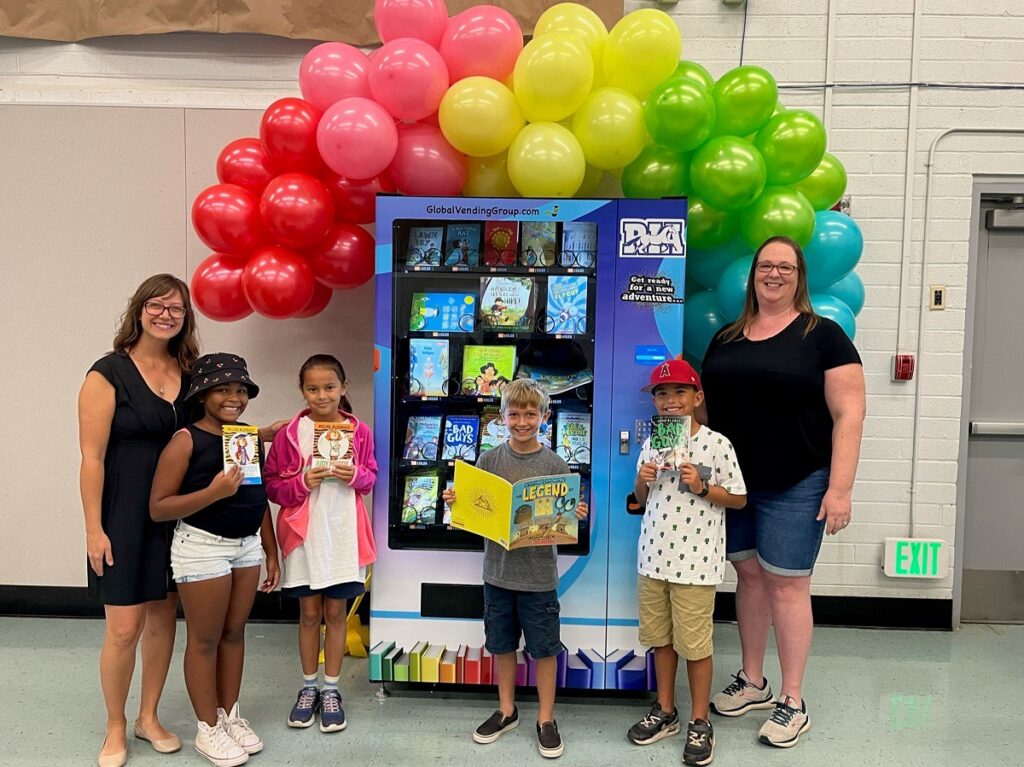 The Riverview International Academy PTSA in Lakeside, unveiled its Book Vending Machine for students on Sept. 8 in celebration of International Literacy Day.
PTSA website coordinator Alexandra Cabrera said her mother sent her a newspaper clipping about a school in New Mexico getting a book vending machine, and she thought the idea was fantastic for the Lakeside school. Cabrera took it to the PTSA board, and it agreed it wanted to donate the vending machine to the school, and committed to funding the program, which will keep books stocked year round.
Cabrera said teachers will decide when the kids get their gold token to use it to go pick out their free book, with the intention of providing a free book to every student in the school, 900 kids, every year. Riverview serves pre-K through fifth grade.
•••
El Cajon city officials took issue with San Diego County contractors who they contend have been disproportionately sheltering homeless residents from across the county in the city's motels.
An influx of individuals from the county's Regional Housing Assistance Program which supplies motel room vouchers to homeless residents is placing strain on the El Cajon Police Department, according to a September press release from the city.
According to the county, 30% of individuals who utilize motel vouchers ultimately move into permanent housing.
County Director of Communications Michael Workman said the remaining 60% move on to other types of non-permanent housing including Section 8 housing, Veterans Assistance Support Housing or other type of voucher, permanent supportive or rapid re-housing options.
El Cajon City Manager Graham Mitchell said El Cajon Police deputies are supplied with vouchers they can distribute to individuals they encounter on the streets. The city's other voucher program, a partnership with non-profit HomeStart, connects individuals with social service agencies, ostensibly to help them overcome whatever obstacles contribute to their homelessness.
The primary problem, Mitchell said, is the city having to divert their police resources to deal with increased activity near motels utilizing the county-supplied vouchers.
"If the county is going to operate a de facto shelter, they have the obligation to provide some form of security," Mitchell said.