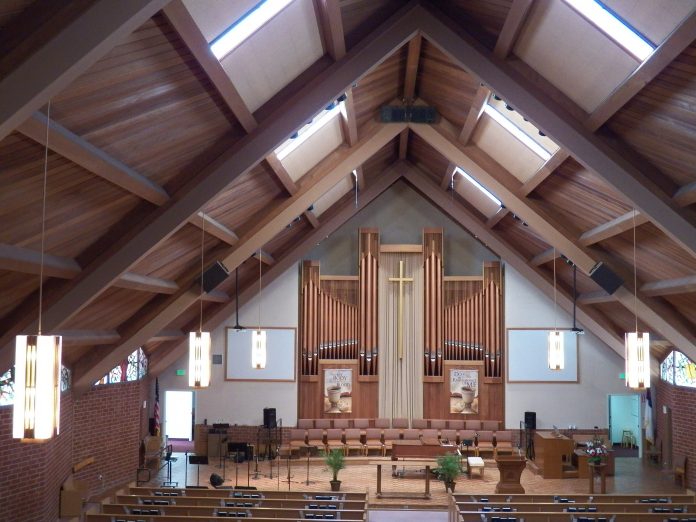 One hundred thirty-five years ago, El Cajon was considered a valley east of San Diego, possibly a good location for wheat fields, and not much more.
Residents of the El Cajon Valley who wished to attend Sunday church services had to undertake a three-hour horse and buggy ride into San Diego.
One hundred thirty-five years ago, El Cajon was considered a valley east of San Diego, possibly a good location for wheat fields, and not much more.
Residents of the El Cajon Valley who wished to attend Sunday church services had to undertake a three-hour horse and buggy ride into San Diego.
And then, on May 6, 1883, pioneer Presbyterians in the valley agreed to a re-profession of their religious faith, establishing the First Presbyterian Church of El Cajon. The church, the oldest Protestant church in San Diego County outside of San Diego proper, celebrated Founders' Day on Sunday, May 6, 2018 – 135 years to the day of its founding.
The happy congregation members began their Sunday celebration events with morning worship services for Family Day, including communion for adults and teens after the children departed for Sunday school sessions.
Serendipitously, the day was also the first Sunday for new interim pastor Reverend Rosalind Ziccardi to preach in the church's pulpit.
The church welcomed its new pastor by rolling out the old, historic pulpit from storage for her first sermon.
The services mixed the old and the new, with long-sung hymns and recent praise songs for worshipers. Ziccardi's sermon was titled "What's New?" and included references to the church's history, with mentions of modernity throughout.
"This is a big day for you," Ziccardi said. "One hundred thirty-five years, and the past, present and future mingle."
Ziccardi noted that the church's 135th anniversary year had started a transition time for the congregation, with retirement of the prior pastor and the need to seek new pastoral leadership.
"Change is hard," Ziccardi said. "Change is inevitable. You may experience grief over your loved pastor."
But she continued, observing that the church endures because Christian belief relies on certain eternalities.
"Jesus does not change," Ziccardi said.
Ziccardi said her first impressions of the church have been good.
"In my first week, I have seen love in real action here," she said. "I have seen mutual love. I have seen people invite the expression of love now. Because love in the present is all that is possible."
Indeed, the worship service harked back to 43 years earlier, to a time the church takes great satisfaction in remembering, for "Project Love."
In July 1975, the church decided to adopt a Vietnamese refugee family of parents with nine children. The family members were living in a tent at Camp Pendleton when a Marine named Carl Usey befriended them and sought to help. They were faced with being split up for temporary resettlement with different American families willing to host refugees from South Vietnam, so Usey went in search of a church agreeable to sponsoring the 11-member family intact.
Gary Lorentzen, a longtime church member, said meeting the family was a memorable experience.
"That was quite a time," Lorentzen said. "We couldn't meet the family all at once because somebody had to stay in the tent to guard their valuables."
The Nguyen family members gave a donation to the church to establish in honor of their parents the "Xuong and Hop Nguyen's Love Project" fund to support other families in need.
A special half-hour video presentation followed the worship service, called "Celebrating Memories," and documenting high points of history for First Presbyterian Church of El Cajon.
The founding congregation members met together for services for three years in the upper room of the schoolhouse on N. Magnolia Avenue. The church's first building was destroyed by fire. A second church building, near the current church's site on Farragut Circle, cost $4,333 to construct.
The initial Bell Tower, dedicated on May 6, 1923, cost $562. The bell and its yoke were lost during mid-1950's demolition to prepare for the 1960-1961 construction of today's brick sanctuary building, but later recovered from a salvage yard and placed in a separate Bell Tower that is still standing.
The church's Circle Preschool, the oldest preschool in El Cajon Valley, commemorated its 60th anniversary in 2017.
"It's no pipe dream," was fundraising campaign theme to pay for the church's magnificent pipe organ during the mid-1980's.
Dating to those years as well are the church's lovely stained glass windows, depicting vine and branches linking symbols of faith and doctrine.
Another fire in 1989 destroyed the church library, nursery and roof, leaving Westminster Hall offices smoke damaged.
Expansion in 2004 made Bailey Hall into a practice recital place with excellent acoustics. And the church takes great pride in having won prizes for float entries in the Mother Goose Parade that honored their 100th and 125th anniversaries.
A barbecue picnic across the circle concluded the Founders' Day celebration. After the outdoor meal, dessert choices ranged from celebratory birthday cake to pies made to compete for pie-making awards in categories of apple, berry and cream.
Church treasurer George Williams said that the congregation is looking to the future, too.
"We are very excited today," Williams said. "This is our first Sunday with the new interim pastor, and we have one new project this year, to renovate Richardson Hall. Next month, we plan to start painting and landscaping around the facility. We expect to be done by summer."
The search for a permanent pastor is still underway, said Williams.
"Next Sunday, we meet after services to elect the Pastor Nominating Committee," Williams said. "We think it will take us at least a year to choose. And we are excited in the interim to have Rosalind here."
The First Presbyterian Church of El Cajon, located at 500 Farragut Circle, meets for worship on Sunday mornings at 9:30 a.m. More information about church programs can be found online at www.firstpres-elcajon.orgor by phone at (619) 442-2583.