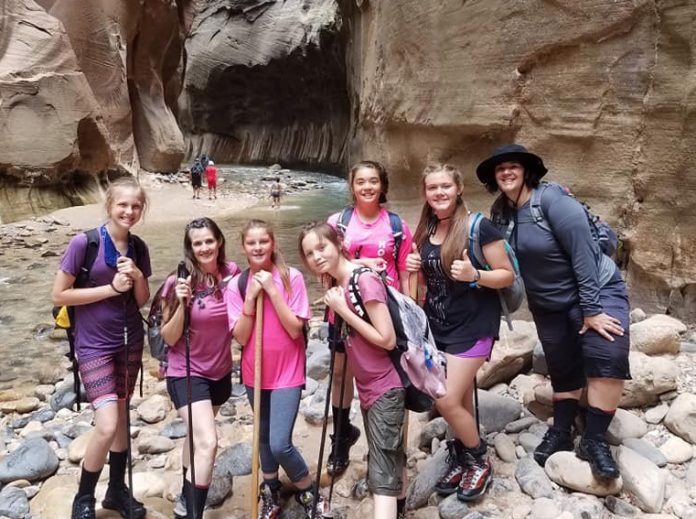 As the Girl Scout cookie season winds down, local Girl Scouts are gearing up for exciting adventures and other enriching leadership experiences—thanks to the support of generous cookie customers! Cookie booths in front of stores end on Sunday, March 10.
Local Girl Scouts participating in the cookie program include Lakeside Girl Scout Cadette Troop 6670, co-led by former troopmates Jennifer Griggs and Kimberly Deloriea, the mothers of Girl Scouts Bailey (13) and Kameryn (14), respectively.
For Jennifer, Girl Scouting is a longtime family tradition. In addition to Bailey, Jennifer's four-generation Girl Scout clan includes her own mother—who led Jennifer and Kim's troop—and grandmother.
Jennifer and Kim are on a mission to build girls of courage, confidence, and character, who make the world a better place.
Most recently, they guided the members of Troop 6670 to earning their Silver Award (the highest award available to Girl Scout Cadettes) and organizing cookie program-funded, outdoor adventures to Zion National Park, Eagle Rock and Lake Jennings, among other outings. Outdoor adventures like these are especially popular for the girls, who list camping, wilderness hiking, fishing, canoeing, kayaking and rock climbing excursions among their favorite activities.
Next up: a girl-led trip to Yosemite. They also earn their way to Girl Scout camp each year.
The Girl Scout Cookie Program is their ticket to all of these destinations. To help educate the public about how the program teaches girls key business and life skills, the troop recently helped unveil a series of Girl Scout Cookie Program billboards sponsored by RSJ Law.
Troop 6670 and Girl Scouts from throughout East County thank the local community for supporting Girl Scouting through the cookie program—and for donating to the military through Operation Think Mint (OTM), Girl Scouts San Diego's largest service project.
Since the program's inception in 2002, residents have helped send more than 3 million boxes of cookies and countless "notes to show we care" to deployed U.S. military troops and local veterans.
The community is invited to join Girl Scouts San Diego for this year's OTM Sendoff Family Festival aboard the USS Midway Museum on Friday, May 10, 6-10 p.m. The evening's festivities start on the flight deck with music, interactive booths, and a patriotic pep rally.
The Girl Scout Cookie Program is a powerful entrepreneurship incubator for the next generation of female leaders. Girl Scouts learn skills like goal setting, decision making, money management, people skills, and business ethics.
Net revenue from the cookie program stays local to fund camp, outdoor adventures, programs in science and technology, and the financial assistance that keeps Girl Scouting available and affordable.
Girl Scouts is the best leadership organization for girls. All girls in grades K-12 are welcome to join Girl Scouts any time of year. Programs are focused on STEM (science, technology, engineering and math), leadership, life skills, entrepreneurship and the outdoors.
Registration is now underway (sdgirlscouts.org./camp) for Girl Scout summer camp; no need to be a current member to attend. For information about Girl Scouting opportunities for East County adult volunteers and girls, contact Jennifer Alvarado at 619-610-0789 or jalvarado@sdgirlscouts.org.