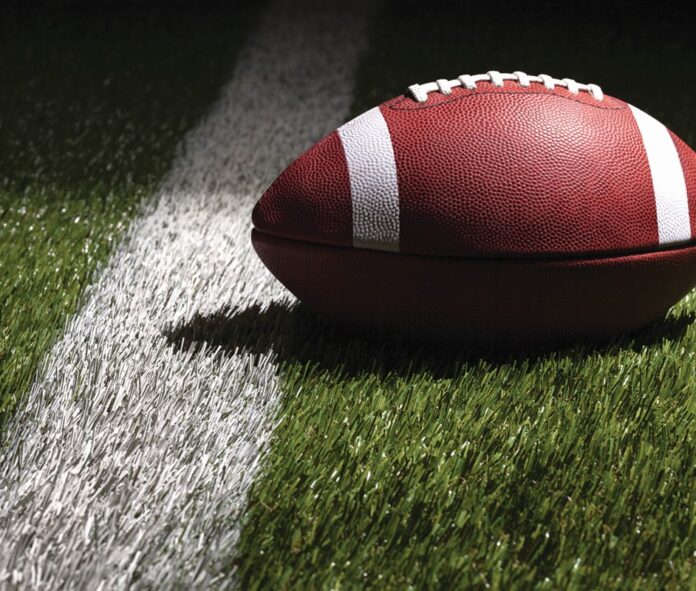 It's always interesting to look at the high school football standings three weeks into the season to see what, if any, trends are starting to develop. That said, the Helix Charter Highlanders are East County's lone undefeated team after the El Capitan Vaqueros and Mt. Miguel Matadors both tasted defeat for the first-time last weekend.
Still the one
Helix received touchdown runs of 87 and 22 yards from junior Jason Sisneros and a touchdown pass from junior quarterback Ryland Jessee to senior receiver Adren Parker in out-scoring the visiting Mountain View (Mesa, Ariz.) Toros, 24-21, in a non-league matchup last Friday. The Highlanders improved to 3-0 with the victory.
Jessee completed 21 of 28 passing attempts for 180 yards while also rushing twice for 10 yards. The six-foot-four, 195-pound signal-caller has passed for 486 yards (162.0 yards per game) with nine touchdowns in three games for a 132.4 quarterback rating.
Parker had 10 catches for 50 yards while junior Jackson Daniels had four catches for 41 yards.
Junior Kevin Allen III had three catches for 34 yards and seven carries for 22 yards.
Defensively, junior Michael August-Smith and senior Puka Noa combined on a sack. Junior Josh Hossman Lees was successful on all three point-after touchdown conversions while adding a field goal to account for six kicking points in the game.
Hossman Lees has accumulated 12 kicking points on the season, including a pair of field goals.
The fourth-ranked Scotties appear to be humming at the moment but are set to face stiff challenges from programs traditionally ranked at or near the top of the section.
The Highlanders host No. 1-ranked Cathedral Catholic (1- 2) in a top level showdown this Friday at 7 p.m. The Scotties will play at St. Augustine (currently 1-1) in another high-profile showdown Sept. 16, also at 7 p.m.
Carlsbad (1-1) entered this week with the section's No. 2 ranking while Madison (3-0) had moved up to No. 3. Lincoln (2-1) was No. 5 in the latest rankings released by the MaxPreps website, while No. 6 Mater Dei Catholic (0-3), No. 7 Poway (3-0), No. 8 Mission Hills (2-1), No. 9 Ramona (2-1) and No. 10 Torrey Pines (1-2) rounded out the section's top 10-ranked teams.
Both El Capitan and Mt. Miguel fell to 2-1 on the season.
The Vaqueros lost, 32-7, at La Jolla last Friday while the Matadors lost a Thursday game at Montgomery by a score of 12-7 as the host Aztecs (2-1) scored the game-winning touchdown with a minute to play.
Senior Chad Allred led El Capitan defensively with two sacks while senior Angel Diaz rushed eight times for 102 yards.
Junior Jackson Diehl passed for 218 yards and four touchdowns to lead the host Vikings (2- 1). La Jolla stymied the Vaqueros defensively with one interception and two fumble recoveries.
El Capitan hosts undefeated Rancho Buena Vista (3-0) this Friday at 7p.m., then kicks off Grossmont Valley League play Sept. 15 against the visiting El Cajon Valley Braves (currently 1-2).
Mt. Miguel (2-1) out-gained Montgomery 179-159 in total yards but coughed up two turnovers (one interception, one fumble)
in suffering its first loss this season. The Matadors racked up 125 passing yards and 54 rushing yards while the Aztecs had 109 rushing yards and 49 passing yards.
Montgomery quarterback Nate Ong scored on a keeper to provide the game-winning touchdown as the Aztecs won for the second week in a row. The Matadors had out-scored their opening two opponents 71-0.
Mt. Miguel next hosts Crawford (1-1) in a non-league game on Friday.
Streaking Eagles, Patriots
Granite Hills won its second consecutive game on the young season, 28-0, over visiting Oceanside last Friday to improve to 2-1 in non-league play. The Pirates fell to 0-3.
Sophomore Isaiah Jackson scored on runs of two and 17 yards while senior Easton Peterson recorded an interception on defense to key the Eagles.
Granite Hills led, 21-0, at halftime. Key plays included a fumble recovery by junior Jordan Glaze, a double pass completion for a first down, a blocked field goal attempt and recovery by senior Joaquin Thomas Jr, a 32-yard pass completion from senior quarterback Nico Tomasello to Thomas and a 48-yard touchdown pass from Tomasello to junior Nokoi Maddox.
Nine teams are currently tied for the Division II lead with 2-1 records, including Granite Hills and Christian. Overall, the Eagles are ranked 13th in the section while Christian is ranked 18th.
The Patriots topped visiting San Juan Capistrano St. Margaret's, 29-7, last Saturday as senior Jake Davila passed for three touchdowns.