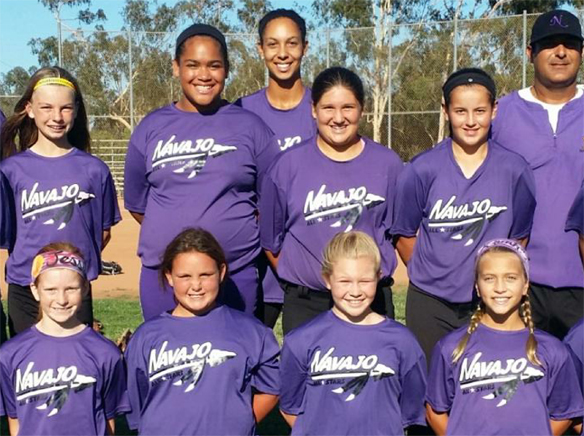 Purple is often taken as the color of royalty. The Navajo Girls Softball 10U 2014 All Star team wear purple uniforms, and deservedly so, as they will journey to compete at the American Softball Association Western National Softball Championships in Roseville, California, with games that began on July 28. These talented young ladies earned their slot in national competition with their third place showing at the ASA South San Diego District Tournament, which qualified the team for the ASA Southern California State Tournament in Lancaster, California. Its top-ten finish in the State Tournament qualified them to compete at the Western National Championships.
These East County girls, now 10 and 11 years old, have played together for about two years. The Santee District has 16 teams. Some girls began the game of fastpitch softball when they were six or seven. Savannah Sutton, who plays the positions of fielder, pitcher and catcher, has been playing since she was five years old.
The organization engaged in fundraisers and requesting financial aid to help pay for 14 team members' trip to the national championship competition. A recent Saturday of water sales to hikers at Cowles Mountain Park netted the groups $200. A scheduled fundraiser in conjunction with Mountain Mike's Pizza on Jackson Drive, on July 22 was slated to provide 30 percent of sales to the Navajo girls. The cost per girl for the one week of competition play was estimated to be $1,000 to cover travel and lodging.
Chenoa Sutton, Savannah's mother, handles paperwork, public relations and event planning for the team.
"The girls were surprised, even shocked, at how well they succeeded in the playoffs. This is a once-in-a-lifetime experience for them," she said.
These Navajo girls practice five days a week, for two and a half hours each session. The team's home field is at Lake Murray Community Park.
The organization takes as its mission to provide a positive, safe environment for girls learning and playing softball, with principles guiding them of teamwork, sportsmanship, friendship, leadership and citizenship.
The saga of their successes to date, competition schedule and other upcoming events can be explored at www.navajosoftball.com. And they can be contacted at P.O. Box 191088, San Diego, California 92159.