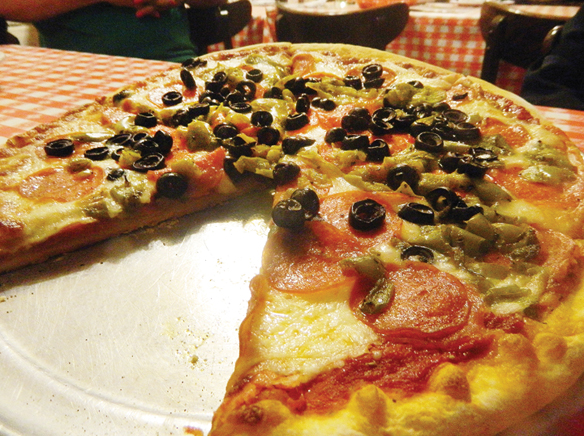 LA MESA — It's ironic that this review will be published shortly after the passing of Donato "Don" Sanfilippo, the man who began
LA MESA — It's ironic that this review will be published shortly after the passing of Donato "Don" Sanfilippo, the man who began
Sanfilippo's Pizza — which has become a La Mesa culinary landmark 37 years ago.
An emigrant from Sicily, he came to United States in 1954 with his mother. Later, he met his wife, Anna, toiled at several San Diego area restaurants, had two children and then purchased a building adjacent to a carpet warehouse.
"It was always his dream to open a restaurant," said Anna. "After working in the grocery industry and being a chef for years, he came to me and told me he was going to start one.
"That was back in 1975. I was very glad, too, because that meant I didn't have to cook — and I did not really like to cook, so that was one advantage."
Don did like to cook, however, and a combination of recipes culled from his own fertile mind as well as some taught to him by his mother, have satisfied thousands of patrons through the years. Everything from a four-pasta special to plates named after his daughters Dora and Nika.
"My father was an amazing man," Dora Sanfilippo smiled. "He worked hard all of his life, provided for all of us and made a lot of people in the San Diego area very happy."
It was not all balloons and roses in the beginning, however. Anna said that the first couple of years was very rough and it took long hours and more than a few prayers to keep the dream alive.
"Soon, though, we began to see the results of our efforts," Anna said. "My husband made all of his ingredients fresh every day, served large portions and we began to see more and more people come to the restaurant."
Some of the more popular dishes on the menu (which has changed little over the years) include the Don's Special (four kinds of pasta and three kinds of cheese baked to perfection, enough for two meals at just $10.65), The Nika (spaghetti with meat sauce and melted cheese,, $11.25), the Chicken or Eggplant Parmigiana (more than enough for two meals, $15.25), among a wide variety of other pasta dishes, sandwiches, pizzas, salads, wines and beers and the best homemade Cannolis this side of Florence.