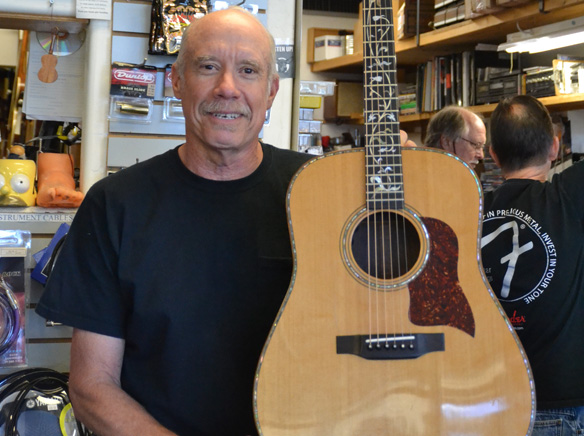 Forty years is how long Moze Mossay has been making guitars. It's a respectable career for any profession, but this one is what most people long for – to make a living by answering their calling.
Forty years is how long Moze Mossay has been making guitars. It's a respectable career for any profession, but this one is what most people long for – to make a living by answering their calling.
His story starts out like most self-made men stories – tinkering around in the garage, doing something for pure enjoyment. Then it grows, gets noticed, and people start to want what he's producing. Four decades later, there is an established following, clientele, regulars – and loyal staff who has been with you so long they have become part of the fabric of the business.
And though Moze Guitars didn't start out in search of fame nor do they seem to work toward it—by the steady stream of experienced to beginning musicians coming through their doors, it's more of a society than a business model—others have inevitably admired Moze Guitars refined but humble craft and given them due credit.
Daniel Marolt, Chairman of the Blues Hall Of Fame ® had been a regular client of Moze Guitars. Mossay and his staff of two people (with volunteers who act like employees and are also part of the aforementioned fabric) treated him like they treated everyone else—like a friend, like a fellow music lover, like a part of their livelihood. It came as a surprise to Moze Guitars when they learned Marolt had inducted them with the Legendary Luthier award into the Blues Hall of Fame ®.
"I had no idea," said Mossay. "We had done some work repaired a guitar for him," said Moze Guitars staff Walt Keezel, a big personality behind the counter and in the on-site workshop at Moze Guitars store on La Mesa Blvd.
The award is framed and placed on a wall next to some of the guitars for sale. Moze Guitars buys, sells, and repairs guitars. Mossay makes guitars as well, he has made as many as twenty plus per year, these days he is down to about two. Moze Guitars is busy with their return client base of at least fifty percent. Since 1980, Moze Guitars has offered lessons at their storefront. They have nine guitar teachers that teach classes from beginning to advanced. Each instructor has a degree in music.
Moze Guitars is a tangible haven and sanctuary to the creative mind. The shop looks part retail guitar store and part craft shop. There is the hum of electronic instruments, a background soundtrack of musicians streaming in and strumming guitars, and chit chats between the staff and the people hanging around. Kids just starting out or professionals who need a part, they all find a home here, where there is no pretention, no glitz or glamour, just the appreciation for music.
"We get a lot of kids coming in, when they find us, we have books and lessons," said Mossay, an unassuming man behind with spectacles mounted on his head like a true craftsman. If you're a serious musician and guitar is your medium, you have heard of Moze Guitars. "I don't pursue anything [awards]. I didn't even think it was real. Why us? We're not blues. We cater to a lot of blues players," said Mossay.
This must have been what caught the attention of Marolt. The Blues Hall of Fame ® is an international organization "that which believes that the nominating and inducting of Blues Artists should be open, transparent and conducted by other Blues Artists, Fans and the General Public," according to their Facebook page.
Mossay, a 1971 graduate of Patrick Henry High School, was nineteen years old when he began the venture that would become a comparably long-running local music business. He has had plenty of time to hone his skills, refine his craft and build his reputation. Moze Guitars was on College Blvd. for twenty-seven years but moved to La Mesa twelve years ago.
"The music business is a small community, so we get people who leave San Diego but they don't forget this place," said Keezel. "They know about us and moved out of the area, but they trust us and contact us."
Moze gets repairs from all over the country. For people who have not found Moze Guitars by word of mouth or walk-in, social media has increased their reach.
Gene Winer is in charge of the social media for Moze Guitars. Moze Guitars is on social media, specifically, Facebook, Twitter, and Instagram. Winer is a fixture in this store, part of the camaraderie between the four men who work in the shop. There is noticeable, affable verbal and non-verbal communication between them that upon observation seems a vital element to the business.
To learn more about the Blues Hall of Fame ®, visit www.blueshalloffame.com, or stop into Moze Guitars (www.mozeguitars.com) between 10:30 a.m. – 6:00 p.m. most days to see the award on the wall that is distinct because it was not only an unexpected honor, but the best kind—an award in recognition by Moze Guitars' fellow musicians and industry peers.