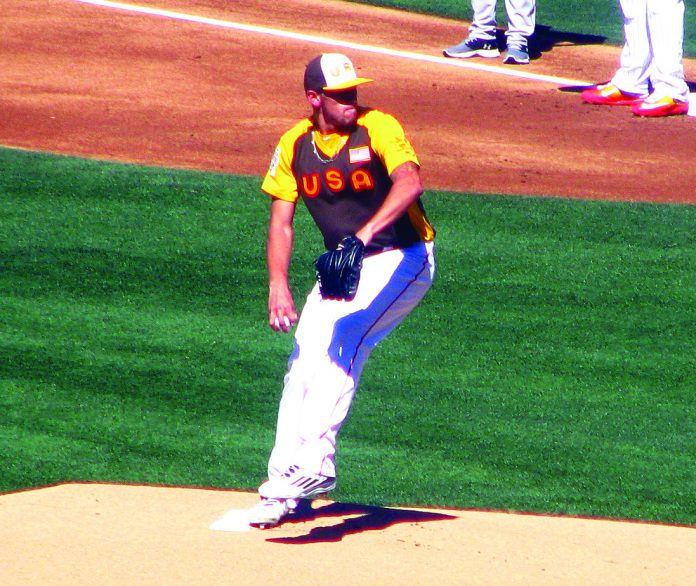 Major League Baseball has finally logged its first pitch and first home run of the 2020 season, though in much belated fashion.
After MLB owners and the MLB Players Association finally struck a deal for a shortened 60-game season, play officially resumed after spring training camps had been cancelled in mid-March due to the COVID-19 (coronavirus) pandemic.
The abbreviated season got its restart on July 1 with a return to training camps, rebranded by the league as "summer camp," with the first games commencing on July 23.
The regular season will continue through Sept. 27, followed by an expanded 16-team playoff format starting on Sept. 29. The 2020 World Series is scheduled to start Oct. 23, with a potential Game 7 to be played on Oct. 31.
The original 162-game 2020 season was originally scheduled to start on March 26.
With the reduction in the number of games, teams will now play within a geographic region.
Each team will play only nine opponents instead of 19 or 20, as would be accustomed in a normal season.
Teams will play each of their four divisional opponents 10 times. The remaining 20 games, in the case of the San Diego Padres, will comprise inter-league contests against teams from the American League West.
The Padres opened National League West play by winning two of three games from the Arizona Diamondbacks July 24-26 at Petco Park. The Pads then promptly hit the road for three-game series in San Francisco and Colorado before returning home to host the Los Angeles Dodgers Aug. 3-5.
The Padres compiled a 7-5 record in those opening 12 games.
Valhalla High School alumnus Greg Garcia has had the rare opportunity to play for his hometown team.
Garcia, a 2007 VHS grad, is playing his second season for the Padres after being claimed off waivers from the St. Louis Cardinals in 2018.
He called his stint with the Padres a "dream come true."
"Getting put on waivers by the Cardinals and not knowing where you're going to end up and to get claimed by the Padres was obviously a dream come true," he told the team's social hour webcast "Friar Face Time."
"I had such high expectations of what it was going to be like, and I think I surpassed every one of those expectations. Friends and family getting me to watch me play live. I've been to Padres games at Petco being a fan and now I'm on the field.
"It really hit home on Opening Day (last year). Listening to the national anthem and then the flyover goes across, I'm looking down at my chest and I'm wearing a Padres uniform. You're always thinking about that as a kid — you want to play for the Padres but never really think it would come true."
Garcia was originally selected by the Cardinals in the seventh round of the 2010 MLB Amateur Draft out of the University of Hawaii where he led the team with a .358 hitting average.
The ex-Norseman made his MLB debut in 2014 and opened the 2016 season on the Cardinals roster. He appeared in 133 games with the team during the 2017 season, starting in 52 contests.
He appeared in a career-high 134 games with the Friars in 2019, hitting .248 with a career-high four home runs and 31 RBI.
In eight games in 2020, (five starts) he has logged a .316 hitting average, .381 on-base percentage with three runs scored and six RBI.
He delivered a pinch-hit single to score two runs and later crossed the plate himself in a 12-7 win over the Giants on July 30.
Garcia is the grandson for former MLB manager Dave Garcia (California Angels, Cleveland Indians). His older brother Drew played professionally from 2008-15 after being selected in the 2008 MLB draft by the Chicago White Sox.
Dave Garcia, who spent more than 65 years in professional baseball as a player, manager and coach, joined the Padres during their inaugural 1969 season as the organization's minor league manager.
He served as the MLB Padres' third base coach from 1970-73.
As a manager in the Padres, Angels and Giants organizations, Dave Garcia compiled 889 wins and won three championships.
He is one of only four individuals to play, coach or announce professional baseball during part of eight decades (the other three include Vin Scully, Tommy Lasorda and Don Zimmer).
Locals only
Valhalla's Garcia is among several East County products playing for MLB teams this season.
Grossmont High School alum Joe Musgrove has made three starts for the Pittsburgh Pirates with a 0-3 record. 6.75 earned-run average with 17 strikeouts in 14.2 innings on the mound. 
Musgrove is one of two Foothiller alumni on the Pirates roster, joining Steven Brault.
Musgrove appeared in 73 varsity games for the Foothillers from 2009-11 with a .386 hitting average, on-base percentage of .466, with 83 hits, 70 RBI and 62 runs scored. On the mound, he compiled an 18-7 record with seven saves, a 2.51 ERA and 171 strikeouts in 158.2 innings.
He was drafted in the first round of the 2011 MLB draft and signed with the Toronto Blue Jays to forgo a career at San Diego State University.
Musgrove was traded to the Houston Astros in 2012 and appeared in the 2016 MLB Futures Game at Petco Park as a member of the Fresno Grizzlies AAA team.
He made his MLB debut with the Astros in 2016 and finished the season with a 4-4 record and 4.06 ERA in 11 games (10 starts) with 55 strikeouts in 62 innings.
He remained with Houston in 2017, appearing in 38 games (15 starts) with a 7-8 record and 4.77 ERA. He struck out 98 batters in 109.1 innings. The former East County standout appeared in seven postseason games for the Astros, including four World Series games. He pitched a scoreless top of the 10th inning in Game 5 against the Dodgers to pick up the win.
He was subsequently traded to Pittsburgh in 2018 and earned a place in MLB notoriety by throwing 21 consecutive strikes in an Aug. 30 game against the Cardinals. He finished the season with a 6-9 record, 4.06 ERA and 100 strikeouts in 115.1 innings.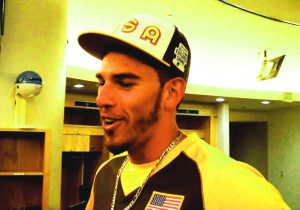 Musgrove remained with the Pirates in 2019, finishing 11-12 with a 4.44 ERA in 32 games (31 starts) with 157 strikeouts in 170.1 innings.
Brault compiled an 8-1 record with a 2.56 ERA along with a .378 hitting average his senior year as a Foothiller. He was subsequently drafted (and signed) by the Baltimore Orioles after being selected in the 11th round of the 2013 MLB draft out of Denver's Regis University.
After being traded to the Pirates in February 2015, Brault eventually made his MLB debut on July 5, 2016, in a game against the Cardinals.
In five seasons with the Pirates, he has compiled an 11-12 record with a 4.89 ERA and 240 strikeouts in 280 innings.
West Hills alum Stephen Strasburg, the first pick in the 2009 MLB draft, remains on the Washington Nationals' 40-man roster but has seen action in just one game this summer after signing a seven-year $245 million free agent contract last December to return to the Nationals. He has a career 112-58 record over 11 MLB seasons with a 3.19 ERA and 1,697 strikeouts in 1,443 innings. 
A Padres fan while growing up, he represented the United States at the 2008 Beijing Summer Olympic Games while attending San Diego State. He made his MLB debut with the Nats on June 8, 2010, by recording a franchise record 14 strikeouts in seven innings against the Pirates.
He led the National League with 242 strikeouts in 2014 via a 94.8 mph fastball. He tied an MLB record in 2019 with five postseason wins while recording a 1.98 ERA and 47 strikeouts.
He earned the 2019 World Series MVP Award with a 2-0 record and 14 strikeouts in 14.1 innings as the Nationals defeated the Astros.
Additionally, former El Capitan pitcher Kevin Ginkel opened the season on the Diamondbacks roster while ex-Steele Canyon pitcher Alex Vesia made the Miami Marlins roster.
Ginkel, who hit .583 and notched a 1.07 ERA with 113 strikeouts in 31 varsity games with the Vaqueros from 2011-12, played collegiate baseball at Southwestern College and the University of Arizona. He was drafted by both the Giants (16th round in 2014) and Boston Red Sox (26th round in 2015) but elected not to sign with either team.
He played for six minor league teams before the Diamondbacks picked up his contract last year. He finished the 2019 season with a 3-0 record and 1.48 ERA in 24.2 innings.
Vesia, an Alpine native, recorded an 11-2 record in two minor league seasons with 138 strikeouts in 100 innings before joining the Marlins this season.
He logged a 1.79 ERA with eight wins and 67 strikeouts in 56 innings as a senior with the Cougars.