The William Burton Spirit of Eagle Scholarship Award was established in the memory of the former Granite Hills High School football defensive lineman who lost his life in an automobile accident in December 2017.
The award recognizes a graduating senior at the school who best exemplifies many of Burton's prized characteristics — bravery, patriotism, individuality and kindness.
Burton's family — parents Donna and Brad Burton along with brothers Jacob and Zachary — created the award to honor Will's memory.
Granite Hills alumna Kate Matushek, a fixture at the school in cheer competition and in girls lacrosse, is the award's inaugural recipient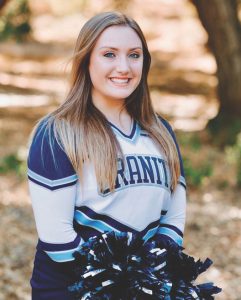 She said she was "incredibly honored" to be the inaugural recipient of the award from the Burton family.
"I loved cheering for Will on Friday nights," said Matushek, a four-year varsity performer on the school's cheerleading squad who served as senior captain, "He was one of the first varsity football players I knew, and I always looked forward to chatting with him on the sidelines. Will was a true Eagle — friendly, patriotic, hard-working and brave.
"Will was loved by so many and made a positive impact on so many lives, and he will not be forgotten. He was truly an amazing boy and I am so touched to be recognized with this award."
Granite Hills cheer coach Angela Scott said she immediately knew Matushek, a three-time CIF champion with the team, was the ideal candidate for the award. Matushek clearly defined her role as a promoter of school spirit.
"She won most spirited her junior and senior years, and she was also awarded most likely to make a friend with the person she is sitting next to," Scott explained.   
"She is determined and responsible, and I always knew I could turn to her for anything I needed help with for the cheer team. Kate was supportive and inspiring to all the members of cheer.
"As a student, Kate is kind, sweet, compassionate, and spirited. I nominated her for the award because as soon as I saw what they were looking for, I knew that Kate would be the perfect choice for it.
"She takes pride in everything she does, including all things Granite Hills. She took advantage of everything high school has to offer and really had a great time in her four years. She was in ASB, cheer, and she was a member of other clubs, including Eagle Link."
Granite Hills girls lacrosse coach Jose Carlos Soto termed Matushek a "true workhorse" for the team.
"No matter the situation, no matter what was requested of her whether it was at practice or during a game, she always went hard," the GHHS coach explained. "She was a true multi-sport athlete who never limited herself to one sport or activity.
"Her attention to detail, her discipline will more than likely pay dividends for her very bright future. It was a pleasure having Kate on the team, but more importantly it was an honor to witness her growth on and off the field."
Burton, a three-time league champion with the Eagles football team and an all-county honoree in the sport, was being recruited in both football and baseball at the time of his death.