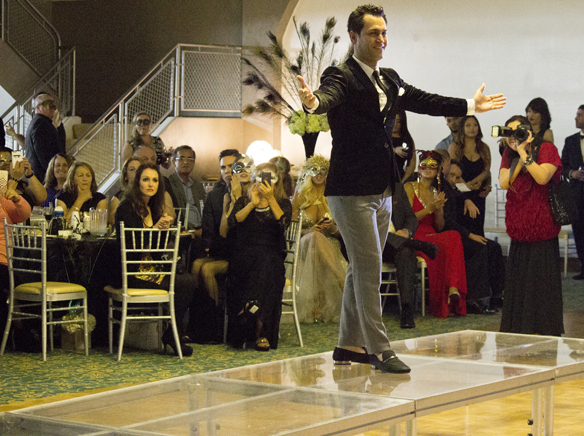 By Mary York
By Mary York
In a shroud of feathers and flashes, the San Diego East County Chaldean American Chamber of Commerce rolled out both red carpet and runway to promote local businesses and raise money and toys for charity. Drawing an attendance of nearly 200 community members, the 2nd Annual Royals Masquerade Ball Toy Drive was held at the Babylon Palace in partnership with the Salvation Army, whose recipients are roughly 80 percent Middle Eastern children, and Sons of Charity, a San Diego-based organization that provides practical assistance for families affected by cancer, bringing the Middle Eastern community in East County together in a most purposeful way.
"You have got to give people entertainment, especially in the Middle Eastern community," said Ben Kalasho, president of the ECCACC and founder of the toy drive. "It just so happens that this is our niche. The Chaldean community is into fashion. There are a lot of great charities, this one's just kind of different."
Featuring two fashion shows and a hair styling contest, the ball certainly put to good use the talents of local businesses, displaying the work of four stylists as well as the exquisite flairs of Nahreen Hermez' Red Rose Fashion and Munther Somo presenting the European style of the Elegant Man, both located in El Cajon.
"Every two months I have a new style," said Somo, who left attendees breathless with his sheik line of men's clothing.
Somo said he loved that his work was contributing to the charity and that the masquerade ball was a perfect venue for the event.
"You know me," he said. "I like when everyone wears a mask and looks mysterious."
Vilan Salmo was voted San Diego's Best Hair Stylist, his beautifully coiffed style displayed throughout the evening on one of the many models wafting between elegantly dressed tables and patrons. Prizes were given out for Best Mask.
DJ Karam and comedian Vincent Oshana kept the tables entertained between runway shows and along with Founder Sam Diego (Diego-Mejia), and board member Pierre Charmasson, of Sons of Charity and the voice of the San Diego Chargers, concluded the evening with an auction to raise money for the hosting charity.
"What we raise money for is children's cancer," said Charmasson. "We have people ask us, 'Could you pay our mortgage because our mom had to quit her job?' or, 'Could you give us transportation to the hospital because we lost our car?' Things like that is what we do. You hear about research on TV all day long, but we are boots on the ground."
Between the buffet and the photo opportunity with a live boa on the red carpet, guests were able to socialize and network, which is exactly what Kalasho said he had hoped for.
"Aside from the chamber there would be no other way to get professionals networking and exchanging ideas," he said. "We're a chamber of commerce so we have to do business promotion. This chamber is a young chamber. We have 500 members. If a fashion store joins, how can we promote their business? If a hairstylist joins, how can we promote their business?"
Although the chamber includes what might be considered "normal members," Kalasho said he wants to include all types of businesses in the region.
"I just want to emphasize that with the Chaldean Chamber, it's a mission of mine to reinvigorate and redefine what it means to be Chaldean," he said. "We are young, energetic and passionate. We're a chamber of commerce at the end of the day but we want to think outside the box. We want to use this to assimilate Chaldeans into Western Culture, moreover to shine a light on the professionals, to say, 'Look, there are Chaldean attorneys and fashion designers.' There are whole groups of people out there who are progressive."
The evening was crowned a success by Jessica Kalasho, ECCACC ambassador.
"I think we raised a lot of money for charity and we raised a lot of toys as well," she said. "There's a big Middle Eastern community here in El Cajon, and East County especially. So it was nice because a lot of Middle Easterners don't get to go to these kinds of events. So for us to do it for the second time around, I think more people got involved and you could see in their faces that they were happy to be part of such a momentous event."