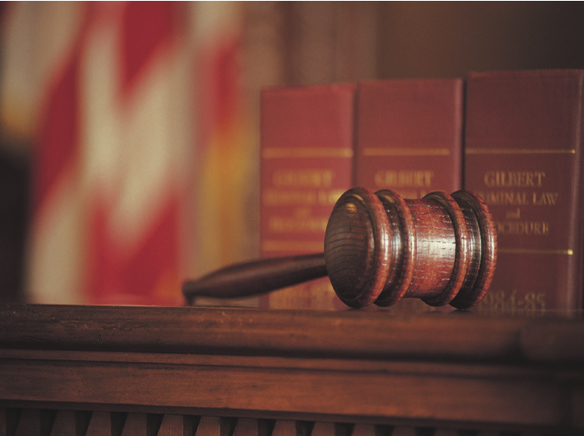 A man who was shot twice by a La Mesa Police officer while armed with a knife will have an Aug. 12 preliminary hearing on a charge of murdering his mother.
The hearing for Daniel Chase McKibben, 37, was set recently by a San Diego Superior Court judge hearing cases that were delayed while the courts are closed due to the coronavirus outbreak.
McKibben has pleaded not guilty to a charge of killing Heidi Green, 59, in her Ocean Beach home on May 1, 2019.  The next day McKibben was at a Rainey Street residence in La Mesa when he refused to leave.
The occupant of the home called police. When McKibben allegedly displayed a knife, he was shot twice in the hand and shoulder.
McKibben is also charged with the special circumstance of murder during a robbery. He remains in jail without bail.
     •••
The courts are scheduled to re-open on Tuesday, May 26 after being closed from March 17 following an emergency declaration of a state of emergency involving the coronavirus outbreak.
More than 87,000 hearings have been delayed in criminal, civil, traffic, family law, and small claims cases, according to Presiding Judge Lorna Alksne in San Diego Superior Court.
Jury duty was suspended during this time, but jury service will resume on May 26.
Some judges have held emergency hearings with attorneys appearing remotely on video so cases with deadlines could receive new dates.
People were urged to monitor the court's website at sdcourt.ca.gov for more information.
   ••• 
A minivan driver who crashed and injured undocumented immigrants in Boulevard in 2019 will be released June 1 from a residential re-entry program after she finished her 18-month federal prison term.
Ashley Alexandra Moreno, now 25, has been staying recently at a Long Beach residential re-entry program. U.S. District Court Judge John Houston recommended she enter this type of program for 120 days after finishing her prison term.
"I have learned my lesson," said Moreno when she was sentenced Aug. 12, 2019.
Online records say the program she is now in provides employment counseling and other things in a supervised environment. Offenders pay a fee for the program's cost.
The program "helps inmates gradually rebuild their ties to the community and facilitate supervising ex-offenders activities during this readjustment phase," the online description says.
Moreno pleaded guilty to transporting an undocumented migrant and three counts of transporting others were dismissed.
A U.S. Border Patrol agent spotted Moreno picking up people who came out of brushy areas and got inside the blue minivan on Old Highway 80 near Boulevard. Moreno picked up speed and drove somewhat erratic.
Agents attempted to pull her over, but she increased her speed until she lost control and overturned in Boulevard on Feb. 19, 2019. Everyone was injured including herself.
Interviews with four people inside the minivan showed that they were going to pay between $7,000 to $8,000 for smuggling, court documents say.
Moreno admitted that she was going to be paid $500 for human smuggling. She told agents she panicked when she saw the Border Patrol vehicle.