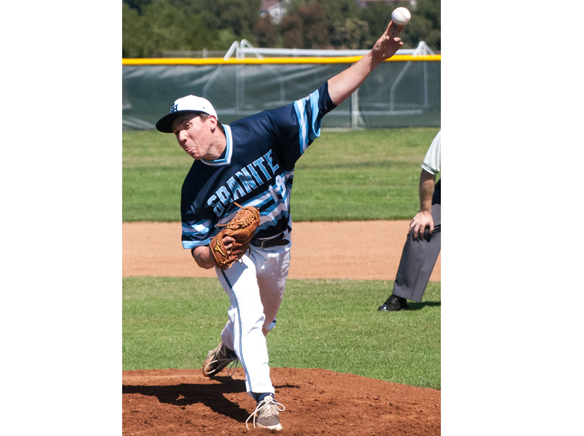 Seemingly synchronized steps echo throughout East County as spikes crunch into the dirt packed hard by yet another dry Southern California winter. Soon, the unmistakable popping of baseball gloves will give way to the occasional rattling chain link fence from an errant throw – high school baseball back in full swing.
Grossmont Hills League
Seemingly synchronized steps echo throughout East County as spikes crunch into the dirt packed hard by yet another dry Southern California winter. Soon, the unmistakable popping of baseball gloves will give way to the occasional rattling chain link fence from an errant throw – high school baseball back in full swing.
Grossmont Hills League
Arguably the toughest league in the CIF San Diego Section last year, every member of the Grossmont Hills League received a playoff bid in 2014 and two squads walked away with division titles.
Granite Hills will attempt to defend its title as the top team in San Diego after winning the coveted Open Division title and is a favorite to defend its league title. Veteran coach James Davis will have plenty of options both on the mound and at the plate with five NCAA Division I bound seniors returning from the 26-2 (13-2 conf.) campaign – pitcher Daniel Vasquez (Tennessee), shortstop Michael Diffley (UC Santa Barbara), outfielder Andrew Lowry (U.S. Naval Academy), third baseman Jordan Verdon (SDSU) and pitcher Kenny LaPierre (SDSU). Vasquez struck out 54 batters in 62.1 innings, recorded a 2.25 ERA and also hit .307 at the plate while Verdon hit .404 and manned the hot corner.
Grossmont High (19-14) and the Valhalla Norsemen (22-13-1) both finished league play with 8-7 records and played the ultimate tiebreaker in the Division I championship, but it was the Foothillers that left USD's Fowler Park with a 6-4 victory. Grossmont will have a new skipper at the helm in 2015, former El Capitan coach Jordan Abruzzo, and a relatively inexperienced lineup. Just two pitchers, senior Braeden Barr and junior Calvin Farris, pitched more than 30 innings for the Foothillers' varsity squad and only three hitters, Barr, Tiger Guerrero and Ryan Barnes, recorded at least 75 plate appearances. To repeat its Division title, Grossmont's JV call-ups will face a learning curve as steep as its opponents' breaking balls.
Valhalla was just three runs shy of the 2014 Division I title and will open this season with a new head coach, Mike Bando. Headlining the San Diego Christian College alum's lineup are senior shortstops Jeff Houghtby and junior basketball star Cole Henderson. Houghtby hit .342, scored 27 runs, totaled 15 RBI and committed to play college ball at USD. Aside from leading the Norsemen to their ill-fated Division III basketball championship game berth a few weeks ago, Henderson manned the hot corner and hit .278 with 23 RBI last spring. Houghtby, Henderson and the rest of Bando's band of ballplayers aim to get over the school's championship hump in 2015.
Not to be overlooked, the Steele Canyon Cougars look to improve on their fourth place 6-9 (19-15 overall) finish. Second-year head coach Dan Nerat lost a significant portion of his team – no returning player logged more than 40 at-bats at the varsity level and just one pitcher, 6'7" junior Trevor Row, pitched more than 15 innings. Luckily, the Cougars' JV squad went 24-5 (12-3 conf.) behind the bats of now-juniors Tyler Beckman (.415, 24 R, 37 RBI) and Tanner Logan (.485, 24 R, 20 RBI), however lighting up the JV ranks does not guarantee success at the varsity level. Still, Steele Canyon has one more trick up its sleeve – Avery Tuck moved to town from Santa Maria. The versatile junior posted a 0.91 ERA and 28 K in 38.2 innings pitched while also hitting .362 with 17 RBI for St. Joseph High School. Even if the Cougars are hampered by their inexperience this season, the young squad has the potential for a special 2016 season.
Helix High school rounds out the Grossmont Hills League and will try to recapture its playoff form. The 5-10 (16-15 overall) Highlanders finished 2014 tied for last place with West Hills, but upset 8-seed Montgomery, 5-seed Valhalla, 4-seed Otay Ranch and top-seed St. Augustine before being knocked out of the double-elimination D-I playoffs by Valhalla in the semifinals. Veteran coach Cole Holland lost ace Jeremiah Wylie's 1.81 but returns a pair of excellent pitchers. Utah-commit Dashawn Keirsey Jr. will try to translate his success from Helix's powerhouse football program to the diamond. Last year he posted a 2.28 ERA and 30 K in 43 innings. Meanwhile, one year removed from a 3.32 ERA freshman campaign where he also hit .322, Conner Konishi has the potential to terrorize East County hitters for years to come along with battery mate Hunter Isbell, also a sophomore.
Grossmont Valley League
West Hills is switching conferences after going 12-18 (5-10 Grossmont Hills) last season. Head coach Mike "Cougar" Harwell will have his hands full managing a Wolf Pack that returns just two hitters with more than 70 varsity at-bats that and lacks a starter with more than 10 innings of experience. Senior shortstop Cole Pendelton, however, could be one of the better hitters in the league this year after hitting .389 with 2 HR. Kris Aguilar hit .282 last season and racked up 24 RBI and is a prime candidate to benefit from the league change.
Santana High School won the league last year after going 10-2 (22-12 overall) and received the top seed in the Division III playoffs, but was eliminated by Francis Parker in the fourth round of the playoffs. Head coach Rigoberto Ledezma will attempt to improve his team's postseason finish, but will do so in Division II this year.
First-year Mount Miguel coach L.B. Havrid takes over last season's 10th-seeded D-III squad. In a somewhat fitting tie considering their mascots, the Matadors (20-13) and El Capitan Vaqueros (16-13) both finished 8-4 in league play. Mt. Miguel lost do-it-all Brad Moreno, who hit .395, compiled a 2.27 ERA and struck out 105 hitters in 89.1 innings, but return juniors Enrique Keller and Alex Estrada. Keller, a third baseman, hit .390 with 22 RBI and 2 HR while Estrada hit .353 as a catcher.
El Capitan lost both its Division I play-in game and head coach to eventual champion Grossmont, but returns a pair of star players for rookie head coach Clayton Curo. Senior outfielder Sam Melero played safety for the Southern California Regional champion Vaquero football team and can hit both the ball and a wide receiver over the middle. He hit .443 last season, scored 23 runs and totaled 17 RBI and stolen bases. Junior ace Tristan Duncan will be one of the primary beneficiaries of the Melero-led offense. In 67.1 innings, Duncan totaled 63 strikeouts and a 1.56 ERA.
Third-year coach Matt Atkinson looks to improve on Monte Vista's 8-18 (4-8 conf.) season. The Monarchs finished fourth in the Grossmont Valley League, but return jack-of-all trades Austin Caole. After compiling a 2.24 ERA and a .387 batting average in 2014 the senior will team up with five other Monte Vista players with starting experience, including second baseman Xavier Chavoya and pitcher/shortstop Ricky Dupree.
After a tumultuous 0-12 (5-18 overall) season, El Cajon Valley has nowhere to go but up. Senior Carlos Mejia hit .422 with 17 runs scored and 18 RBI and will team up with first-year head coach Clifton Thomas as they attempt to lift the Braves up the Grossmont Valley League standings.
East County Private Schools
Christian High School won the Central League title after going 10-2 (21-10 overall). Head coach Mike Mitchell will try to repeat the feat in 2015 and improve upon the Patriots' second round exit from the D-III playoffs behind a strong senior class. Catcher Will Hail hit .437 last season and recorded 23 RBI. Shortstop Trevor Howell, usually on the receiving end of Hail's throws to second base, hit .390 with 12 stolen bases and 20 RBI. On the mound, SD Christian-bound Bryce Jurries will look to improve upon his outstanding 1.99 ERA and 34 K in 52.2 innings pitched.
Foothills Christian's 4-2 (18-7 overall) record was good enough for second place in the Citrus League last season, but this year it will compete for the Ocean League championship. Head coach Dave Lewis will lead a Knights squad that returns two .400 hitters – seniors Ryan Quinn (.494) and Daniel Luckett (.458). Quinn also knocked in 42 RBI, scored 32 runs and hit 17 doubles. Senior Nathan Yeager will be Foothills' ace in 2015 after posting a 1.70 ERA and striking out 29 in 37 innings last season.