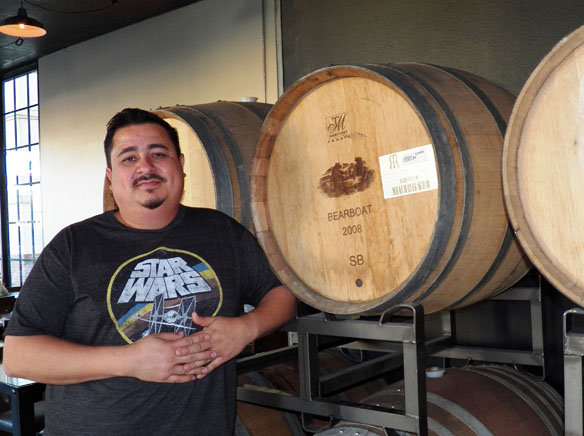 Think of everything and anything that might soothe temperature-frayed nerves on an unseasonably hot March afternoon. High atop any East County resident's list would have to be drinking a good, cold beer. And those were pouring aplenty at the first annual El Cajon Craft Beer Invitational on March 15. More than 40 breweries delivered tasty samples of craft libations to thirsty attendees in the over-90-degrees heat radiating from the shopping center parking lot along N. Magnolia Avenue and behind urbn st. brewing co. Five bands, playing a variety of music styles, ranging from rock to Irish, entertained the festivalgoers.
This was the only St. Patrick's Day themed craft beer event in the San Diego County region. Close-to-home East County breweries present at the festival included Twisted Manzanita and BNS Brewing & Distilling Co., both of Santee, El Cajon's next-door brewery urbn st., and the newly realigned Alpine Beer, which was recently acquired by Green Flash.
Other notable county locals on hand included downtown's Monkey Paw Brewing, Grantville's Groundswell Brewing Company, Vista's Belching Beaver Brewery, Escondido's Stone Brewing, San Diego Brewing Co., nationwide chain Rock Bottom Brewery (which has a La Jolla location) and Julian Hard Cider.
Two days before the event, organizing committee member Alex Carballo expressed excitement over what was to come together. Carballo is also co-founder and operating partner at urbn st. "This is going to be an interesting mix for East County," Carballo predicted. "This will bring awareness that people don't have to go downtown for good craft beer. It's in your backyard. I am excited about the whole thing. It's nice to have this in our backyard, with East County in the lead."
The outdoor bartenders from urbn st. were pulling festival taps for XPA, a light and flavorful extra pale ale, and for the darker, heftier but delicious Mazagran Brown Ale, which clocks in at an impressive 11.5 percent alcohol by volume and features flavors of coffee and chocolate. Volunteers tending the BNS taps were pouring the brewery's lovely Saloon Girl Saison farmhouse ale and a classic-style dark beer dubbed Pistol Packing Porter. Santee's Twisted Manzanita was offering samples of year-round Riverwalk Blonde Ale, a medium-range, easy drinking beverage at 5.4 percent ABV, and of the delightful and delicious Danger Ranger Imperial Red Ale, a rounder and stiffer drink, at 8.7 percent ABV, with taste notes blending roasted chicory, honey and double dry hopping imparted citrus. Jeff Trevaskis, president and founder of Twisted Manzanita, was enthusiastic, greeting fans and those newly introduced to the quality craft brews of his enterprise. "I am very happy to be at such a great event so close to home out here in East County," he said.
Other standout brews were impressive among the overall excellence of beers available at the festival. Vista's Belching Beaver brought down brewery favorite Me So Honey, wonderfully delicious honey wheat ale that at 5.5 percent ABV allows a beer drinker to handle quaffing down a second glassful without regrets. Stone Brewing stuck to traditionals, bringing along the light but tasty Levitation Pale Ale and the classically balanced Smoked Porter. Monkey Paw was pouring the flagship Sweet Georgia Brown Ale, which is also featured in barbecue sauces on the brewpub's menu, and surprisingly hoppy but quaffable American pale ale called Let's Go Clandestino, which was brewed in collaboration with the staff of Wendlandt Cerveceria out of Ensenada.
Widely available Shock Top unfiltered beers were popular with the crowd. The St. Louis brewery's Lemon Shandy ran out early. This beverage, based on Belgian Wheat Ale, is then enlivened with lemonade flavoring and a small amount of sugar, making a cleanly refreshing hot-weather drink. Kalamazoo-based Bell's "Inspired Brewing" brought west the brewery's Smitten, a tasty golden rye ale, flavorful and challenging at 6 percent ABV but still easily drinkable.
Although the event celebrated mostly Southern California operations and featured East County brewers prominently, invitations had been extended and accepted by others headquartered as far away as Hawaii (Maui Brewing Co.), Chicago (Goose Island), Kalamazoo, Michigan (Bell's), Chandler, Arizona (SanTan Brewing Company), and Corvallis, Oregon (2 Towns Ciderhouse). Others hailing from more northerly environs in California included Sierra Nevada Brewing Co. (from Chico), Sudwerk Brewing Company (from Davis), Bootlegger's Brewery (from Fullerton), Left Coast Brewing Co. (from San Clemente), Absolution Brewing Company (from Torrance) and the much-respected Mad River Brewing (from Humboldt).
The festival also offered information from beer-business spinoff enterprises. T-shirts sporting beer-celebrating graphics could be purchased. One intriguing local company on board was Doggie Beer Bones, which bakes all-natural treats for dogs from spent brewing grains that have already done their work in brewing. Organizers were there touting another irresistible combination at San Diego's Original Bacon Fest, pairing beers and bacon, upcoming this fall. And from the San Diego State University College of Extended Studies, representatives had program information about the school's "Business of Craft Beer Certificate" to train would-be members of the craft brewing business sector.
Another member of the organizing committee for the event was Meredith Munger Stowers, who said the day afterward, "For our first year, it was a blowout success. We received double the crowd we expected, and the breweries brought out their best work by far." Dubbing the fundraising "substantial," with the complete donation tally to be known in a few weeks, she continued, "We are definitely doing it again next year." Proceeds from the event were slated for charities assisting developmentally disabled adults. The intended recipient groups are St. Madeleine Sophie's Center, Noah Homes and Partnerships with Industry. These organizations support and assist persons with developmental disabilities, as well as working toward improving and advocating a higher quality of life for their members. (Doggie Beer Bones is a company affiliated with Partnerships with Industry, hiring workers with developmental disabilities in jobs packaging the dog treats.)
Some of the money raised will also go to The San Diego Brewers Guild, which promotes awareness of availability of fresh, locally brewed beers through education and participation in community events such as this one. A smaller, similar event a year ago featured a dozen craft brewery beers at a biergarten. This inaugural staging of the invitational is the first time The San Diego Brewers Guild has been involved.
The beer festival was partnered with morning running events, the St. Patrick's Day Half-Marathon, Main Street 5K Walk/Run and Green Mile Fun Run. Many imbibers had earlier in the day run the 13.1-mile course of the half-marathon race, which began at Main Street and Magnolia Avenue, then doubled back along the course at Rancho San Diego.
El Cajon resident Jennifer Sherman had attended both the earlier half marathon and the beer-drinking afternoon. She joked that she had been training ten weeks for the run but trained every day for the beer. Her course time was just under three hours. She said the heat had lengthened her run by about ten minutes that day. She said she was enjoying the wide offering of beers to sample, so that she could try "something different from the usual." She favors blonde beers and session India pale ales, and she singled out the BNS Saloon Girl Saison farmhouse ale as a memorable favorite catching her attention that day.
The East County brewers' calendar is still filling up with soon-to-come events. Next-door brewery restaurant urbn st. plans to throw a first anniversary celebration in late June. The establishment is located at 110 N. Magnolia Avenue.