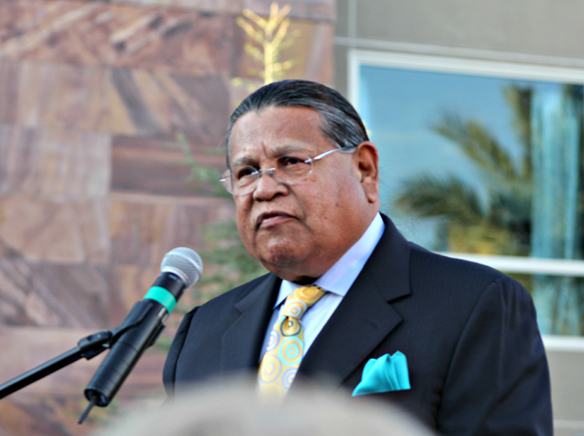 Drivers going east on Interstate 8 can see the words "You can't handle the pool" on a Viejas billboard. This of course applies to the newly-opened Viejas Casino Resort, which had its grand-opening on March 21.
Party attendees and future hotel guests attending the kick-off of the three-day celebration included Alpine resident Lester D. Johnston who said, "I remember when there was nothing built up here to see when one drives around the reservation."
Drivers going east on Interstate 8 can see the words "You can't handle the pool" on a Viejas billboard. This of course applies to the newly-opened Viejas Casino Resort, which had its grand-opening on March 21.
Party attendees and future hotel guests attending the kick-off of the three-day celebration included Alpine resident Lester D. Johnston who said, "I remember when there was nothing built up here to see when one drives around the reservation."
That nothing he's referring to has, over the years, grown into the Viejas Casino, Ma-Ta-Aw RV Campground, an outlet center with shops, shows, restaurants, and now a resort hotel with 99 deluxe rooms and 29 suites.
At the grand opening, attended by hundreds, local dignitaries presented proclamations. For example, Viejas tribal officials like Chairman Anthony R. Pico and Vice-chairman Robert "Cita" Welch accepted the honors and welcomed the Viejas faithful.
The grand opening featured traditional Kumeyaay bird songs, a Native American sage blessing, and a sneak peek of the the Cirque du Soleil-style performance of "Rise." The premier of "Rise" took place on March 23. Self-guided tours were conducted after the opening ceremony.
State Sen. Joel Anderson and Joe Terzi, president of the San Diego Tourism Marketing Authority, were among the many dignitaries. Terzi proclaimed that the "ninety-nine rooms are sold out in the near future."
The five-story hotel, with project costs tallied at $36 million, added 400 to 500 construction jobs to the local economy and ongoing hotel jobs numbering around 60. The construction also provided an expansion to their buffet.
Jennifer Dinh and husband Johnnie enjoyed some complimentary crème brule desserts during the tour of the Presidential Suite. They also had come to Viejas to gamble and stated, "We come here to gamble once in awhile." They appreciate the fact that this hotel offers something many other hotels do not — gambling.
While fireworks were enjoyed during the festivities, hotel guests can enjoy a smoke-free venue. They have made a decision to be a completely smoke-free hotel and are proud to have had a California Clean Air Award bestowed upon them from the California Clean Air Project.
For information, visit www.viejas.com.