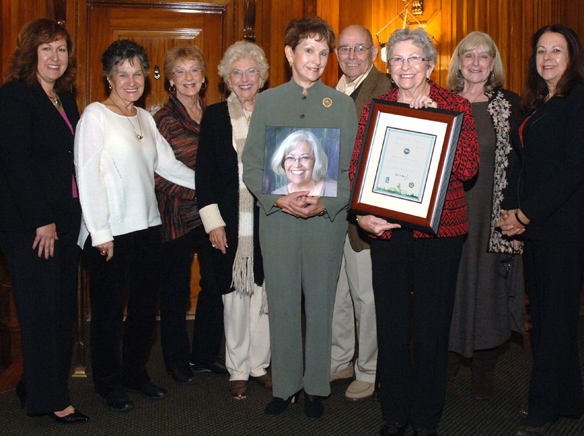 The thrill of winning a 2014 Governor's Historic Preservation Award in the 29th annual awards ceremony on Nov. 20 almost defies description, but we'll try.
The thrill of winning a 2014 Governor's Historic Preservation Award in the 29th annual awards ceremony on Nov. 20 almost defies description, but we'll try.
For the mural artists, Kathleen Strzelecki and Janne LaValle, the award recognizes their artistry, technical skill and superb command of a large, seemingly unwieldy concept—telling Lemon Grove's story in five, life size panels encompassing some 10 centuries of backstory. We had a great partner in the city of Lemon Grove whose help and encouragement over eight years was invaluable.
For the project director, Helen Ofield, the award recognizes this central truth—your story begins at home. No community in the world lacks a great story. You just have to search it out, devise a big, dramatic way of conveying it to local residents, marshal the talents in your midst (artists, skilled volunteers), keep fundraising and, above all, keep going and damn the torpedoes.
Our history mural took eight years to complete, from 2005 to 2013. It is protected by a formula developed by Kathleen Strzelecki following our consultations with the Los Angeles Public Works and the Getty Museum about defending public art in the public square from graffiti and the elements.
The mural faces south and is in almost perpetual sunshine. Yet, thanks to the multiple coatings applied coat-by-coat with low nap rollers, and employing a Sherwin-Williams anti-graffiti product, the panels are fresh and vibrant. Panel One was installed in 2006. Panels Two, Three and Four in 2008, 2009 and 2011 and Panel Five in 2013.
Twice the mural was hit by minor graffiti and twice the offenses were speedily removed, thanks to the protective coatings.
Unlike many modern murals employing digital photographic transfer techniques, two gifted artists standing on ladders and scaffolding painstakingly painted our mural by hand. You can see the brush strokes. You can experience the sweep of Janne's landscapes and buildings and the power of her spatial concepts that form the context of each panel. You can feel the emotional impact of Katy's numerous portraits of people and animals gazing out at us, full of personality and movement and centered in time and place.
The mural was among 11 statewide projects, all involving years of effort by unpaid volunteers and/or paid architectural teams. Their common ground? A devotion to saving the heritage of the Golden State. Here is how California State Parks and the Office of Historic Preservation describe the purpose of the awards:
"California's history is embodied in buildings, structures, sites and objects–in places that show us our collective past. These historic resources are tangible links to people and events that have shaped our lives, to builders who created our architectural legacy, and to ways of life almost forgotten."
"Since 1986, the Governor's Historic Preservation Awards have been presented annually…to many organizations, firms, state and local agencies, and individuals whose contributions demonstrate outstanding commitment to excellence in historic preservation."
All of the above flowed through the minds of our group of eight travelers to Sacramento on Nov. 20. As we stood on the stage of the newly restored Stanley Mosk Library in the Library and Courts Building on Capitol Mall, we felt such pride to be included in a distinguished group of projects, ranging from skyscraper restorations in San Francisco, a city hall restoration in Atascadero and a seaside inn at Navarro-by-the-Sea, a history of the Pilgrim Congregational Church, restoration of the Mount Diablo Beacon, restoration of a Los Angeles art deco building for social services, the marshaling of cultural resources by the Yocha Dehe Wintun Nation, the amazing CyArk online documentation of worldwide cultural sites, to the meticulous work of our own San Diego Archeological Center.
By the way, Janne LaValle couldn't be with us as she now resides in Oregon and is busy painting—what else—murals in her local library. So, we brought a "reasonable facsimile," a lovely photo of Janne to hold up.
We concluded the day with a whirlwind tour of the library and its stunning 1,929 murals by Maynard Dixon. A dash to the airport, the flight home and the return to the parking lot of the Parsonage Museum to find our cars and reflect on this interesting fact:
In 2001 we received a Governor's Historic Preservation Award for the rehabilitation of Lemon Grove's first church, built in 1897, and its adaptive reuse as the Parsonage Museum. Two awards for the same reason—preserving and interpreting Lemon Grove's richly diverse heritage.