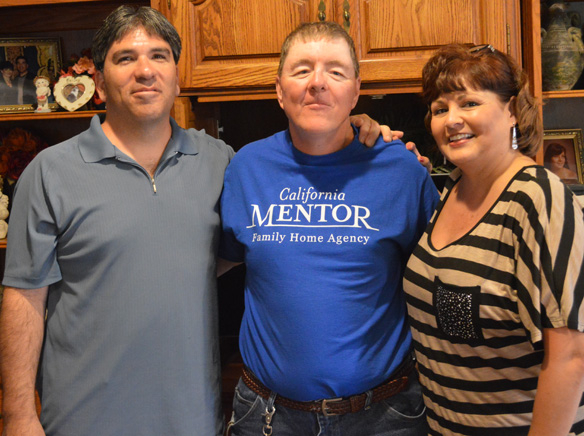 Making a difference one life at a time, the California Mentor Family Home Agency provides specialized services by matching people with intellectual or developmental disabilities a support in an environment that they can call home. With an extensive training program, these homes provide clients with a family and people that want to share a life with them. Such is the case with the Sanchez family in Lakeside, who decided for many reasons to become "mentors" and have not looked back, finding the program enriching and fulfilling for both the people that have become part of their daily lives and for them. They are more than caregivers or babysitters, as in mentoring in a family setting they no longer are considered clients, but become an active integral part of the family.
Mark Sanchez began working with people with developmental disabilities in 1989, but said back then they had no training and just placed you into a group home to help them out and watch over the clients, more like babysitting. He said that in the beginning, it was scary and early in working with group homes, one of the clients had a seizure.
"I'll never forget that day," he said. "I had no training and didn't know what to do. And that is when my life forever completely changed to where the care of these clients would be forever in my heart."
He said with many clients being non-compliant and unresponsive to dialogue that you needed to be a mind reader. But his love of the clients kept him working in group homes until 2001 working through several agencies. He continued to work and learn, eventually becoming a program director.
"I've seen all aspects, all the good stuff and the bad stuff and I tried to throw away the bad stuff and look forward to the next day," he said. "And this is what I learned from the clients and I learned much more from them than they did from us. But I've always wanted something different."
He said he was always looking for something else because he saw that many clients were mistreated in group homes.
Sheila Sanchez said that they were hoping there was something more out there and that was when they found the mentor program, where it is more of a family home environment. And by this time in her husband's life he found out that he had multiple sclerosis.
"We were looking for something he could do out of the home and since he already had that background and we have no children, we had this need to nurture and this was the perfect fit for what we were looking for," she said.
Mark Sanchez said he had looked for this type of program for years because he wanted to go towards working with clients in a one-on-one setting. "One-on-one goes so much faster and they learn things much quicker," he said.
Now with John Fisk living with them since 2011, they both believe they have found the purpose that they had searched for.
Fisk said the first thing he learned after moving in with the Sanchez's was how to use a computer. At 48-years old, Fisk suffered brain damage as a child, believed to be cause by an extremely high fever.
"Here I am now, looking at stuff I never knew how to do before," he said. "Everyone here likes me, his family and her family."
Mark Sanchez said immediately after finishing training classes, they called them up with a potential client (Fisk), who needed to get out of a group home setting right away.
"The old group home was not like what Mark and Sheila are doing for me," said Fisk. "I lived there for 27 years with no problems and Sheila told me that I was part of this family now."
Fisk is quite independent, knows the bus system well and works at the ARC of San Diego.
Mark Sanchez said Sheila and he work to make sure that Fisk has quality of life, working on basic living skills, and Fisk is learning the basics of cooking with a microwave and Mark Sanchez is working with him on learning how to manage his own money.
He said that they do many things together, but with the mentor program they have someone that Fisk knows, that can come into their home and take over when necessary and that this arrangement works great for them and Fisk.
This year, Mark Sanchez bought them season tickets to the Padres, Fisk loves to play hockey, basketball with Sports for Exceptional Athletes and recently began again with the Special Olympics playing softball.
"Mark got me into playing softball because he had done it with another client and loved it," said Fisk. "He got MS, but he can probably play every sport that they have."
Mark Sanchez said these programs work because it gets them involved in the community, in the home or at work.
Fisk said he has learned a lot about MS from Mark and goes to his meeting with him. Mark Sanchez said Fisk is so smart and is learning things at a fast pace. But he also said that the learning process goes both ways.
"I love the way they help me in life," he said. "And I love every single second of it. But in group settings I didn't like the staff. They were just kids who needed a job. We do not do this for the money and it certainly isn't a get rich quick deal. I do this because of the love for what I do and what I can do for them throughout their lives. Working with people like John has helped me with my daily life and dealing with MS, which I think is more than I have helped him."
Sheila Sanchez said in the beginning she was willing to try the program, but had her hesitations. But after Fisk met with her husband, he took it upon himself to get on a bus and go meet her at work as he did not want to wait to meet her and find out more about her.
"When he asked me if I knew a Mark Sanchez, I knew immediately who he was," she said. "He has become a part of my family at work as much as our family at home and they love to see him. For me, he is like the brother I never had."
For more information on the California Mentor family, visit www.makeadifferenceathome.com.