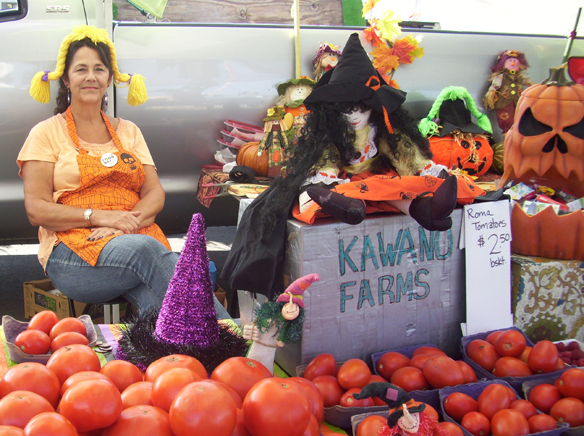 Strolling through La Mesa's Farmers' Market on any given Friday afternoon can be a leisurely experience where one can sample and buy the vendors' offerings of delectable seasonal fruits, vegetables, breads, jams and other delicacies while supporting the concept of buying fresh and locally grown or made. But last Friday, Oct. 25, the market was even more particularly festive as it celebrated its 20th anniversary. Banners marked the special event while live D.J. John Sanchez, played music, amidst raffle drawings as children, from participating La Mesa elementary schools, were made aware of National Food Day's campaign to promote the idea of kids' healthier eating choices.
Chris Gonzales, City of La Mesa Community Developer Program Coordinator, said that the idea of the market was not unanimously embraced when it was first brought to the city council's attention back in 1993.
"Legend has it that it was an iffy proposition and there was some skepticism by council members and existing merchants who didn't know if a farmers' market would benefit or compete with what was already in place in the village area," he said.
Yet, the concept was favorably voted on and the market marked its 20th year in August, Gonzales said, adding that the celebration was delayed in favor of fall's more clement weather.
Farmer Steve White has been a fixture since the market's inception and said educating children on healthy choices is important and challenging.
"I've been coming since day one, back in 1993," White said. "It's always a challenge to get kids excited about making better eating choices because of all the processed foods that are so handy, but squeezing an orange isn't much work and kids can choose that over sugary candy."
Each week White displays what is presently in season and this fall his choices included farm fresh apples, persimmons, passion fruit, pomegranates and oranges.
Jeanne Bousseau is one of the customers that enjoyed the festivities and come a long way, explaining that she and her husband are relocating to La Mesa from Arkansas.
"We're here for five weeks, house hunting and love La Mesa as it seems so friendly," she said. "We love the feel of this community. We're enjoying the event, the beautiful weather and feel that a Farmers' Market adds to a sense of belonging to the community."
La Mesans Chris Walker, wife Kisa and 8-year-old daughter Christina, enjoy their visits to the market.
"We love sampling and choosing to buy from the great variety of fresh fruits and veggies and are always happy to support the local growers that make it all possible," said Chris Walker.
La Mesa Village Farmers' Market takes place Fridays, 2:00-6:00 p.m. at the La Mesa Civic Center, at the foot of Date Ave., across from the police station.