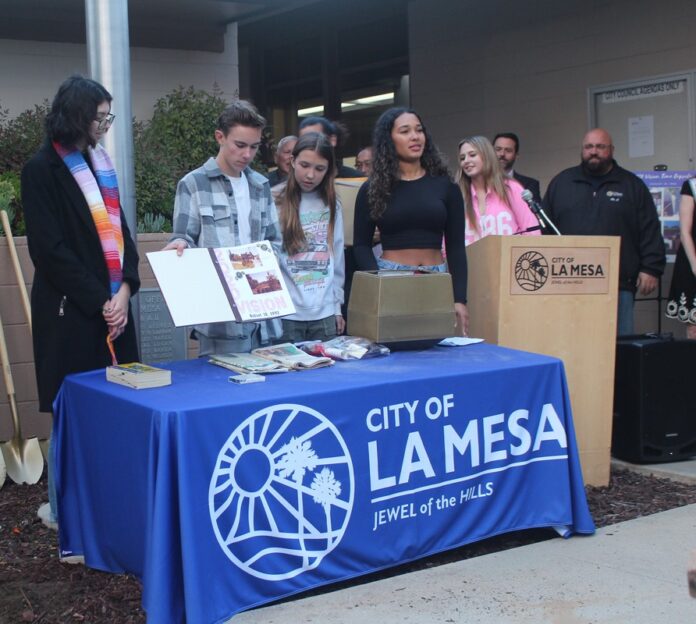 Members of La Mesa Youth Commission picked up where their predecessors left off 30 years ago and took a peek at what their counterparts tucked into a time capsule buried decades ago.
It took four teenagers, two adults, several shovels and power tools to unearth and open the time capsule which had been placed beneath City Hall on Aug. 18, 1992. Waiting inside were messages from the past, along with small items representative of life in the early '90s.
The gathering of La Mesa residents, city staff and others who turned up to see what kids from three decades ago preserved in the time capsule appeared amused when one member of the current Youth Commission referred to a cassette tape as a 'VHS' and humbled by the headlines on thick newspapers preserved inside the time capsule which noted a push against banning books in local schools and rising political tensions in Iraq.
Where one teen wrote he hoped he'd see his life unfold as "a Navy SEAL who also plays in a metal band," he also predicted the local reservoirs and environment would look different, and hoped the city would revamp its parks to accommodate skateboarding.
Some kids wrote of their plans to get married, while others wished for world peace. At that time in history the United States lifted trade sanctions against China in 1992, four Los Angeles police officers charged with beating Rodney King were acquitted and sparked regional protests, the Supreme Court reaffirmed the right to abortion and web browsers had just been made public as the starting point of the world wide web.
"The whole world will be run by computers. I think our lives will completely change," Jaime Allen wrote over 30 years ago as a teenager before adding their note to the capsule.
Current La Mesa Mayor Mark Arapostathis said the capsule is "one of the ones we can find," as there is another capsule hidden somewhere beneath city hall although its exact location is unknown.
Resident Brooke Baker, 40, said she did not remember what she placed inside as nine year old Brooke McVay. However, she said her daughter has already submitted her addition- trendy stickers- for the next time capsule which is being organized by the current Youth Commission and will include earbuds, items related to the COVID-19 pandemic and letters from current Helix High School students.
It will be unearthed in 2050.