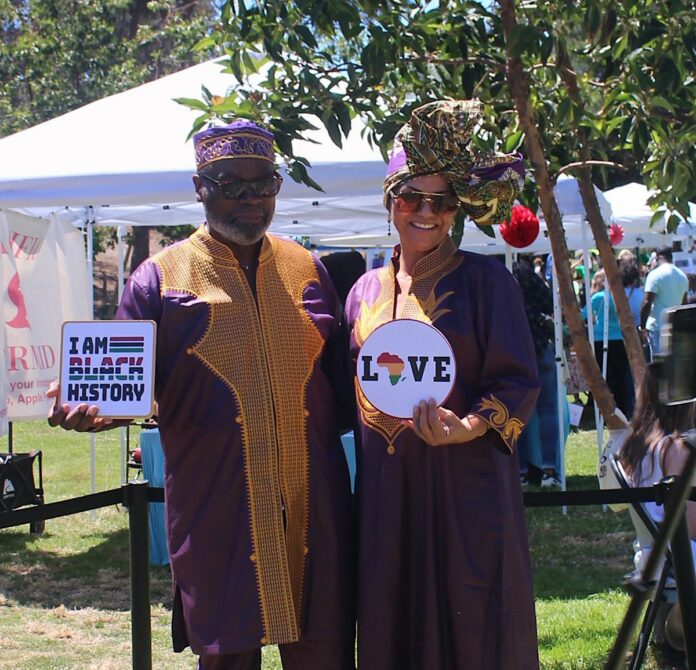 La Mesa Juneteenth and Friends organized the inaugural Juneteenth celebration at MacArthur Park with a mission to bring the community together, raise awareness and share the historical significance of the holiday, according to their website.
For this first year, the group anticipated a small gathering of about 250 people. However, event coordinator Kim Vinyard said she estimated about 750 people had already passed through the park before the event was even halfway over.
MacArthur Park is walking distance from where two buildings were burned to the ground and several storefronts shattered following a 2020 racial justice protest which flared out of control after nightfall.
Two years later, Mayor Mark Arapostathis did not mention the 2020 tragedy but chose instead to repeat words written in 1865: an announcement that all slaves had been freed.
Familiar community event components were in place at the event: there was music and entertainment, food and kids' crafts, families sprawled out in shady spots throughout the park. However, there was also an educational component found in many components of the event.
Adults and children were invited to participate in a guided quiz accessible through online application Kahoot where basic facts about Juneteenth were addressed.
Lawn posters bearing historical facts were mounted throughout the park, a class project from Grossmont High School's digital arts students with topics presented in bright colors and a graphically interesting approach to history. A 'kid zone' poster which was part of a scavenger hunt for clues provided suggestions for Juneteenth food like a red trinity of barbecue, watermelon and red soda, but also clearly stated the red symbolizes the blood of slaves.
Members of a step dance troupe from Mount Miguel High School took the stage to loud applause, a first for the group that was formed just four months ago. Jasmine Eaddy, a 2009 alumnus of MMHS who now works there as a teacher, used the introductory time to explain the dance style was born from slaves who wore 'gumboots' in rhythmic dances.
Helix High School head football coach Damaja Jones said he is the school's first Black head football coach and considers the role to be a celebration of his ancestors.
"I grew up in Lemon Grove, La Mesa, this area but my dad is one generation from attending a segregated school in Virginia," Jones said.
Murmurs passed through the crowd before Motown music swelled through the speakers.
Even the staffer with sodas for sale had a few words to say on education: more is needed.
"We learn about Cinco de Mayo and Irish independence but Juneteenth, a very historical day, is sort of forgotten. I know I wasn't taught about it,"
La Mesa Arts Academy employee Trent Vinyard said. Glancing around, Vinyard said he spotted more than a few teachers at the event, which he sees as an indication the celebration will grow in years to come but also an optimistic sign that future school lesson plans might include more about the holiday's origins and significance in history.
At the opposite end of the event, Kim Vinyard— unaware her son had just described the importance of education and the
community— said students, including those on the West coast in particular, are not always taught about the history of Juneteenth.
"It can be a heavy subject, a charged subject but we wanted to keep this with a community feel," Kim Vinyard said and chose to focus on family-style performances like the Mills family who sang the American national anthem a capella and in harmony with each other, and a large kids' area set up near the event entrance with face painting, "a ton of crafts" and a large jumpy along with lawn checkers and a child-sized cornhole game.