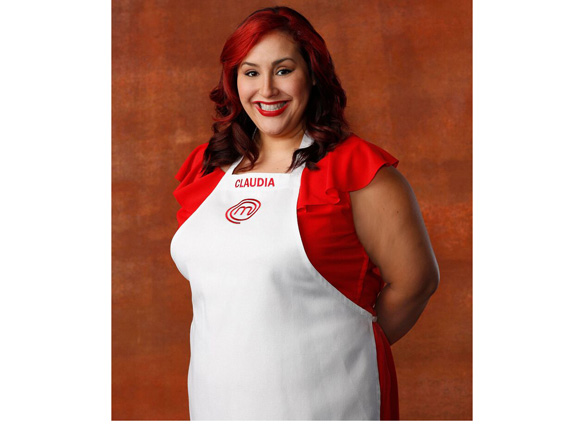 For Claudia Sandoval, cooking is far more than a daily chore or even a pastime. The La Mesa resident captured national attention when she won this season's "MasterChef" on Sept. 16. Sandoval is the first Latina to win the title.
For Claudia Sandoval, cooking is far more than a daily chore or even a pastime. The La Mesa resident captured national attention when she won this season's "MasterChef" on Sept. 16. Sandoval is the first Latina to win the title.
Sandoval has strong sentiments about the honor. "Being the first Latina to win in all six seasons of the show's existence transcends the magnitude of the show to the value of victory for Latinos in the U.S. and across the world," said Sandoval, the current general manager of Instagrammers San Diego.
In her opinion, Latino flavors and food continue to be viewed in the world as a subpar cuisine, "one of humble ingredients and thus inexpensive meals."
The truth is, she explained, there is great complexity to Latin flavors and ingredients, beyond those known to other cultures.
"Among the turbulence in the political spectrum right now with a candidate blatantly attacking my Mexican culture, it is ironic that the show's winner would be a hard working single mom working to make a difference and continue to prove the American Dream is alive and kicking. It is both a personal and professional achievement that I wear proudly.
"I won because I am a Latina who managed to do on national television what few chefs in the world are attempting to do with Mexican food: to elevate it," said Sandoval.
Through it all, her favorite meal still continues to be her mother's tostadas. "They are my favorite meal to eat! They are scrumptious, flavorful, fresh, and very Mexican. They remind me of my childhood," she said.
Her mother, in fact, was instrumental in teaching Sandoval her way around the kitchen. When she was just five years old, she helped make flour tortillas.
"She would roll them and lay them on the comal, which is a griddle, with the fluidity of a well-seasoned cook. She told me to roll out my own giving me a small round ball of tortilla dough and I rolled out a tortilla the shape of Africa," she said.
But Sandoval had a tough time with that task.
"My mom taught me an important lesson that day, cooking is a skill and you can't expect perfection on your first try," she said.
Sandoval learned to love cooking so much that she was always entertaining and teaching other home cooks her famous family recipes.
"It was natural. I was passionate about creating and developing new plates using old-fashioned techniques and tried and true flavors. MasterChef gave me the opportunity to make that dream come true," she said.
Her friend Lauren Gallaway encouraged Sandoval to compete on MasterChef. A community writer for Entertainment Weekly, Gallaway had heard about the live auditions and told Sandoval about it.
At first, Sandoval came up with every excuse not to audition. But at the very last minute possible, she applied with the help of some co-workers. That weekend, she prepared her father's favorite pasta dish of Three Cheese Tortellini in an Asiago Cream Sauce.
"This dish is a tried and true recipe that shows technique, flavor balance and most of all, love. It was successful, I moved onto the next round and well, the rest is history," Sandoval said.
Yet Sandoval prepared to enter the MasterChef competition by practicing what she knew least of—baking. She knew that from watching season 5 one of the reasons Courtney had earned her trophy was because she was focused and could do it all, bake and cook savory cuisines.
Sandoval's friends helped her by coming over with groceries and letting her figure things out. One friend would keep time for Sandoval as she cooked 30-minute meals from concept to finish.
"It was a busy couple weeks before I left to the competition, and I fed lots and lots of friends," Sandoval said.
Her beloved daughter whom she calls her Munchkin is Sandoval's greatest motivator.
"She is the reason why I settled in many boring jobs to ensure we had means. More recently, I realized the importance of leading by example. I wanted to prove to my daughter that taking risks and going after your dreams is how you should live your life," said Sandoval.
The first thing that Sandoval will do with the prize money is to move herself and her daughter from their one-bedroom apartment into a two-bedroom. She plans to donate a good portion to some choice non-profits.
With the remaining prize money she will start a business, eventually opening her own authentic Mexican restaurant in San Diego County.
"I would absolutely love to have my own TV Show. Chefs like Aaron Sanchez and Marcela Valladolid have paved the way for cooks like me, and I would love to be the Chef that takes Mexican cooking from burritos, tacos, and enchiladas, to elevated rustic cuisine," Sandoval said.
Look for Sandoval's own cookbook, which is set for release next spring. In addition, she will be cooking every Monday on FOX 5 San Diego at 9 a.m. beginning Nov. 2.
For more information about Sandoval, go to www.chefclaudiascocina.com.