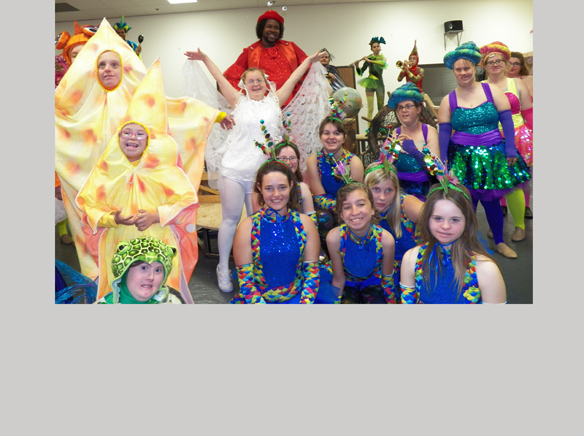 Human creativity knows only the boundaries of imagination. And the performing arts can be a source of self-expression that transcends physical limitations.
Human creativity knows only the boundaries of imagination. And the performing arts can be a source of self-expression that transcends physical limitations.
The performance troupe of El Cajon's Arms Wide Open, with a cast of 80 special needs adults and children, will soon be taking to the stage for musical shows at the downtown Lyceum Theatre in Horton Plaza. The group presents a show annually. This year's chosen production is entitled "Arms Wide Open Presents The Little Mermaid, Jr." The musical is based on the Disney movie of the same name.
Chris Rubio is director of the AWO show, and his performers have been rehearsing for six and a half months. Rubio is himself a performer, an accomplished actor and singer who has appeared in Off Broadway shows, among others. He has been directing shows for AWO performers since 2007. His brother is autistic, and Rubio felt drawn toward sharing his theater skills with other special needs individuals.
"This is a creative platform, where people with special needs can express themselves on stage," Rubio explained. "We really go all out with our projects, and we want to get audiences into the seats for our shows."
Rubio spoke briefly, to encourage people to attend the upcoming performances, while on an intermission break at an afternoon dress rehearsal on Sunday, April 3. The practice run-through was held at Arms Wide Open's central East County activity location, Arts in Motion. The production is already captivating, even although still in rehearsal, with video and sound that complement and enhance the actors' and dancers' stage presence. The show creates a magical underwater realm, where mermaids and mermen and other sea-dwellers decry the "savage" humans bobbing above the ocean's deep.
Rubio introduced one of his two leading ladies, Ashlee Rosas, who is taking on the title role of Ariel, the enchanting little red-haired mermaid, who rescues a drowning sailor and loses her heart—and her undersea life—to be with him.
Ashlee is 10 years old, and she has osteogenesis imperfecta, also known as brittle bone disease. Hers is a congenital lifetime disorder characterized by fragile bones that break easily. Ashlee offered to stay a few minutes to answer questions about her first-time experiences acting and singing on stage, although she would momentarily need to rush off in her wheelchair, to change costumes in the dressing room for the rehearsal's second act.
Ashlee confided that, for her, the hardest part of performing is the quick costume changes that have to be made. "But she makes her marks every time," Rubio said with a smile.
What does she like best?
"I have never performed before," Ashlee said. "This is very cool. I feel amazing. This is a dream role, especially for my first time in a show." She continued that she loves to sing and act. "I am really excited. My favorite, I think, is going to be singing 'Part of Your World.' It's in the first act."
Rubio cautioned those planning to attend the shows to expect to be inspired and deeply moved. "Bring your tissue boxes," he said. He and his colleagues have been impressed with the talents Ashlee Rosas brings to her performance as Ariel. "On our casting panel, all of us were in tears when Ashlee sang. And in working with her, I have come to really appreciate how she carries herself in life. People should expect to be blown away by Ashlee and the whole cast in the show."
Has the performing bug bitten Ashlee in a lasting way? Possibly. She said that she is considering a career in choreography as she grows up.
Ashlee Rosas debuts in "The Little Mermaid, Jr." on Friday, April 15, at 7 p.m. Two rotating casts known as "Red Team" and "Blue Team" will be staging eight weekend performances, with matinee and evening shows, on April 16-17 and April 22-24. The second ingénue starring as Ariel will be Molly Lerma. Tickets cost $15 apiece and include four-hours of parking in the Horton Plaza Garage.
Arms Wide Open is a nonprofit organization with the mission of enriching the lives of individuals with special needs, through "fostering caring social environments and providing opportunities for recreation and participation in the arts." The AWO central offices are located at 237 East Main Street in El Cajon. Show tickets can be purchased there. More information is also available by phoning (619) 579-6197 or by searching online at awosd.org. Next year's production will be of "The Lion King."