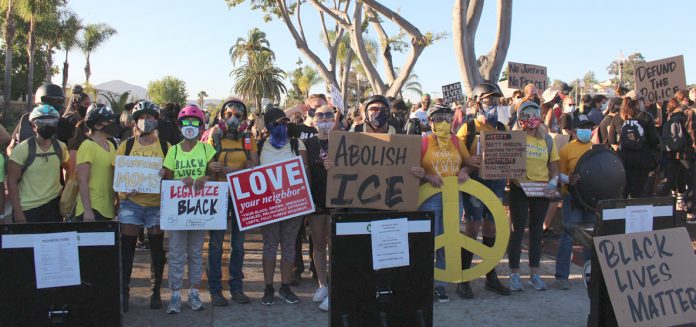 On Aug. 11, La Mesa City Council unanimously voted to hire Hillard Heintze LLC as a consulting service for an after-action report and recommendations on law enforcement practices related to the events of May 30 after a peaceful protest over the in-custody death of George Floyd in Minnesota turned violent resulting in large and small businesses being vandalized, looted and two neighboring banks being burned to the ground.
On June 9, City Council directed staff to retain a third-party consultant that would review the city's preparation for the protest and actions taken during the emergency, including actions taken by all city personnel, city elected officials and partnering agencies; provide a determination of whether the city's actions were appropriate; and provide recommendations on how the city may better respond to emergency situations. The approximately 1,000 oeioke who attended the protest were met by the La Mesa Police Department utilizing pepper balls, tear gas and bean bag rounds, resulting in further protests over the way the LMPD and the city handled the incidents.
Council member Akilah Weber said the firm needed to conduct "true community engagement" with the underrepresented black or brown community.
"I think it is important that they have a boots on the ground kind of strategy when reaching out to the community," said Weber. "Not only to the community that lives in La Mesa because we have a significant number of people who come here to visit, shop and work and they had their own interactions with the police department as well."
Council member Colin Parent said the investigation should also include the neighboring entities that denied requests for help from the city.
"I think our residents want to know why this got out of hand and who is to blame," said Council member Kristine Alessio. "I want to make it clear to the public that we want to know what went wrong on the 30th."
Staff recommended Heintze for its extensive experience working on collaborative police reform, projects involving civil rights protests, its reviews of police departments across the nation and its ability to provide recommendations. Heintze is currently working on the assessment of policies and practices regarding potential racial bias in regard to the Brenna Taylor, and EMT fatally shot by police serving a search warrant of her home in Louisville, Heintze will review protests, use of force, police tactics, training and supervision, and provide policy review and recommendations through the City Council and the public. Heintze will also provide an assessment of pre-planning activities, incident and tactical command, incident management field response, mutual aid response, de-escalation and crowd control, less than lethal munitions and use of force, and community reaction and cultural awareness. The process will take 4-6 months, presenting City Council with recommendations and a pubic report that will be shared with the community. The City allocated $175,254 for the After-Action Report and Policy Review.