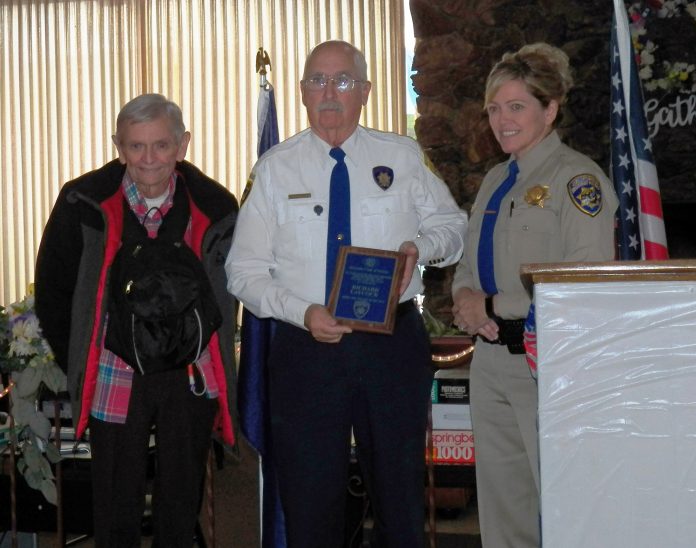 "To protect and to serve" means something more to members of the Kiwanis Club of Santee than to most area residents. Club members have honored outstanding local law enforcement officers for over two decades, in recognition and memory of their own Kiwanians who served the Santee community with notable distinction.
Santee's Kiwanis celebrated the club's 22nd annual Law Enforcement Awards Ceremony on Sunday, May 19, during the club's yearly meeting. The event was held at Meadowbrook Mobile Home Park over early evening hours. Five awards were announced and presented at the ceremony, presided over by David Poindexter as master of ceremonies.
Poindexter has chaired the Santee Kiwanis Law Enforcement Program since its inception in 1998, with first-ever award of the Uncle Andy McReynolds Memorial plaque honoring a California Highway Patrol Senior Volunteer.
Poindexter is himself a former Sheriff's Senior Volunteer and former Sheriff's Homicide Volunteer. In 2000, the club added the Max McKinley's Memorial plaque award to the year's honored Sheriffs' Senior Volunteer. McKinley was one of the first Santee Sheriff's Senior Volunteers, who passed away in 1999.
The award name was augmented in 2016, after longtime Santee Kiwanis member Bob Taylor died. Taylor was further a longtime Santee Volunteer Sheriff and Sheriff's Homicide Volunteer; thus, the award was renamed the Max McKinley and Bob Taylor Memorial plaque.
The Santee Kiwanis Club in 2001 began honoring a distinguished Deputy Sheriff from the Santee Sheriff's Station. By 2006, the club included an award honoring a California Highway Patrol Officer from the El Cajon Office. And from 2010 on, the club has chosen a Santee Sheriff's Community Service Officer for honored recognition.
Sgt. Pete Azcaiturrieta of the California Highway Patrol Office in El Cajon took to the podium to deliver first award of the evening to Officer Travis Garrow. Azcaiturrieta noted that Garrow became Public Information Officer for the local CHP in November 2017, serving with notable distinction in that role since then.
"He has a commitment to providing the most current information," Azcaiturrieta said, citing further how Garrow has built "public trust" and new relationships in the East County communities. Garrow has worked with the Special Olympics with "selflessness," Azcaiturrieta said.
Azcaiturrieta said Garrow's good judgment has informed multiple audiences, and Garrow's exemplary performance has contributed to safety, security and service.
CHP Officer April Laue presented the Uncle Andy McReynolds Memorial plaque to Richard Laycock. Laue noted that Laycock also works with the Special Olympics, and he has donated well over 1,000 hours of service locally. Laycock drives a CHP bus, assists with recruiting, and mans the CHP car in parades. Laycock is a Navy service veteran, who also worked as a firefighter.
Captain Dan Brislin, Santee Sheriffs Station Commander, next took the podium for awards presentations. First, though, Brislin stepped back and offered remarks in gratitude to the Santee Kiwanis Club.
"This is a special honor," Brislin said. "This ceremony means a lot to us. This helps officers with career advancement and obtaining other assignments. Thank you."
Deputy Omri Goren, with 17 years as a Sheriff's Deputy, was recognized for skill and compassion in traffic investigations during service as a patrol deputy.
"He helps keep the City of Santee safe," Brislin said. Brislin noted Goren's positive attitude, even while handling "horrific situations" involving trauma and tragedy. Goren's efforts assisted with preparing legal prosecutions in regard to two complicated collisions. Brislin went on to observe that he and Goren cross work paths infrequently, because Goren is patrolling the Santee streets at night while Brislin is at home.
"It's a privilege knowing he's out there at night," Brislin said. "His is a really important job."
Recipient of the Max McKinley and Bob Taylor Memorial Volunteer of the Year award was Sheriffs Senior Volunteer Diane Ciolli.
"Diane is the real captain of the Santee Station," Brislin said. "She is doing amazing things for free. She is a generous person, always doing selfless acts, working with volunteers, scheduling meetings, this is an amazing job that she does."
Brislin said that Ciolli is available to assist any time of the day, having donated over 850 hours, including driving the Sheriff's van to homicide scenes. "We can't express how grateful we are to her," Brislin said.
Awardee for Sheriff's Community Service Officer of the years was Asa McClendon. With pastoral duties superseding on a Sunday night, McClendon was unable to be present to accept his honor plaque in person.
The over two decades of history behind this awards ceremony is itself unique. The influence of Poindexter's Uncle Andy McReynolds (1919-1996) was central in encouraging the Santee Kiwanis Club to recognize those who defend the laws and protect local communities. McReynolds was very active with the Kiwanis Club of Santee, spending most of the last decade of his life in Santee. McReynolds was a Kumeyaay Indian, the first motorcycle officer with the El Cajon Police Department in the 1940s. The department at that time had four officers. McReynolds later volunteered for the CHP, with a special focus on helping the Kumeyaay Indian reservation. The law enforcement awards program was started in 1998, with McReynolds in mind as inspiration for the Uncle Andy McReynolds Memorial plaque.
The Santee Kiwanis group consists of business professionals united for networking and service in local communities, in a spirit of fun and camaraderie. The Santee Kiwanis Club meets at Lantern Crest Senior Living Center in Santee, gathering there for breakfast at 8:10 a.m. on the second and fourth Tuesday of each month. More information on the Santee club can be found on its website at santeekiwanis.org.