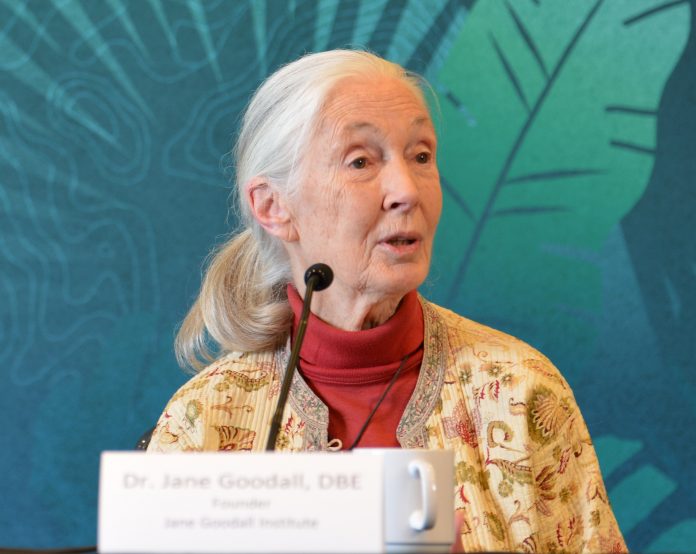 Last week, Dr. Jane Goodall came to San Diego as the keynote speaker at the  Geographic Information System (GIS) Conference.
In the 1960s, she graced our eyes on the cover of National Geographic. At 27 years old, Goodall traveled to Tanzania's Gombe National Park on behalf of famous anthropologist Dr. Louis Leakey to study chimpanzee social behavior. Where Goodall pioneered, her field followed. A leader in the field of conservation, Goodall recalls where her inspiration for pursuing her passions originated from.
"I recalled loving animals and I had a very supportive mother," she said. "When I was ten, I read Tarzan and Dr. Doolittle and I knew I should turn it into a living. But as it turned out, not so many people worked with animals and wrote books about them."
At a young age, Goodall faced backlash from her peers when she shared her thoughts about her innovate career choice.
"Everybody laughed at me. 'How could you do that? You don't have any money and you're just a girl!' But my mother said, 'if you really want to do this, you have to work really hard and take advantage of every opportunity, but don't give up.' That's the message I take to young people all around the world and teach in disadvantaged communities," said Goodall.
Opportunities did arise for Goodall and she took advantage of an offer from Leakey that launched her career. Arriving to Gombe in 1960, Goodall set out to study chimpanzee behavior in a way that had never been done before. Prior to Goodall's research, academic researchers would argue humankind was not part of the animal kingdom and that primates do not have emotions or intelligence. Goodall flipped the book on its back when she witnessed clear evidence of personalities, emotions and intelligence in chimpanzees.
However, back at home in the '60s, challenges still occurred for Goodall. She had not gone to college yet. She began conducting research before ever setting foot in a college. Despite her hard work in Gombe, Goodall still had to prove herself back in school.
Her experiences made her resilient.
"I didn't even start as a scientist when I went to Gombe, I hadn't been to college," she said. "It was Leaky who made me go do a Ph.D and I was really nervous. Can you imagine when you hadn't been to college and you go to Cambridge University and I'm told that I've done everything wrong, that I shouldn't have given the chimpanzees names. That wasn't at all scientific, they should have had numbers. I couldn't talk about personality, mind or emotion because those were unique to us," Goodall said.
Goodall shared insight into how she overcame the obstacles she faced with people who didn't agree with her.
"If you meet something who doesn't agree with you, first, listen to them because maybe they could think things improperly, maybe it might change your mind, but if you still think you are thinking right, then you must have the courage of conviction and that's what happened to me when I first came to Cambridge," she said. "I didn't believe them when they said animals couldn't have personalities or emotions and because my dog had told me as a child that wasn't true."
Standing by her wisdom at a young age, Goodall earned her Ph.D. in ethology and would become one of only eight people to earn a Ph.D. at Cambridge University without first acquiring a bachelor's degree.
Her work in Gombe was so compelling, it spoke for itself. Jane was on the map.
Today, Goodall travels 300 days a year around the world with a message of hope as the founder of the Jane Goodall Institute for Wildlife Research, Education and Conservation. Her program Roots & Shoots is now in 60 countries. It allows young people from kindergarten to university and everything in between to roll up their sleeves and choose their projects to make the world a better place.
In addition, Goodall created a community-centered conservation approach called Tacare, that helps communities and governments plan, monitor and protect chimpanzee populations in forests outside designated national parks.
As a United Nations Messenger of Peace, Goodall has been an outspoken scientist concerned with climate change and the current political tension regarding the rise of far-right populism, which Goodall believes the world should face head on.
"There are certain things today that are really bothersome and we have to face up to them, we can't ignore them," she said. "Climate change, climate crisis is another one that's happening. It's not something in the future. It's after all not a Chinese hoax."
Hope is a recurring theme with Goodall.
"We've got to face the doom and the gloom and the darkness, but then we've got to because if we lose hope, then we may as well all give up," she said. "None of this is useful if we think there's no way forward and that were doomed as many scientists tell us. We mustn't let it happen. We've got to map our reasons for hope, we've got to consider them, we can't ignore them. We have to face up to those things. Every single one of us makes an impact on the planet every single day."
To learn more about Jane Goodall, visit her website janegoodall.org for more information.